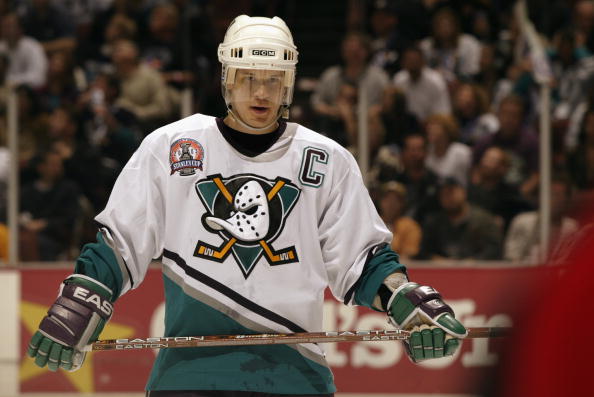 Imagine playing a sport professionally, living out your childhood dreams, only to have it taken away in the blink of an eye. This is the type of story many athletes can sadly relate to. One of those athletes is 2017 NHL Hall Of Fame inductee Paul Kariya.
It's been the talk around many sports for years. How can head injuries be limited or prevented in games that involve contact. Things through the years have gotten better. However, it would be naive to think there is still not a long way to go.
Six, that's the number of times Kariya was concussed in his professional career. At least those were the one's diagnosed. In many cases people unfortunately remember him simply as "concussion guy".
What Paul Kariya entering the HHOF means for the NHL
Seven NHL seasons have passed since Kariya last played hockey. Now he is getting set to be inducted into the Hall Of Fame.
In an exclusive, one on one interview with TSN's Michael Farber he was proposed a tough question. "Is the Hall Of Fame induction an honor or an intrusion" asked Farber. "It's the biggest honor in my life" Kariya humbly admitted.
Many things are scary when hearing Kariya's story. When asked about what he remembers from that night and a couple of day's later he only had one answer "nothing".
Kariya being inducted means a few things. For hockey fans and players who used to know and cheer for him, it's a sort of closure to his career.
Either way you slice it, Paul Kariya belongs in the Hall Of Fame. However, him being inducted isn't just a long overdue honour. It also means even though things aren't perfect in terms of safety, players are starting to gain trust back with the league again.
Lawsuits
In November of 2013 it was revealed to the public that ten former National Hockey League players, including all-star defenceman Gary Leeman, claimed in a class-action lawsuit that the league hasn't done enough to protect players from concussions.
Some big names on the lawsuit included former Toronto Maple Leafs captain Rick Vaive, Bradley Aitken (Pittsburgh Penguins, Edmonton Oilers); Darren Banks (Boston Bruins); Curt Bennett (Blues, New York Rangers and Atlanta Flames); Richard Dunn (Buffalo Sabres and Calgary Flames) and others.
The lawsuit came at an awkward time too, since it came just three months after the NFL agreed to pay $765 million US to settle lawsuits from thousands of former players who developed dementia or other concussion-related health problems.
The Consequences of the Career
It's unsettling to say the least, anytime a player gets hurt in sports. Especially when the injury is to their head. Kariya does admit through the years, the situation has definitely gotten better. Still, he believes there is more work to be done.
By the end of Paul Kariya's career, he had lost over 16% of his brain function and for his age category he was in the 25th percentile. So there is no doubt where he stands on this issue.
One thing is certain, Paul Kariya's story is a sad and unfortunate one, but it's one that opened the eyes of many. Kariya has since taken up surfing as his daily pastime near his beach house in California. He also calls it his form of meditation and enjoys the challenge of learning a new sport. It's also certain that his story will be remembered and talked about for a long time to come in the hockey world.
Main Photo:
Embed from Getty Images