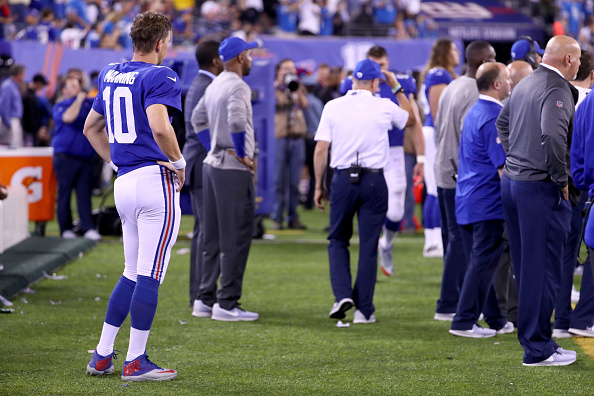 Can they pull off a win? It is early, only the sixth week of the NFL season. However, there are five teams that if they want to have any chance at the playoffs this year, they are already in a must-win situation this weekend. They are as follows.
Five Teams That Must Win in NFL Week Six
The Chargers have their one win, some would say only because they played a hapless and beaten up Giants team. However they are playing somewhat better than their record shows. Three of their losses were by three points or less. These are always more frustrating as coaches and players will pick apart every play of the game wondering when they could have gotten that one big play to pull out a win. There is plenty of second guessing decisions while trying to plan ahead for the next game. This week they are playing division rival Oakland Raiders. If they can pull off a win, it would put them in a tie with the Raiders for third in the division behind strong Kansas City Chiefs and Denever Broncos teams. Being already 0-2 in division games, another loss may well end their season before it is half over.
One of the Bears problems is consistency. They pulled out a surprising win over the Pittsburgh Steelers, but two of their four losses were huge blowouts. The other two could have gone either way. They are up against the Baltimore Ravens this week who also have consistency problems. The big thing to watch will be the match up of Bears rookie quarterback Mitchell Trubisky and Ravens veteran quarterback Joe Flacco. The Ravens are still trying to put their 8-8 season out of their mind and smooth over the rough edges. Playing against this team will be a good test for the rookie.
The Niners have been on a steady decline over the past few years. There are a lot of reasons for this. This has led to three different head coaches in three years. There are those who think this can not help a team get back on its feet. Every head coach has their own style, their own way of dealing with players. Even if they are all grade-A coaches, changing every year is not what a team needs.
Last year the Niners finished 2-14 and they are in serious danger of equaling that mark or even being worse. This week they are playing the 2-2 Washington Redskins. The Redskins had their bye week last week and will be rested and ready to go. The Niners rookies will have to step up to help get them on a winning track.
The last time the Browns ended the season above .500 was 2007. That year they missed the playoffs despite finishing with a 10-6 record. Since then, they have had a fan crushing slide to last year's 1-15 record. Furthermore, since the current franchise joined the league in 1999, they have had nine different coaches and a litany of starting quarterbacks. Many teams have not had nine coaches in their entire history. As stated with the Niners, the instability of constant coaching changes is not helping this team.
Also a teamthat keeps getting good numbers in the draft do not seem to be drafting what they need to get on track. They are also in a division that most years at least two if not three of their rivals are in the playoff hunt. They need to commit to a coach, a line-up and push hard to keep up with the rest of their division or their fans are going to permanently wear bags over their heads.
Is it strange to be surprised and yet not surprised about a team's record? Surprised because the Giants played a very solid season last year ending at 11-5. This year so far it seems like they can't buy a win. However as the weeks have gone by, the scores have been closer and they still can't seem to find a way to finish. There is also a huge problem with injuries. This past week alone three of their key receivers went down, two with season ending injuries.
However, they do have a future HOF quarterback at the helm. But he can't perform without protection. All of these problems combined and now going up against a well performing 3-1 Denver Broncos team, in Denver. Isn't going to make the climb out of the hole easy, but a road win this week would give the team much needed confidence that they could come back from the deficit they have put themselves into.
Into NFL week six we go.
EAST RUTHERFORD, NJ – SEPTEMBER 18: Eli Manning #10 of the New York Giants reacts on the sideline in the fourth quarter against the Detroit Lions during their game at MetLife Stadium on September 18, 2017 in East Rutherford, New Jersey. (Photo by Al Bello/Getty Images)