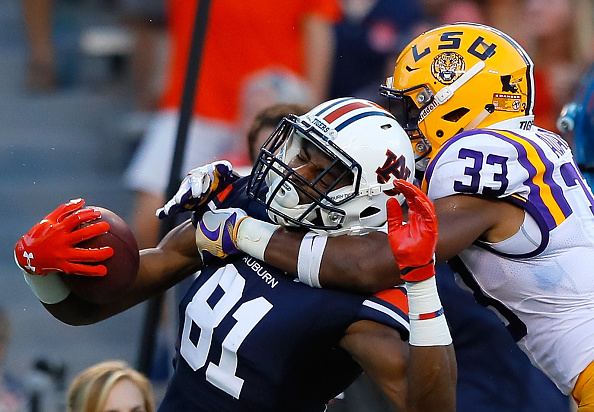 In the South Eastern Conference, there are many games that grab our attention each and every year. The Auburn Tigers – LSU Tigers rivalry is one of the toughest SEC matchups that does not take place during rivalry week. Last year, the game came down a shocking call on the field. LSU appeared to score the winning touchdown on a pass from quarterback Danny Etling. After review, the time expired before the snap. The call gave Auburn a 18-13 win over #18 LSU. After the loss to the Auburn Tigers (2-2 at the time), LSU fired head coach Les Miles. LSU was underachieving to start season at 2-2, after being ranked #5 in the preseason polls.
Clash of the SEC West Tigers – #10 Auburn at LSU
This season, the #10 Auburn Tigers (5-1) are looking to become the biggest threat to the #1 Alabama Crimson Tide in the SEC West. Meanwhile, the LSU Tigers (3-2) are playing their first home game since their upset loss to the Troy Trojans two weeks ago. Both of these teams are similar in terms of tough exterior defense and the unorthodox offenses. Auburn is favored to beat LSU by 6.5 points and has a 71.8% chance to beat LSU (calculated by ESPN FPI).
Inefficient LSU Offense vs. very efficient Auburn Defense
Auburn comes into Baton Rouge with the fifth most efficient defense in the nation while LSU has the potential and talent for a great offense under Danny Etling but lacks proper communication. Before the game against the Troy Trojans, LSU head coach Ed Orgeron took more control of offensive coordinator Matt Canada's gameplan and adjusted them to his own accords. These improper communications have made the LSU's offense less stable and not as efficient as they were in the beginning of the season.
The Tigers offense is ranked tied for 94th in the nation in points per game (25.3). They are also 86th in passing yards per game (201). The LSU receivers lack starting experience. To make matters worse, the Tigers have been plagued by injuries throughout the offense. Left tackle K.J. Malone is questionable with a knee injury, while running back Derrius Guice has had reoccurring issues with multiple injuries. This includes one he suffered four weeks ago in the loss to Mississippi State.
Last week, Guice played against the #21 Florida Gators. He accounted for 50 yards on 17 carries. Even if Guice is at his top form, he and his LSU squad could face major problems against this tough Auburn defense that thrives on chaos in the backfield. The Auburn defense has five players that accounted for 2.5 tackles for loss so far this season. Jeff Holand has accounted for six tackles for loss and four sacks so far this season. Holand will be a player to watch for in this game. He will be one of the Auburn defenders in setting the edge, collapsing running holes for Guice and likely chasing down runners on the outside from LSU's jet sweep plays.
Stability of Auburn's Offense Under Pressure
Auburn's offense ranks 34th in the nation in points per game (35.8) and 22nd in rushing yards per game (228). This is largely due to a big and talented offensive line as well as running back Kerryon Johnson. He has 85 carries for 504 yards (5.9 yards per rush) and 12 touchdowns on the season. LSU's defense has been underwhelming this season. They are 26th in points allowed per game (18.8) and 52nd in rushing yards allowed per game (137.3). Last season, they were fifth in scoring defense (15.8 points) and 13th in rushing yards allowed per game (117.3).
LSU defensive end Christian LaCouture has been great. He accounts for 38 total tackles, 4.5 tackles for loss, and 3.5 sacks. The same can not be said for Arden Key, who is high on the lists of many draft analysts. Key has not been the same player as last season when he had 12 sacks. So far this year he has 10 tackles and just 0.5 sacks. A combination of surgery and an out-of-shape physique is a big factor in his lackluster performance. Inexperience has been the biggest downfall for LSU's defense. They need to be ready for Auburn's fast tempo offense and try to create pressure.
The Clemson Tigers had success with pressure against Auburn in Week 2. Auburn's offensive line gave up 11 sacks. LSU is tied for sixth in the nation in sacks (20). They have a chance to create consistent pressure on quarterback Jarrett Stidham. With Key still adjusting to the new season, only time will tell if he will become that dominant pass rusher. Stidham has progressed well this season but is most efficient with time. So far this season, the Auburn Tigers have not fared well under heavy pressure.
The Auburn Secondary
Auburn's defense ranks sixth in the nation in points allowed per game (13). They also rank in the top 25 in every major defensive category. They benefit from experience and leadership in their five-man starting secondary. The LSU Tigers will feature bunch formations in their offensive schemes, mostly in power plays. They will also likely put in a lot of pre-snap wide receiver motion throughout the game, to throw Auburn off. In their 4-2-5 defense, some of Auburn's secondary might need to play closer to the line to avoid the power game from LSU.
The Auburn defense has played a wide variety of offenses so far this season from Clemson's high-power spread; Missouri and Ole Miss' pass orientated schemes; and Mississippi State's spread-option dual-threat quarterback offense. The LSU Tigers have a multiple offensive scheme where they can go from a spread offense with a trips on one side to a bunch formations with receiver motion. Auburn's secondary has been successful so far at stopping opposing offenses from scoring too much. The loss against Clemson was due to offensive inefficiency. Auburn only accounted for 117 total yards.
Auburn corner back Carlton Davis leads the team in pass deflections with eight, an also has an interception. Corner Jamel Dean has been effective in pass coverage as well as being an extra blitzer from the edge. He has 1.5 tackles for loss. Dean also has five pass deflections this year. Nickel Daniel Thomas will likely play closer to the line. He could be an extra coverage player or a spy in case Etling leaves the pocket. The LSU offense calls quarterback designed runs, so the Auburn defense will also have to be ready for that.
What to Expect
The kicking game may be big again. Last year, Auburn kicker Daniel Carlson scored the only points for Auburn with six field goals. If LSU's defense studies film on Auburn's offense and translates the results on the field then this game may be close yet again. The biggest goal for LSU is creating pressure on Auburn quarterback Jarrett Stidham. They need to make sure they don't give up extra yards from his runs or late hits when he slides for more yards.
You can surely expect the Auburn defensive line to be aggressive. However, they can not run past the quarterback on the pass rush, or create running room by getting out of their gaps. This will allow a minimum of five yards if a defensive line misses his assignment and zone. Too much of that will create long drives, tiring out the unit.
LSU quarterback Danny Etling can be the difference maker for LSU, but must not turn the ball over. Last year, Auburn quarterback Sean White threw for 234 yards on 16 completions against LSU. With Stidham being the more reliable quarterback for Auburn, he may have a career night and make the Auburn Tigers offense one of the best in the SEC.
Main Photo:
Embed from Getty Images