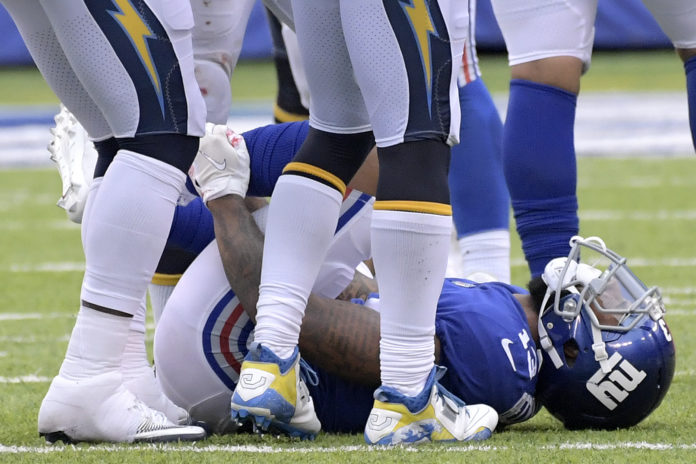 Five key injuries this week.
Well, some years there are hardly any injuries and others there are many. We are at week five and, sadly, there have been many. Several of them have been season-enders. This week, we saw a lot of talent go down and we won't see them again until next year. Here they are, in no particular order. Remember to adjust your fantasy teams and expectations for your favorite team.
Five Key Injuries from NFL Week Five
Kansas City Chiefs, Chris Conley WR
The third year wide receiver, on an onside kick return attempt, snapped his Achilles tendon. Bad enough, but there is footage of the injury happening and you can see it break loose and roll up his calf. Enough to make the majority of us squirm as we watch as we imagine how much that had to hurt. Early reports seem positive that he will be able to return, but that won't be until next year. The chiefs so far are undefeated and while he isn't the only reason, he was a very good weapon to have on the field. Time will tell how much he was helping the team as they now move on without him.
Houston Texans, Whitney Mercilus LB
Early in the game the six year veteran went to the sideline with a chest injury. Where strains or even getting the wind knocked out of you is common and would have been fortunate for the Texans. Tests confirmed Mercilus has a torn pectoral muscle and will need season ending surgery. Mercilus is a strong force on the line who led his team in sacks last year. The defense will now have to fill that void.
Houston Texans, J.J. Watt DE
Another strong part of the defense was helped off the field less than 10 plays later, obviously great pain. J.J. is not only a great player but a huge fan favorite, a generous caring man off the field and the crowd was visibly shook when they saw him not be able to walk under his own power. His own words to his fans said it best. "I can't sugarcoat it, I am devastated."
He had successful surgery on the fracture in his left leg, but the healing time it what will be the hardest. This is a man who wants to be on the field and that won't be until next year. However, it would not surprise me to see him in street clothes on the sidelines helping his team by encouraging them and giving pointers.With the Texans starting out 2-3 these are two very big shoes to fill to turn their season around.
New York Giants, Dwayne Harris WR
The Giants are already having a difficult season and almost every week they are having injuries that impact any chance of a comeback, this week was no exception.  Harris went down with a fractured foot, requiring year ending surgery. Harris is a seven year veteran, who performs well as a return man. His loss leaves yet another hole in a banged up giants team.
New York Giants Odell Beckham WR
Several injuries and limited play time as plagued Beckham. None lately as severe as the horrid twist his ankle took in Sunday's game. The fans knew it was bad as he was carted off the field in obvious pain. Another season ending surgery to another WR on this team is taking away targets for Eli to go to. With the loss of Harris and Beckham, the Giants had to make some moves on the roster. For starters, they moved up Travis Rudolph from the practice squad and signed Tavarres King. Hopefully they can stay healthy and help the Giants try to make something of their season.
Extra report. New York Giants, Brandon Marshall WR
Initial reports were inconclusive on the severity of the ankle injury to Marshall. However on Tuesday he posted that he will also require season ending surgery. The Giants have become one of the most wounded teams in the league. They will have to make a lot of shifts in the line-up to get back on track.
Here is to hoping everyone stays safe and healthy in week six.