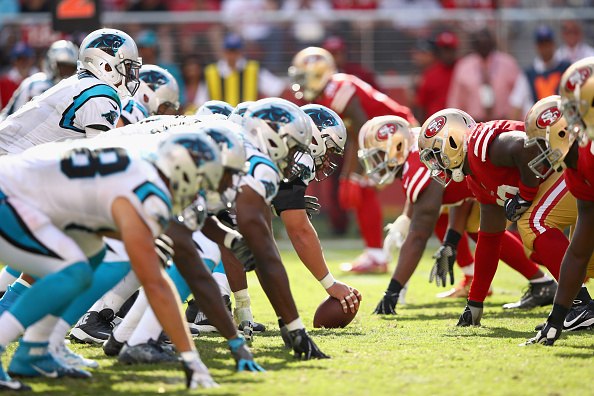 The Carolina Panthers Week One was a success as they walked out of San Francisco with an easy win. After dusting off a few cold cobwebs, the Panthers were able to finish the first half with a 13-0 lead. They then went on to score ten more points, while simultaneously limiting the 49er's to just three points. Here is the Carolina Panthers at the San Francisco 49er's Week 1 recap:
What went well
The Carolina defense was all over the 49ers. Luke Kuechly tied the team in tackles with seven and also pulled in one interception. He sat out the last six games of the 2016 season with a concussion, and he plans on working himself back into game shape.
As a whole, the Carolina team finished with four sacks in the first half.
What we learned
The Panthers are going to use Christan McCaffrey a lot. The team will continue to operate with a run-heavy offense where both Jonathan Stewart and McCaffrey will be sharing an equal amount of reps. McCaffrey showed us he can line up just about anywhere on the line.
McCaffrey finished the game with 47 rushing yards and 38 receiving yards on twenty touches.
Thomas Davis is showing no signs of slowing down. If you were not a Panthers fan you would have a hard time understanding how a 34-year-old linebacker coming off of three ACL injuries plays the way Davis does. He finished the night with seven tackles and one sack.
Graham Gano looks to be safe this season. He made all three field goal attempts and is making a case for keeping the primary kicker position.
Areas for improvement
Cam Newton was  "A little rusty," per Ron Rivera and will do anything he can to improve his throwing accuracy. The secondary got burned a few times, luckily they were saved by a few inaccurate throws. Also, wrapping up and tackling in the backfield could improve.
It is hard to know how the offensive playbook will change throughout the rest of the season, but hopefully, Don Shula will incorporate more quick passes and other short passing routes. There were a handful of throws forced to Kelvin Benjamin when he was double covered.
The three points allowed by Carolina was their fewest allowed in a season opener. That is a wrap on the Carolina Panthers week one recap. For now, the Panthers advance tied for first in the NFC South with the Falcons.
Main Photo: