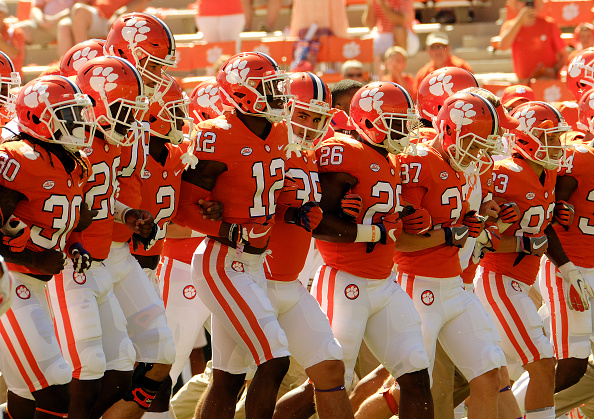 'Rebuilding' may not be a word that sits well with the #5 Clemson Tigers, especially on the heels of a huge 56-3 win over the Kent State Golden Flashes last Saturday.
After last season's National Championship winningseason, the team lost a lot of talent and experience. Key omissions include quarterback Deshaun Watson and wide receiver Mike Williams from the Clemson Tigers offense. Watson was such a huge part of their 14th ranked scoring offense (39.2 points per game) and 7th ranked passing offense (333.9 passing yards per game).
Clemson Tigers Offense Rebuilding
Some of the greatest coaches in sports say that great teams don't rebuild, but rather reload. Head coach Dabo Swinney and the Clemson Tigers believe that they have found the proper replacement to Deshaun Watson in junior quarterback Kelly Bryant. While the whole Tigers offense was very instrumental in their huge win over Kent State, all eyes were on Bryant, who did not disappoint.
Kelly Bryant, the new high-power leader for Clemson
Kelly Bryant was tasked to become the multi-role and high-power quarterback of a Clemson Tigers team that has been successful with Deshaun Watson leading the helm for years. While the transitioning of Kelly as a starter will take a little more time, he had a great game in his first start against the Kent State Golden Flashes. Even though Kent State got a 3-9 record last season, the Tigers were easily prepared for the matchup with new starters all across the depth chart. Bryant accounted for 236 passing yards from 16 completions (out of 22 attempts), one touchdown and one interception. Bryant also rushed for 77 yards on seven carries and a touchdown.
Bryant was poised in his throws, made smart decisions, and was patient enough to wait for the offensive line to make efficient blocks and plays to progress. Bryant has the same similar arm strength and accuracy that Deshaun Watson had during his time with Clemson. He is also a dangerous, elusive runner that Watson was for Clemson. Bryant is also very similar physically to Deshaun as he is 6'4, 220 pounds while Watson was 6'3, 215 pounds in the beginning of 2016.
Coach Swinney is not trying to make a new Deshaun Watson for Clemson this season but it doesn't hurt the fact that Bryant is just as athletic and similar to a tremendous playmaker like Watson. Throughout the game against Kent State, Bryant displayed a lot more swagger and eccentric behavior than Watson. Bryant applies to a lot to the emotional aspect of the game which can be bad if future games get close and intense. Overall, a good solid transition for Bryant as he looks to continue the same dominance that the reigning National Champs finished 2016 with.
New Year, same offensive production for the Clemson Tigers
Bryant was the only player for the Clemson Tigers to help the offense progress well. Running back Travis Etienne had eight rushing attempts for 81 yards (an average of 10.1 yards per rush) and a touchdown. RB C.J. Fuller also had seven rushes for 51 yards (an average of 7.3 yards per rush) and twp touchdowns. The Tigers as a team accounted for 353 rushing yards on 43 attempts (an average of 8.2 yards per rush) and six rushing touchdowns. The offensive line for the Tigers, led by 2016 ACC All-Conference OT Mitch Hyatt and G Tyrone Crowder, created huge running rooms and holes for the backs to slip through for big yardage.
Hunter Johnson and Zerick Cooper (one passing touchdown) were also in at quarterback due to the high level of scoring throughout the game. The receiving game for the Tigers had many players that contributed well as they had 15 receivers and backs who had a catch. There was no receiver that had more than three options in the game. WR Deon Cain accounted for 70 yards on two receptions and a touchdown while National Championship hero WR Hunter Renfrow accounted for two receptions for 16 yards. Clemson used multiple variations of their spread offense with the same option run scheme that they used while Watson was the starting quarterback.
Transitioning from Kent State to #13 Auburn Tigers
While the game against Kent State was a great first start for Clemson, their first real test will be when they host the #13 Auburn Tigers. Last year, the Clemson Tigers had to travel to Auburn and barely came out with a 19-13 win. This year, they will host an Auburn Tigers team that has a more consistent quarterback in Jarrett Stidham (former Baylor Bear starter) after demolishing a Georgia Southern Eagles team 41-7. Auburn returns 7 defensive starters including 3 defensive backs from last year that was ranked 7th in the nation in points allowed per game (17.1) and 27th in rushing yards allowed per game (132.8).
The Clemson Tigers offense will be facing a tough and aggressive Auburn Tigers team that accounted for five sacks and 12 tackles for loss against the Eagles. Auburn middle linebacker Tre Williams accounted for 10 total tackles, six solo tackles, two sacks and two tackles for loss last week. DE Marlon Davidson accounted for four total tackles, three solo tackles, two sacks, and two tackles for loss and DE/OLB Jeff Holland accounted for five total tackles, four solo, two tackles for loss, and a sack. Clemson QB Kelly Bryant had a great first start in his career in the game against Kent State but will have his first real test against one of the defenses in the SEC last year. Clemson is a 4.5-point favorite over Auburn.
Clemson's offense going forward
Many people around the college football world are looking for the #3 Clemson Tigers (currently in the AP Poll, up from #5 last week) to make a huge run for the College Football Playoffs once again or fall back from their successful grind. While the Tigers are making huge strides to proving their playoff worth, there is still a long season to go. Time will only tell if quarterback Kelly Bryant can handle the new starting position well and if the offense still just as efficient and dangerous as last year. The Tigers will have to start now by beating a tough non-conference opponent in Auburn and then beating ACC rivals #10 Florida State and #17 Louisville. Clemson does have more of a chance to win the ACC because of the unexpected and unfortunate injury to Florida State quarterback Deondre Francois. Look for Clemson to be a huge part of the College Football Playoff race even if they falter late in the season to FSU on November 11th.
Main image credit:
Embed from Getty Images