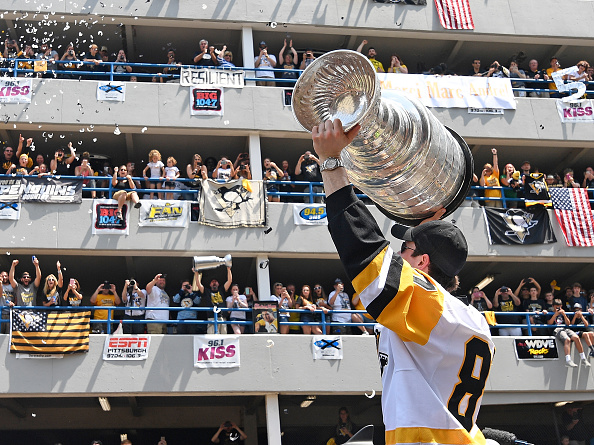 The temperature is starting to drop, the evenings are growing darker and the leaves are starting to fall, which can only mean one thing: another NHL season is almost upon us.
It has been a long off-season for hockey fans deprived of any action but the onerous wait is almost over. Pre-season is almost upon us and in just a few weeks' time the regular season will begin in earnest. Sportsbooks are getting excited and releasing early lines on who will seize glory in 2017/18, so we decided to analyze the leading contenders:

Pittsburgh Penguins
The Penguins are aiming to become the first team since the Islanders of the early 1980s to win the Stanley Cup three times in a row. That would be a momentous feat, but the books are backing them to do it. Pittsburgh is the +900 favorite in the early lines to pull off a three-peat and sports fans are backing it in their droves. Pittsburgh has endured a difficult summer, losing long-standing goaltender Marc-Andre Fleury, defenseman Trevor Daley and center Nick Bonino, among others. But it has held onto star trio Sidney Crosby, Evgeny Malkin and Phil Kessel, and that is enough to terrorize any team. The big question is whether they can stay healthy, as Crosby and Malkin in particular have played a lot of hockey over the past two years. If they make it through another season intact, Pittsburgh has a great chance.

Edmonton Oilers
Edmonton finished second in the Pacific last season behind Anaheim, and lost to the Ducks in the second round of the playoffs. But bigger things are expected of the Oilers this time around. Crosby aside, Connor McDavid is the best player in the world and seems destined for greatness. With him in the team, Edmonton has to be a contender, but big questions linger over its defense and strength in depth, so the +1000 on offer looks a little risky.

Washington Capitals
The Caps were on fire last season and earned the most points of any team in the regular season. They took the Penguins to seven games in the playoffs but fell agonizingly short, and then Washington was ripped apart in the offseason due to the cap. Marcus Johansson, Karl Alzner is gone and Kevin Shattenkirk will all be badly missed. The bones of a strong team persists, but there will be huge pressure on the likes of T.J Oshie and André Burakovsky to perform, and fans will have to pray that Alex Ovechkin has plenty of magic left in him. Still, with Braden Holtby in the crease they have a chance.
Nashville Predators
Last season's runner-up will be back with a vengeance this season, with Bonino and Scott Hartnell giving them greater strength in depth. With Kevin Fiala and Ryan Johansen back in the fold, Nashville has an intimidating wealth of talent at its disposal. Pittsburgh may have the best offense, but Nashville has the best defense and this team seems on the brink of achieving something special. You can get +1600 on the Predators and that looks like a great option. Review a site like Bodog if you're looking to take advantage of preseason odds and you could enjoy a serious win on Nashville
The Rest
The Lightning are looking healthy once more and are set for a serious improvement this season after a disappointing 2016/17 campaign. You can never write off the Blackhawks, especially now that Brandon Saad and Patrick Sharp are back, joining a team already blessed with Jonathan Toews and Patrick Kane. Chicago could go far in the playoffs. It is about time a Canadian team reached the Stanley Cup Finals, something that has not happened since 2011, and if Edmonton cannot make it, there are a couple of strong contenders in Montreal and Toronto. The Canadeans have a great chance of winning the Atlantic. Alzner is a great addition, as is Jonathan Drouin, while Claude Julien should be rejuvenated. But Carey Price will be the main man and if he turns it on Montreal has every chance. The Canadeans are an interesting long-shot at +1800, but Toronto is perhaps even more exciting at +2000. A load of action has gone on the Maple Leafs in the off-season and it is easy to see why at those long odds. Toronto has a great young team: Auston Matthews, Mitch Marner and William Nylander are all destined for big things. Patrick Marleau is a fantastic addition. There are question marks over the defense, but this team is a legitimate contender and a great long shot.
Main image credit:
Embed from Getty Images