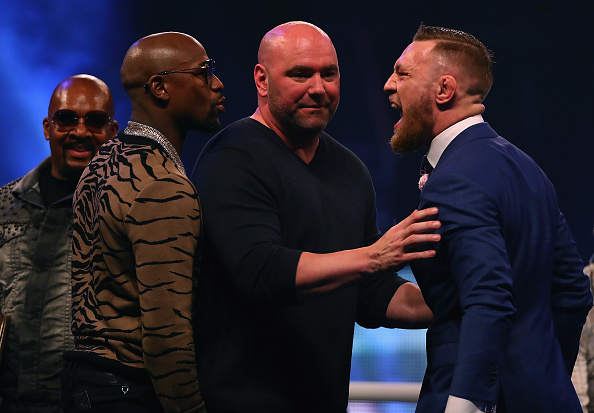 Opinion
Why The McGregor-Mayweather Fight is a Joke
Promotion and showmanship have always been integral aspects of boxing.  A properly promoted fight puts fans in the seats and sells pay per-view tickets.  Mohamed Ali mastered this art in his fighting days.  His rhetoric was so poetic and emphatic that it has become ingrained into the American vernacular.  Others chose side show type trash talking like Tyson telling us he would eat Holyfield's children.  Regardless of which type of trash talk you prefer, poetic or perverse, these men sold tickets.  Two of the greatest self-promoters in the history of the world have come together for this "fight". Sadly, it may be the press conferences and overall lead up to the main event that carries the excitement as the "fight" seems lack luster overall.
McGregor's Outfits 
First came the suit, that magnificent suit.  It appeared normal as nothing remarkable stood out about it.  It looked like nothing more than a simple well tailored navy-blue suit with pinstripes.  The glory of it only became apparent the closer one got to McGregor.  The pinstripes were not pinstripes at all.  Instead they were the words "F–K YOU" written repeatedly giving the impression of normal pinstripes.  It was so subtle that not even UFC President Dana White noticed until the end of the press conference.  Brilliance in trash talking right here.
Then came the abomination in Brooklyn.  If McGregor has a stylist that person needs to taken out back and beaten within an inch of their life.  McGregor's outfit was a seventies meets eighties satirical pimp or player haters ball abomination that brought pain to the eyes.  I am fairly certain it caused a seizure for some poor epileptic person in attendance. Yes, I know that he was attempting to mock Money Mayweather but the only thing he mocked with it was humanity.
ADVANTAGE – McGregor
McGregor's Lack of Boxing Experience
I am not discrediting McGregor as a fighter.  I am skeptical about his ability to compete against one the greatest defensive boxers in the history of boxing. Mayweather is 49-0 as a professional and has beaten some top level talent during his career.  (Personally I believe he lost to Mosley but that is another article) While being champion in his respective fighting venue McGregor has zero professional fights in a boxing ring.  I have heard how his past trainers or friends say he can hold his own in sparing with champions.  Well, fighting Mayweather is something you can't replicate and it isn't a sparing match this time. McGregor has some work to do here.
ADVANTAGE – Mayweather
Glove Weights and Design
Gloves used in MMA style fights weigh between 4 to 6 ounces and allow for fighters to have full use of fingers and thumb.  The gloves McGregor will be using in this "fight" will weigh 10-ounces and are mitten style gloves providing zero hand use.  That is a quarter pound heavier than McGregor is used to fighting with and creates a totally different style of fighting he is used to.  A 4-ounce difference doesn't seem like a lot until one starts throwing a multitude of punches at a fighter that excels in making people miss.
The padding provided by boxing gloves is greatly different compared to MMA gloves as well.  Many MMA fights end when one opponent lands a good strike to another and they fall to the canvas placing the opponent in a vulnerable position. That ground vulnerability never comes into play in a boxing ring placing McGregor at another disadvantage.  Also, McGregor could lose a little of his striking power through both a heavier glove and one that provides more padding for his opponent.
Advantage – Mayweather
Fight Duration
MMA title fights are sanctioned for three rounds.  Each round is 5-minutes in duration with a 1-minute rest period between rounds.  The "fight" between Mayweather and McGregor is sanctioned for 12 rounds.  Each of these rounds is 3-minutes in duration with a rest period of 1-minute between rounds.  If the fight goes the distance it will last an additional twenty-one minutes of fight time.  The worst case scenario for McGregor is the fight goes the distance.  This will force him to compete in a fight more than double the amount of time he is accustomed to.  Chasing Mayweather around the ring for an additional twenty-one minutes is a lot of work and a tall order for anyone.
Advantage – Mayweather
Ring Size
This is where the odds tilt into McGregor's favor a little better.  McGregor is used to defending 750-square feet of space in the MMA octagon.  A boxing ring, at its largest size, only provides 400-square feet of fighting surface.  That is a lot less area for McGregor to defend.  Unlike the octagon, which has no solidified corners, the boxing ring provides traps in its 90-degree corners.  If McGregor can defend the ring well enough and push Mayweather into a corner he has a distinct advantage over his opponent with his punching power.  The problem is getting Mayweather into a corner.
Advantage – McGregor
Prediction
This "fight" has an odd feel to it.  It reminds me of being at a carnival.  Some loud obnoxious rhetoric spewing carny reals spectators into the strong man or some weirdo wrestling a bear.  McGregor is not fat, does not wear a unitard, and lacks a handle bar mustache but the feel of the spectacle is just as ominous. This "fight' reeks of money grab of which the spectators will be duped into shelling out money to watch a grotesque exhibition of sub par boxing.
I am not counting out McGregor.  He is tough as nails and walks through life with a perpetual chip on his shoulder.  People saying he can't win is going to fuel this man's rage and ambition and you never count a man like that out.  His striking ability is going to give him the chance to put Mayweather to sleep if he catches Mayweather being lackadaisical. Unless Mayweather makes that fatal flaw this fight is over before it begins. Mayweather is the greatest defensive boxer ever and has only been knocked down once in his career and even that was suspect against Carlos Hernandez.  Forty-nine fights and he has hit the canvas once.
My prediction is this: Mayweather is going to dance around the ring like he does and he is going to force McGregor into a mistake out of frustration.  McGregor is going to get agitated at the lack of contact and punches thrown by Mayweather.  This will lead to McGregor throwing heavy punches out of frustration and he is going to leave the door open in lowered defenses against the greatest pound-for-pound boxer in the world and Mayweather is going to canvas him.
Personally, I would love for nothing more than McGregor to beat Mayweather like he stole something.  Not because I like McGregor, but because I dislike Mayweather for his past domestic assault. I would hate to see him pass Rocky Marciano in the all-time standings.
Regardless, the spectacle of the of the lead up to the "fight" will be entertaining and at least those are free.
Main image credit: