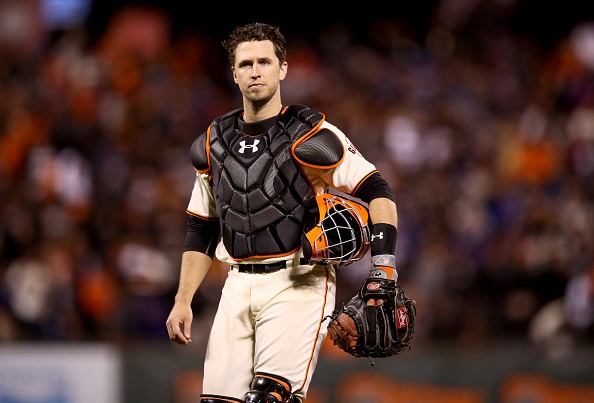 It is hard to find a blend of an offensive and defensive catcher in MLB. Some guys hit for straight power, while others have cannons for arms and are rock solid behind the plate. Here are the top catchers in major league baseball today.
Top Catchers in MLB
10 Russell Martin
Martin has been in the league for 11 years now. He is a four-time All-Star, one-time Gold Glove award winner, and one-time Silver Slugger award winner. He has hit 20+ home runs in his past two seasons. Martin is a career .254 hitter, and has some big bats around him in that Toronto lineup.
9 Wilson Ramos
Ramos would be ranked higher, if not for a knee injury leaving his start of the season in question. Last season with the Nationals, Ramos had an outstanding year. He had a career year, hitting .307 with 22 home runs and 80 RBI's. He finished 17th in MVP voting, and was awarded the Silver Slugger award. When healthy, Ramos will have to prove this past season wasn't a fluke in Tampa Bay. 
8 Willson Contreras
Contreras came up last season and provided a spark en route to a Cubs World Series championship. He hit .282 with 12 home runs, 14 doubles, and 35 RBI's. In the postseason he appeared in 17 games and hit to an average of .256. Contreras has developed more power as he has matured, and has appeared to be more focused at the plate.
7 Evan Gattis
Gattis has torn the cover off the ball the past two seasons. Last season he hit a total of 32 home runs, and he has topped 20 home runs all four years of his brief career. Gattis does not hit much to contact, but he displays some raw power. Defensively, he threw runners out to a mark of 46%. He is a good bet to hit at least 20-30 home runs each year as long as he can stay healthy.
6 Yadier Molina
Yadi has been one of the better defensive catchers in the game for a long time. He is an eight-time Gold Glove award winner behind the plate. Offensively, Molina is a career .285 hitter. This past season he had an outstanding year, hitting .307 with 38 doubles, and finishing 23rd in MVP voting.   
5 J.T. Realmuto
Realmuto is one of the most underrated offensive catchers in baseball. In his second full season in the big leagues, the Marlins catcher hit .303 with 11 home runs. He also finished in first with eight defensive double plays turned as a catcher. He threw out base runners at a clip of 35%, recording the third most caught stealing with 28. Realmuto is surprisingly quick for a catcher, as he stole 12 bases last season.  
4 Jonathan Lucroy
Lucroy was the hot commodity at this past season's trade deadline. He is one of the better offensive catchers in baseball today. Last season between the Brewers and Rangers Lucroy hit .292 with 24 home runs and 81 runs batted in. Lucroy is the type of hitter who can hit for power as well as shoot the gaps for extra bases.
3 Gary Sanchez
Sanchez is a pure power hitter. He came into the league late last season, as he played in only 53 games. The rookie hit to an average of .303 with 20 home runs. It was the best 50-game stretch to begin a career of all time, and Sanchez hit his way into AL Rookie of the Year talks. At only 24 years old, Sanchez will be one of the best offensive catchers in baseball for sometime to come. 
2 Salvador Perez
Salvy is one of, if not, the best defensive catchers in baseball. He is a four-time Gold Glove award winner for his magic behind the plate. This past season he had a career high 48% caught stealing rate. Although he is a defense-first catcher, Perez doesn't give much up at the plate. This past season he hit .247 with 22 home runs and 64 RBI's, en route to winning his first Silver Slugger award. 
1 Buster Posey
Posey may not be the best offensive catcher on this list, however he is the best overall catcher. Posey is a career .307 hitter with 116 home runs. The 2012 MVP is one of the best two-strike hitters in the game. Posey is a four-time All-Star, three-time Silver-Slugger winner, the 2010 Rookie of the Year, the aforementioned 2012 MVP, and was awarded his first Gold Glove award last season.
Check out my other top lists for baseball:
Agree with the list? Have your say in the comment section below. 
Interested in writing at LWOSports.com? Send a sample list to [email protected]
Main image credit: