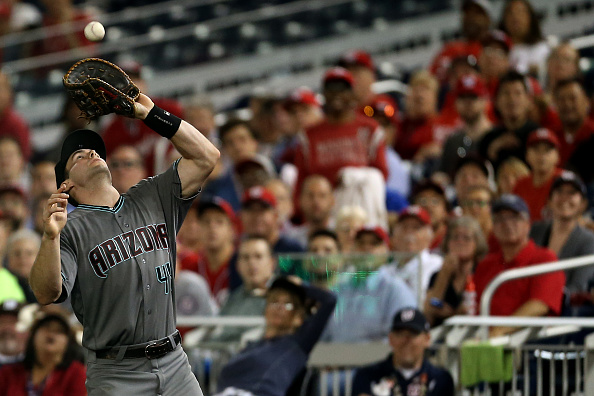 First basemen are one of the hardest positional groups to rank. There is so much talent at the first base position these days that it is hard to choose from. Some are more productive offensively, some are more productive defensively, and some have both. Here are the top first basemen in the MLB today.
Top First Basemen in MLB
10. Ian Desmond
Desmond had a breakout year as a Texas Rangers. This offseason he signed with the Rockies and will most likely play first for Colorado. Desmond, known for his power has 20+ home runs in  four of the past five years. He figures to see no decline in his production as he will be playing his home games in the batter friendly Coors Field.  
9. Eric Hosmer
The "Wizard of Hos," is more of a defensive force for the Kansas City Royals. He is a three time Gold Glove award winner at first. Offensively, Hosmer puts up decent numbers. The past two season he has a combined 43 home runs and 197 runs batted in.   
8. Wil Myers
Myers was the 2013 AL Rookie of the Year with the Tampa Bay Rays. He had tow down years, but last year was his breakout year with the Padres. Myers hit .259 with 28 home runs, 94 runs batted in, 99 runs scored, and 28 stolen bases. Myers has had some issues staying healthy, as he has had some consistent wrist issues.  
7. Jose Abreu
Abreu has been an offensive force since signing with the White Sox from Cuba. In 2014 he won Rookie of the Year and a Silver Slugger award, hitting .317 with 36 home runs and 107 RBI's. Since then, Abreu hasn't looked back as he has 55 home runs and 201 RBI's the past two seasons. 
6. Edwin Encarnacion
The past five years, Encarnacion has turned his career around. He has finished in the top fifteen in AL MVP voting in four out of the five years. He has hit 34+ home runs and has driven in 98+ RBI's in all five years.   
5. Joey Votto
Votto is also on the list of one of the best offensive first baseman in baseball today. In his career, Votto is a .313 hitter with 221 home urns and 730 runs batted in. He has finished in the top 15 in MVP voting in six of his ten years in the league. Last season on a depleted Cincinnati team, Votto hit a stellar .326 with 29 home runs and 97 RBI's. 
4. Miguel Cabrera
At 33 years old, "Miggy" is still one of the very best in the game. He is an eleven time All-Star, a seven time Silver Slugger Award winner, and a two time AL MVP. Cabrera hasn't missed a stride in his older years, as he hit .316 with 38 home runs and 108 runs batted in last season. He is career .321 hitter with 446 home runs and 1553 RBI's.   
3. Freddie Freeman
Freeman has been one of the best offensive first basemen since he came into the league. He is a career .288 hitter with 138 home runs and 515 RBI's. In his career, he has finished second in Rookie of the Year voting, fifth and sixth in MVP voting, and is a two time NL All-Star. Freeman will be a key part of the resurrection of a young and upcoming Atlanta Braves ball club.  
2. Anthony Rizzo
Rizzo is the man, there isn't much to not love about him. He has hit 20+ home runs the past four seasons. The past three seasons he has made the All-Star team, and finished tenth and fourth in MVP voting. To go along with the making the NL All-Star team, last season Rizzo won a Silver Slugger Award, after hitting 32 home runs, driving in 109 runs and hitting to a career high .292 average. He also won a Gold Glove, as he was one of the best defensive first basemen in the game. 
1. Paul Goldschmidt
Goldy has been the best first baseman in baseball the past couple of years. Goldschmidt has been named to the All-Star game every year since his break out year in 2013. In that same span, he has also won two Gold Gloves, (2013 and 2015) two Silver Sluggers, (2013 and 2015) and has finished second in MVP voting twice (2013 and 2015) and eleventh in MVP voting last season. The past four seasons he has hit to a combined average of .305, with 112 HR's, and 399 RBI's. 
Check out my other top lists for baseball:
Agree with the list? Have your say in the comment section below.
Interested in writing at LWOSports? Send a sample list to [email protected]