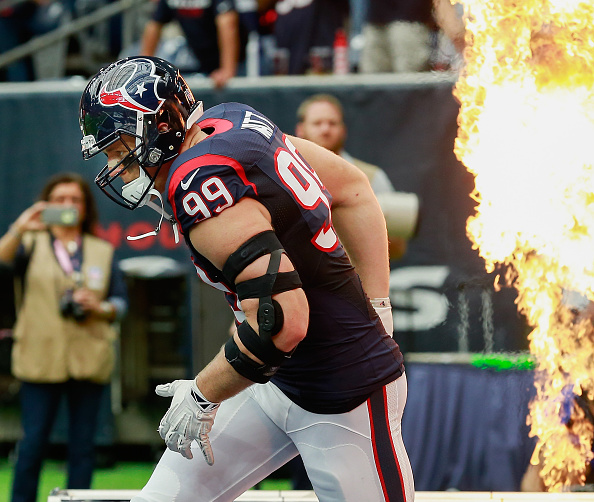 Edge rushers are some of the toughest and quickest linemen in the game. They fight in the trenches and do the dirty work. Here are the top 3-4 Defensive Ends in today's NFL. 
Top 10 3-4 Defensive Ends
10 – Alan Branch
Branch is a force on the Patriots' defense. He recorded 11 quarterback hurries and 1.5 sacks. Where he stood out the most was against the run, in which he recorded eight run stuffs. The 350-pound end has been known as a valuable run stopper on all four NFL teams he has played for. 
9 – Chris Baker
Baker has been very productive since going undrafted in the 2011 Draft. He has 9.5 total sacks the last two season. He also recorded 16 quarterback hurries this past season. Baker is quick off the snap and has long arms which enables him to get inside the numbers and makes him an effective run stopper.
8 – DeForest Buckner
As a defensive lineman for Oregon last season, Buckner was one of the most disruptive forces in the nation. His rookie season with the 49ers was much of the same, as he finished fourth amongst rookies with six sacks, and was second amongst defensive linemen to Olivier Vernon with 963 snaps played. Buckner is a player who has shown he isn't satisfied with his skill and wants to continue to improve, which could make him a force in this league for a long time. 
7 – Joey Bosa
The rookie out of Ohio State was phenomenal in his first season with the Chargers. Bosa recorded 10.5 sacks, six in the last five games, and had 23 quarterback hurries in only 12 games. He was the defensive rookie of the month twice, in October and December. Coming out of Ohio State, Bosa has some phenomenal speed and power.
6 – Muhammad Wilkerson
Wilkerson has a bit of a down season last season. After recording 12.5 sacks the year before, he only recorded 4.5 sacks. Wilkerson has been a force in this league since being drafted in 2010 out of Temple. He has the perfect blend of height, bulk, and speed to be an effective bull rusher.
5 – Jurrell Casey
Casey has been a reliable defensive end for the Titans since he came into the league, appearing in 15 games in all six seasons. He has recorded 17.5 sacks the past four seasons. He had 17 quarterback hurries as well. Casey is a thicker guy with some good foot speed, he is quick off the ball, and is solid against the run.
4 – Mike Daniels
Daniels has consistently been the Packers' best defensive lineman the past few years. He played a key part in the eighth ranked Green Bay Packers run defense. He was also the best pass rusher on the Packers, recording 4 sacks and 20 quarterback hurries. Despite being a bit undersized, Daniels is quick off the ball and trusts his instincts to make plays.
3 – Cam Heyward
Heyward, the defensive captain of the Steelers, played in every game since being draft in 2011 up until week 5 of this season. Appearing in only seven games, Heyward recorded 3 sacks and 21 tackles. In the past four seasons, he has recorded 22.5 sacks. He is quick off the ball and plays with leverage in the running game. 
2 – Calais Campbell
Campbell finished the season with 53 tackles, eight sacks, a career high three fumble recoveries, and forced two fumbles. He also had 16 quarterback hurries. Campbell is an explosive athlete, and shows the speed to blow past lineman. Campbell is a huge man, and in fact he was the tallest defensive lineman to ever suit up for the Miami Hurricanes. 
1 – J.J. Watt
When healthy, Watt is the best pass rusher in the game. He missed the majority of this season so we can only assume stats from last season. En route to his third Defensive Player of the Year award, Watt led all defensive linemen in sacks (17.5), quarterback hits (50), tackles for loss (29), and passes defended (8). Watt has some unreal size and speed, and uses his hands very well to get unblocked. 
Agree with the list? Have your say in the comment section below.
Interested in writing at LWOSports.com? Send a sample list to [email protected]
Main image credit: