It's been announced that College Football Playoff expansion is happening! In its current form, just the top four teams in the final CFP poll play for a shot to win the National Title. By 2026 at least — and, quite possibly as early as 2024 — college football will have a more legitimate playoff format.
There are strong, strong opinions on both sides of this argument. However, the eventual College Football Playoff expansion is a good thing for the sport as a whole.
We also played Devil's Advocate and looked at a few reasons why this could be a bad idea.
College Football Playoff Expansion is a GOOD Thing
Gives Group of 5 Programs a Legit Shot
Taking a page from the BCS, Automatic Qualifiers return! In the new format, the six highest-ranked conference champions get in. That means one thing: AT LEAST one Group of 5 conference champion will have a shot to compete for all the marbles.
Ever since the inception of the BCS, there have been a handful of G5 teams worthy of settling the debate on the field. As we said in our Group of 5 CFP busters piece before the 2021 season: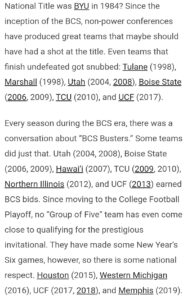 According to The Athletic, the following teams would have made it in a 12-team format as members of a G5/non-AQ conference:
Boise State: 2004, 2006, 2008, 2009, 2010, 2011, 2012, 2014
TCU: 2000, 2005, 2008, 2009, 2010, 2011
UCF: 2013, 2017, 2018
Cincinnati: 2020, 2021
Utah: 2004, 2008
Coastal Carolina: 2020
Hawai'i: 2007
Marshall: 1999
Memphis: 2019
Miami (OH): 2003
Northern Illinois: 2012
Tulane: 1998
Western Michigan: 2016
On seven occasions, multiple G5/non-AQ teams would have made it: 2004 (Boise State, Utah), 2008 (Boise State, TCU, Utah), 2009 (Boise State, TCU), 2010 (Boise State, TCU), 2011 (Boise State, TCU), 2012 (Boise State, Northern Illinois), and 2020 (Cincinnati, Coastal Carolina). Now, hindsight is 20/20 and the rankings likely would not have fallen the same. However, imagine having three G5 teams in one CFP (plus a Cincinnati team from the AQ Big East!).
How long will it be until a G5 team wins its game? How long until one wins it all? It's bound to happen and the sport will be all the better for it when it does.
On-Campus Matchups!
What would be better than an on-campus CFP matchup? The crowds in Bryant-Denny Stadium, The Horshoe, Death Valley, or the Coliseum for a CFP game would be one of the most electric in history. Think major rivalry games turned to 11.
One benefit would be financial. Each city would have a boost in its economy with each passing game. Not to mention the fact each program would benefit from an additional game or two of ticket, merchandise, and food/drink sales. Given, most of the top programs don't need the help. However, when a middling P5 program manages to make it (like Iowa State), they, along with just about all of the G5 participants, could use that money.
Another benefit is weather. In late December and early January, the weather changes. It's cold up north. The SEC rarely travels north and would have another hurdle to clear. Could this result in a seemingly unfair advantage for Big Ten teams? Possibly, but not every game is played in perfect conditions. Notre Dame and NC State played in a hurricane back in 2016.
The problem is that the overwhelming majority of bowl games are 1. in mostly empty stadiums and 2. in nearly perfect conditions. Allowing higher-seeded teams to host at least the first round of games mitigates that problem. To make it fair to the top four teams, both the first two rounds could be held on campus.
Fewer Opt-Outs
A massive phenomenon sweeping the college football landscape is the prevalence of top players opting out of meaningless bowl games. Matt Corral comes to mind from last year's slate. No non-CFP bowl game is as important as the millions of dollars a player could lose with an injury.
By increasing the number of important bowl games from three to 11, the number of top-tier, NFL-ready athletes to opt out would decrease. Would there also be an increased chance of injury? Sure! But would an athlete take a chance in the Rose Bowl as compared to the Cheez-It Bowl?
More Money for Programs, Conferences
We touched on this a bit before but think bigger. Sure, ticket, merch, and food sales will help a whole lot, but each program and conference gets paid per bowl. Before receiving payouts from lower-tier bowls (as the Big Ten does from the Quick Lane Bowl, etc), conferences participating in the CFP earn six million dollars per team (so the SEC got $12MM, B1G got $6MM, AAC got $6MM in 2021) and the rest of the conferences get four million.
The AAC benefited greatly from the increased revenue despite Cincinnati losing 27-6 to Alabama in prime time. Now imagine what the Sun Belt, Mountain West, Conference-USA, or MAC could do with that money. Usually, those programs get their massive payouts by traveling to P5 teams to lose 77-21.
Now, those figures may not stay the same when increasing from four to 12 teams, but the logic applies. By guaranteeing at least one Group of 5 program will make it yearly, it'll help to close the revenue gap. Of course, when the SEC sends four teams, it won't matter as much but a rising tide lifts all boats.
And all of that is BEFORE the crazy TV deals.
Imagine the Upsets!
"But imagine the blowouts!" There is at least one "blowout" a year in the current four-team CFP, so why not lean into it. Will there be more bowouts? It's very possible, but what about the time a 12-seeded, SBC champ Appalachian State beats five-seed Oklahoma? Or, of course, if they do the right thing and allow the conference champions to be seeds one through six, the MAC Champion Toledo upsets an ACC runner-up in Wake Forest?
The SECOND a blueblood manages to drop a CFP game to a massive underdog like Louisiana or UTSA, the years of blowouts would be worth it. In the 2021-22 CFP, Cincinnati performed admirably against juggernaut Alabama. Was it evident that these two teams were on two very different levels? Absolutely. However, the Bearcats were never actually out of the game. It was 17-6 heading into the fourth.
Every year, teams from the Group of 5 derail "Power" 5 teams. This year alone, Appalachian State beat Texas A&M. Marshall beat Notre Dame (even if the Irish don't look good, it was a big win). ECU very nearly beat NC State. Houston nearly beat Texas Tech.
Group of 5 programs are well-known for having experience on their side. You don't see as many athletes leave early for the NFL as you do with P5 teams. Naturally, the best G5 teams are led by fourth and fifth-year players who have played in the system for years and are leaders. Put one of those teams up against, say, a younger Ohio State team, craziness can happen.
Larger Pool of Potential Teams
The CFP Board of Managers will meet to discuss College Football Playoff expansion on Friday.
Here is how the 12 team model with home playoff games from last year would've looked: pic.twitter.com/cG3AOF1qxQ

— CFB Playoff Edits (@CFBPlayoffEdits) September 1, 2022
Realistically, there are only a couple of dozen teams with a realistic shot of even qualifying for the four-team CFP:
Big Ten: Ohio State, Michigan, Michigan State, Penn State, Wisconsin, Minnesota (this year)
SEC: Alabama, Georgia, Texas A&M, Arkansas, Tennessee/Kentucky (longshot)
ACC: Clemson, Wake Forest, NC State
Big 12: Oklahoma, Baylor, Oklahoma State
Pac-12: USC, Oregon, Utah
Independent: Notre Dame
Every now and then, a team will come out of nowhere like an Iowa, Washington, or a miracle G5 team. Either way, the cream always rises to the top. Bluebloods, barring a few down years like Texas, will always start off the year with the benefit of the doubt, setting themselves up for success even if they drop a game or two. Plus, the overinflation of preseason polls allows for lower-ranked teams to shoot up the board with a fluke win.
By expanding to 12, that pool expands drastically. At the very least, half of the SEC and Big Ten have a better shot and you can add a few more teams in the Pac-12, Big 12, and ACC lists. Plus, the Group of 5 has a chance.
Now, this could have a few fun effects down the road. Could it result in a better argument for a stronger out-of-conference slate? An early-season loss to a good team is not a death knell. We could have more Georgia v Oregon, Ohio State v Notre Dame, and Alabama v Texas matchups. Teams could take a chance with a home-and-home with another top program and it would not end the season.
At the same time, it could do the exact opposite. Even in the current format, there really is not much of an incentive to schedule quality opponents. There are a few contending teams with absolute cakewalks outside of conference play. If they finish the year undefeated or with one-loss, they could still make the CFP. Honestly, each program will address it however they see fit. Ohio State has home-and-homes with Notre Dame, Texas, Alabama, Georgia, and Oregon set up.
More Football = GOOD
All in all, College Football Playoff expansion is a good thing for the sport. Just imagine the chaos the day two G5 teams make it because the Pac-12 Champion was unranked. Imagine when that first massive upset happens!
This topic is hotly debated in the college football world. For every person in favor of College Football Playoff expansion, you'll find someone vehemently against it. I think you'll find that the day your team makes it, you'll be all for it. It makes sense that fans of the traditional powers would be against it because they don't want to share the spotlight. Regardless, allowing for more teams to compete for the crown is not a bad thing.
Main Photo: