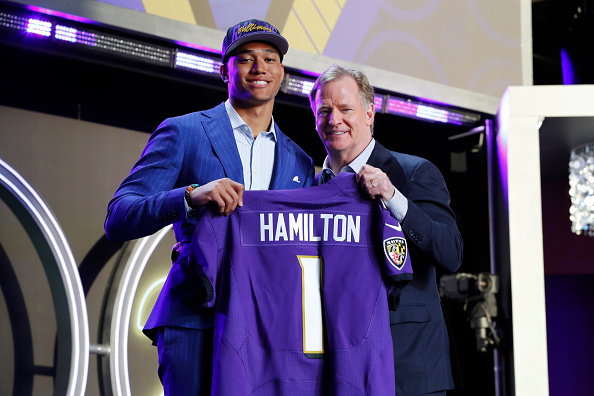 Every year, fans watch in excitement as their favorite team's front office select who will be the future of the franchise. For Baltimore Ravens fans, they have to be ecstatic over this year's draft. Their front office nailed it. The Baltimore Ravens 2022 draft went better than any fan could imagine.
Why the Baltimore Ravens 2022 Draft was Stellar
The Baltimore Ravens were able to gain a second first-round pick on night one when they traded Marquise Brown and the 100th overall pick to the Arizona Cardinals. The Ravens received the 23rd overall pick in the trade and then traded the pick to the Buffalo Bills for the 25th overall pick and the 130th overall pick.
[pickup_prop id="24461″]
The Ravens then had the best interior lineman, Tyler Linderbaum from the University of Iowa, fall right into their lap. They also grabbed the best safety and one of the most NFL-ready prospects in the draft with their 14th overall pick, Kyle Hamilton.
Just looking at those two additions, you could argue that the Baltimore Ravens had a stellar draft, as they got two players that can immediately impact the team. The Ravens were already a team considered a Super Bowl contender last season before they were plagued with injuries.
Drafting Kyle Hamilton and Tyler Linderbaum
Hamilton was, at one point, considered to be a guaranteed top-three pick. But, after a rough pro day, his stock dropped. He fell to 14, where the Ravens were able to snatch him and add a versatile safety to a pass defense that was the worst in the league last season in passing yards allowed.
Baltimore did have injuries to their star corners in Marlon Humphrey and Marcus Peters last season, and we should expect a lot better secondary this season, with the signing of safety Marcus Williams as well. Hamilton will immediately start for Baltimore and it should come as no surprise when he has a stellar rookie season.
The Baltimore Ravens 2022 draft class included them adding the best interior offensive lineman in Linderbaum. The Ravens had the third-most rushing attempts last season with 517. Baltimore was able to add a guy that spent a lot of time run blocking at the University of Iowa and Linderbaum will also make an immediate impact on the offensive line.
He has excellent hands that he uses very well while blocking. They added two future Pro Bowl players who will make an immediate impact. There is nothing more fans could have asked for from a first round.
Trading Away Marquise Brown
The trade came as a complete shock but may end up being the best move the Baltimore Ravens made this draft. Brown is a good receiver, but he is not worth a first-round pick and Baltimore managed to get one for him.
Think about other wide receivers who have been moved this offseason. Amari Cooper was traded for a fifth-round pick and he is a better wide receiver who is also more proven. Davante Adams was traded for a first and a second-round pick. Adams is leaps and bounds better than Brown.
Marquise Brown is 24-years-old and spent three years in Baltimore. He did manage a 1,000-yard season, but he didn't fit into Baltimore's offense as well as it may have seemed. He is an elite deep-ball wide receiver and Lamar Jackson is not great at throwing the deep ball. The Ravens have Rashod Bateman and Mark Andrews. Those two fit much better into what Baltimores wants to do offensively.
Baltimore also used the pick they got from the Brown trade to move back and select Linderbaum, who fits in very well with what Baltimore does. In five years, we will look back at this trade being one of the most brilliant things Baltimore could have done, and now they also don't have to worry about giving Brown a large contract that we've been seeing given out to wide receivers this offseason.
Adding Talented Mid-Round Picks
Not only did the Ravens have a great first night of the draft, but they also continued it throughout the whole weekend. The Baltimore Ravens 2022 draft then included adding talented mid-round picks that may not be future Hall of Famers, but they will contribute and help the team win games.
They were able to add David Ojabo, Travis Jones, and Jalyn Armour-Davis, among others. Ojabo would've been a first-round pick had it not been for him tearing his Achilles at his pro day. While he may not be great at first, once he gets fully healed and acclimated to the league, he will be a crucial piece to Baltimore's defense.
Jones is an interior defensive lineman that will be able to clog the middle and play a huge factor in the run defense. He also does a great job rushing the quarterback and had 8.5 sacks and 19 tackles for a loss his last two seasons at UCONN.
Armour-Davis has tremendous speed and length that the Ravens will be able to utilize as they please. He ran a 4.39 40-yard dash at the combine and used it to not allow many yards after the catch.
Ojabo, Jones, and Armour-Davis will be very important in strengthening a few weaknesses on the Baltimore defense and solidifying the team as a Super Bowl contender. They will be those key role players that we see every year become critical pieces to pushing a team to the next level.
The Baltimore Ravens 2022 draft will be looked upon in a few years as a great success for this front office. They managed to get the big-name players along with plenty of key role players that will likely make a significant impact in the future.
Main Photo: