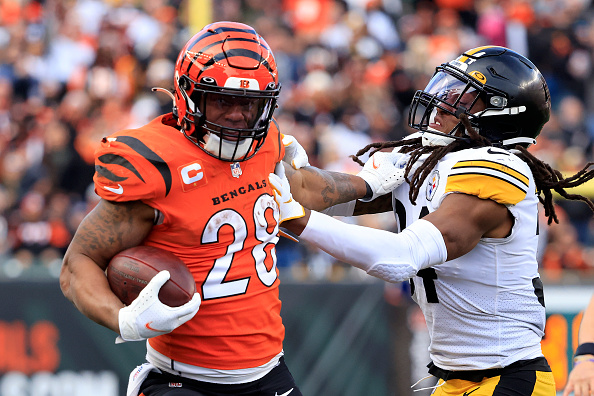 Coming off of the best season in Cincinnati Bengals history, it makes sense that there will be plenty of the Bengals in Primetime. The team was a play away from a championship, has multiple stars, and has the chance to have a legitimately elite offense in 2022.
There is a rule in the NFL that one team can only have five Primetime games. The performance of the Bengals in Primetime has been the butt of every "well, it's the Bengals" joke over the past 20 years. In 2020, Cincinnati played in just one Primetime game: a Thursday Night game against the Jacksonville Jaguars. Even during their playoff run, they played at 4:35, 4:35, and 3:05!
Get Used to the Bengals in Primetime
Week 4: Bengals vs Dolphins (TNF)
For the first time since Week 13 in 2020, the Bengals and Dolphins will face off. Miami won that titular battle, 19-7. That was, of course, a few weeks after Joe Burrow was injured. The meeting prior was the battle for the number one pick which ultimately resulted in Cincinnati selecting Burrow and Miami selecting Tua Tagovailoa.
As they were members of the same draft class, these two (and Justin Herbert) will be linked for their entire careers. This will be the first time the two face off since Burrow's LSU Tigers took down Tagovailoa's Alabama team. That is, of course, assuming Tagovailoa isn't benched at this point, considering he has a history.
Miami added Tyreek Hill from Kansas City to an already quick and potentially explosive offense. Luckily for Cincinnati, the Bengals got faster in the secondary. This could be an exciting 26th matchup between the two. Could this be the week Cincinnati breaks out the orange-on-orange?
Week 5: Bengals AT Ravens (SNF)
Last year, the Bengals did to the Ravens what the Ravens have been doing to the Bengals over the previous few meetings. In the two matchups, Burrow torched Baltimore to the tune of 941 yards and seven touchdowns. In the second of those games in Week 15, Burrow broke the Bengals single-season passing yards record.
Now, as any on NFL Twitter could tell you, Ravens fans will remind you that they were decimated with injuries. Obviously, this is true considering they were without their top corners, running backs, and Lamar Jackson (for Week 15), but it's the NFL. The Ravens didn't let up when the Bengals were without Burrow and had the likes of LeShaun Sims starting at corner.
Baltimore is going to be an extremely tough pair of games and adding the lights will increase the stakes. It's Burrow vs Jackson round three. Common sense says that Baltimore is not going to be as unlucky with injuries this time around. They drafted extremely well…but have an Achilles' heel at wide receiver. Can Rashod Bateman carry this unit?
Cincinnati gets to watch the Bengals in Primetime in back-to-back weeks, this time on a long week. All things equal, getting a long week to prepare for, likely, the biggest threat to repeat as AFC North champions will certainly help.
Week 8: Bengals AT Browns (MNF)
It's the Browns vs Bengals in Primetime in Week 8. Burrow vs (maybe) Deshaun Watson. If there's one team that Burrow has looked terribly human against, it's the Browns. Cleveland has won each of the last four meetings and Burrow has been part of three of them. In 2020, both games were classics with the Browns winning by five and three points.
In 2021, Burrow looked bad. He threw for 282 yards, mostly due to being down the whole game, with no touchdowns and two interceptions. The first of those interceptions was returned 99 yards by Denzel Ward after targeting Ja'Marr Chase in the endzone. The Week 18 meeting was ugly as Cleveland was facing off against the Bengals second-stringers and nobody wanted to win that game.
2022 is a brand-new year. Cincinnati looks like it's about to reload and Cleveland looks rejuvenated. They traded a haul for the services of Watson and signed him to a massive five-year, $230 million fully-guaranteed extension to pry him away from what looked to be a sure thing in Atlanta. As of this publication, Watson has 22 sexual assault allegations looming. While he was not federally indicted, the NFL can still suspend him. Depending on the severity, this game could look very, very different.
Week 11: Bengals AT Steelers (SNF)
Bengals vs Steelers. An AFC North clash in Primetime. Burrow vs, well, whomever Pittsburgh throws out there. Historically, Pittsburgh has owned Cincinnati. Recently, however, it's been all Cincinnati. For the first time since their stretch at the end of the '80s, the Bengals have defeated the Steelers three times in a row. The pair face off in Week 1 in Cincinnati. Could it be four in a row by the time this game kicks off?
Last year, Cincinnati demolished Pittsburgh by a combined score of 65-20. It's not like they secured the victories the same way, however, but they were very similar. Game one was all defense — four sacks and two interceptions — paired with an efficient effort from Burrow. Game two was Joe Mixon running all over the place and a first-career pick-six from former Steeler, Mike Hilton.
Pittsburgh has been successful against the Bengals offensive line. Now that it's fixed up, will Cam Heyward and T.J. Watt wreck drives? Cincinnati has been the doormat of Pittsburgh's for quite some time. They'll go into this game in Pittsburgh motivated and looking to make it five in a row, tying the franchise's best.
Of course, it sure does help that the Bengals will have their bye week just before this game. They'll have plenty of time to get right and focus.
Week 17: Bengals vs Bills (MNF)
Barring a coin-flip, this could have been the AFC Championship last year. We can speculate on how that matchup would have gone with that putrid Bills defense that was shredded by Patrick Mahomes, but it has nothing to do with this matchup here. Burrow vs Josh Allen. This pits two of the top young AFC quarterbacks in a loaded conference.
These two teams last met in 2019 in a 21-17 Bills victory. Allen, in his second year in the NFL, threw for 243 yards and a touchdown. The game was won by a Frank Gore touchdown run with just 1:50 to go in the game. Andy Dalton managed to drive the Bengals to the Bills 28 but ended up throwing a game-ending interception in the back of the endzone.
These are two loaded teams. Currently, the Bills are the odds-on favorite to not only represent the AFC in Super Bowl LVII but to win it all. Cincinnati is currently 11th behind four AFC teams (behind the Browns) and tied with the Ravens.
Cincinnati's defense will be something to watch in this one. Allen can carve up just about any defense nowadays, so will the Bengals secondary be able to step up to the plate? Can the pass rush get home? Burrow and company will be able to put up points as long as the offensive line is as improved as it seems. This game will likely have playoff implications and the two could meet up a few weeks later.
Brand New Bengals
During the Lewis-Dalton era, the Bengals in Primetime was chalked up as an automatic loss, no matter how good or bad either team is. If there were any stakes, the team faltered. Not anymore.
Cincinnati was 1-0 in Primetime games last year. They won three win-or-go-home games to get to the Super Bowl and were a missed Quinton Spain block away from taking it all home. In his three years at the helm, Zac Taylor is 2-2 in Primetime games. He's beaten the Pittsburgh Steelers in 2020 (aka the Ryan Finley game) and Jaguars this past year. He fell to the Steelers in 2019 and Browns in 2020.
[pickup_prop id="22057″]
This ain't your daddy's Bengals team. They've built a contender and seem primed to succeed for an extended period of time. Cincinnati fans are going to have to get used to waiting all day for their games this year.
In addition to these five Primetime games, Cincinnati has been slotted to play in the 4:35 slot at least three times: at Dallas, vs Kansas City, and at Tampa Bay. With late-season matchups against Kansas City, Tampa Bay, and Baltimore, they could end up flexed into a later slot.
The nation is going to get to watch the Bengals in Primetime plenty in 2022.
Main Photo: