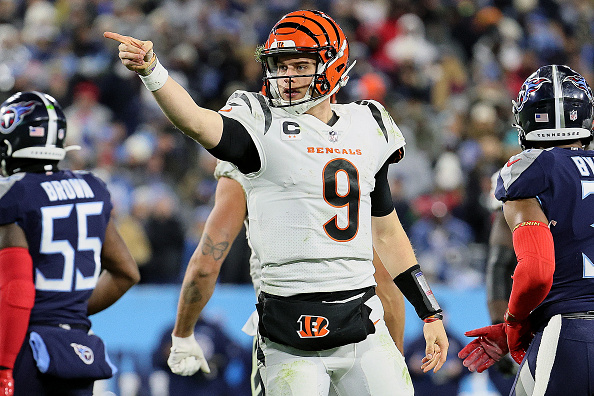 It's nearly February and the Cincinnati Bengals are still playing football! Even the most optimistic of projections did not have them facing off against the Chiefs for the right to play in Super Bowl LVI, but here they are. Feeling good about their chances (or even KC's?)? You can get Grande Vegas no deposit bonus codes to get free money and wager.
It's been an exciting year. Between wanting to fire Zac Taylor before and during the season (guilty) to him being considered an NFL Coach of the Year candidate, plus the emergence of potential Offensive Rookie of the Year and Comeback Player of the Year, the Bengals have proven literally everyone wrong. They took the AFC North. They won not one but two playoff games. Many believed that Cincinnati was a year away. Nope, they're here now.
2021 is Just the Beginning for these Cincinnati Bengals
Young Offensive Core
Joe Burrow is 25. Ja'Marr Chase is 21. Tee Higgins is 23. Joe Mixon is 25. Tyler Boyd is 27.
This offense isn't going anywhere, it's just going to get better. In just his first full season at quarterback after recovering from a knee obliteration, Burrow bounced back the best way a quarterback could. He is sitting at 5,203 yards and 36 touchdowns through the air, including playoffs. Before a ground-assisted interception in the Divisional round, Burrow went five games without turning it over. That was a streak of 209 passes without a turnover.
In the biggest games, the 'Migos of Chase, Higgins, and Boyd have come up clutch. If a defense is able to put the clamps on Chase, Higgins ends up going off for 200. In his last four important games (throw out Week 18 where he played five snaps to break the Cincinnati Bengals rookie receiving record), Chase hauled in 32 receptions for 616 yards and three touchdowns. All three of those scores came in Week 17 in a win over the Chiefs.
In addition to Chase's 1,455 yards in the regular season, Higgins went off for 1,091 yards. Both Chase and Higgins have big-play abilities and both have a shot to take any play to the house. Higgins made 17 explosive plays during the regular season and has the ability to Moss just about any defender in his way.
Finally, Mixon is an elite running back. He finished the regular season with the third-most rushing yards. The two guys ahead of him play in run-first offenses and don't have a quarterback or receivers on the same level as Burrow-Chase-Higgins-Boyd. He finished with 40 fewer rushing attempts on the year as Jonathan Taylor, the leader.
An Offensive Line Away
Now imagine that offensive output when Burrow isn't getting beat down like Loki vs The Hulk every other play. On the year, Burrow was sacked the most in the NFL by way of 51 sacks…before playoffs. Against the Raiders, Burrow was sacked twice. Against the Titans? Nine. The man took nine sacks and still went off for 348 yards and led his team to victory.
Right now, the offensive line is Jonah Williams, Quinton Spain, Trey Hopkins, Hakeem Adeniji, and Isaiah Prince. From left to right, it just gets worse. Only Williams and Spain are servicable-to-good. Unfortunately for them, when they screw up, it's only magnified by how badly the other three have been.
The window for Cincinnati is officially open. The only thing standing in the way of Bengals domination is a lack of even a semi-competent offensive line. The median number of sacks among the top 32 sack-tackers (can't say starting quarterbacks because a few teams had a couple of them on the list) is between 31 and 32. Just say 32. Get the Cincinnati line to that. That's 19 fewer sacks and 19 plays where Burrow has time to find one of his elite playmakers.
If the best player available is an offensive lineman in the NFL Draft when Cincinnati is on the clock at 29, 30, 31, or 32, fans will foam at the mouth if it's anything else.
[pickup_prop id="19377″]
Finally Utilizing Free Agency/Free Agents Paying Off
The first step to rebuilding that offensive line and continuing to compete will be free agency. The philosophy should be to sign for needs, draft for talent/depth. Once a team is drafting for needs, reaches happen, and all of a sudden, an injured Billy Price is your starting center.
In the last two free agency cycles, Cincinnati has made some serious moves and are massive reasons the team is where it's at. D.J. Reader, Trey Hendrickson, Chidobe Awuzie, Eli Apple, and Vonn Bell have all make their contracts worth it. Even on offense, Reily Reiff was decent at right tackle before his injury.
There has been one huge swing-and-miss: Trae Waynes. Waynes has yet to make a single big play and is on IR more often than not. He's likely going to be the first Bengals player to be served walking papers once the season is over. By cutting Waynes, Cincinnati could add $10MM to their cap and have over $67MM to work with. That is, of course, before re-signing their free agents, like Jessie Bates, C.J. Uzomah, B.J. Hill, etc.
While the free agent pool isn't as strong at offensive line as it was last year, the Cincinnati Bengals would do well to make sure they get some kind of upgrade. Protecting Burrow will need to be priority number one. If they can hit on offensive line free agents the way they did on the defensive side, Burrow will greatly benefit.
The Future is Bright
The Bengals defense was night and day better than it was in 2020. The Bengals have their kicker for the next 15 years. The Cincinnati Bengals are not going anywhere and it just feels different. From 2009-2015, the Bengals made the playoffs every year except 2010, but couldn't get anything going. In just one shot, the 2021 edition of the team has fans believing.
They ended the 31-year playoff drought. They exorcised the road playoff demon. For the first time, history is on Cincinnati's side considering they are 2-0 in AFC Championship games. Given, both of those games were at home and they weren't against Patrick Mahomes. Regardless, 2021 was just beginning for the Cincinnati Bengals.
Main Photo: