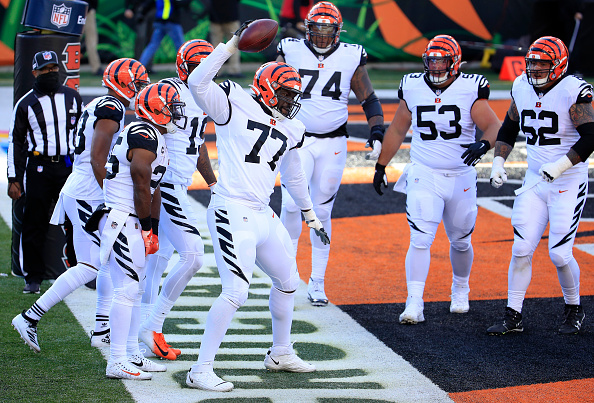 It's no secret that the Cincinnati Bengals offensive line has been the team's weakness over the last few seasons. We've seen quarterbacks Andy Dalton and Joe Burrow running for their lives. We've seen running backs Giovani Bernard and Joe Mixon not be able to generate any kind of rushing attack.  
Even with all of these, there are reasons to believe that the Bengals offensive line will be fine. It does not need to be perfect, but it'll be better in 2021 than the last two. 
The Cincinnati Bengals Offensive Line Will Be Fine
Addition By Subtraction
There have been a number of issues within the Bengals offensive line. We can realistically pinpoint three separate people who have been weighing down productivity. First off, Michael Jordan. 
Jordan, who will be third-year guard out of Ohio State, was at the forefront of the most infamous play in Cincinnati of the last ten years. In the game against the Washington Football Team, Jordan was overpowered by Chase Young and ended up, essentially, throwing Young into Burrow's left knee resulting in a torn ACL, among others. 
He's started 19 games between 2019 and 2020. Jordan posted a 43.1 PFF grade in 2019 and 55.7 in 2020. Overall, he's not been very good. He did allow three sacks in those ten games. That's not many, but it only took one. He will likely be behind the likes of Jackson Carman, Xavier Su'a-Filo, and Quinton Spain on the depth chart entering 2021, so Bengals fans will need not worry about him. 
The butt of every Bengals fan's joke and target of all of Cincinnati's ire was none other than the man, the myth, the human turnstile, Bobby Hart. Words cannot describe the general hatred for this guy's play.  
Hart came over in free agency in 2018 and has started every game, save for the three he missed in 2020. In 2018, he allowed 11.5 sacks. In the last two seasons, a combined six allowed. His run-blocking was a massive weakness as well, often channeling his inner matador and saying "olé" to allow edge rushers a free hit on the running back. In general, a beaten-up traffic cone you stole off of your local interstate would do the same job as Bobby Hart did. 
Thankfully, he is no longer tasked with attempting to protect Joe Burrow. He is now the Buffalo Bills' problem. I think Burrow's knee healed up a little quicker on the day Hart's free agent deal was signed. 
[pickup_prop id="6448″]
The blame isn't solely on the players. The Bengals hired embattled offensive line coach Jim Tuner before the 2019 season when Zac Taylor was initially hired. They had worked together previously and the staff was made up of Taylor's peers, rather than guys who have earned it. 
Remember the Miami Dolphins and that Richie Incognito bullying story? Yeah, Turner was in the middle of that and was subsequently fired for partaking. Then, after three years of unemployment, he was hired by Texas A&M...then fired for sexist comments. Character aside, he's also just a terrible coach.
In Miami and at A&M, his offensive lines were bottom-tier. He simply cannot coach, teach, or develop. Maybe the team should have taken the hint when Clint Boling, Christian Westerman, and Kent Perkins all decided to retire early. Oh, not to mention Cordy Glenn, who got into a physical altercation with an unnamed coach who was, essentially, trying to rush him back into playing with a concussion. 
Just to put it plainly, the Bengals offensive line has been terrible while Turner was at the helm. In both of the last two years, they had the third-worst offensive line in the league. It's been hinted at by former player and Bengals great Willie Anderson that what Turner teaches just does not translate. 
Either way, the Bengals brought in Frank Pollack, who led the unit in 2018 after coaching that elite Dallas Cowboys line. Pollack has brought a wave of positivity and hype for an otherwise underwhelming unit. He will also greatly help the rushing attack. When he coached in 2018, Mixon led the AFC in rushing.
Free Agency and the Draft
Who will Pollack have to work with? Well, while the Kansas City Chiefs were able to completely re-tool their offensive line, the Bengals don't have the liberty of being the best team in football fresh off of back-to-back AFC titles. 
Riley Reiff was the only free agent signing by the team. While it would have been nice to gain the services of Joe Thuney, Kevin Zeitler, or Matt Feiler, Reiff will be a solid stop-gap on a one-year deal. The former first-rounder hasn't played a full 16-game slate since 2015, but he does provide a solid veteran presence with five playoff games under his belt. 
This year's draft also came and went and all the Bengals did was draft three more offensive lineman in Jackson Carman, Trey Hill, and D'ante Smith. Carman is likely a guard, though he never played the position at Clemson. He's got the athletic ability and the football IQ to be able to make the change and flourish. Hill and Smith are each depth pieces and will have their own opportunity to compete. With Reiff only on a one-year deal, Smith may get his shot in 2022, but at least Cincinnati has a couple more guys who could be NFL-ready soon. 
[pickup_prop id="5389″]
The Bengals Offensive Line Only Needs to be Average to be Great
A lot of the 2020 Bengals offensive line issues for the first ten weeks were somewhat ignored due to the play of Burrow. He's able to move around and manipulate the pocket and buy time to get the ball out. It's not unlike the Pittsburgh Steelers hiding their offensive line issues by drawing up numerous quick-release passes to protect their aging quarterback. The Bengals offensive line needs only to be average. With the play-making abilities of Burrow, Mixon, and that elite receiving corps, putting up points will take the heat off the offensive line. Thus, giving them confidence and belief that they can do more (not to mention the fact teams can't stack the box). 
PFF had Cincinnati as the fourth-most improved offensive line in this off-season. Only time will tell whether or not the changes will benefit the unit, but the tools are there and the cancers are not. You can bet on it, really. Just get your Pinnacle VIP code and bet that the Bengals offensive line (and the team) will be better than before.
Main Photo: