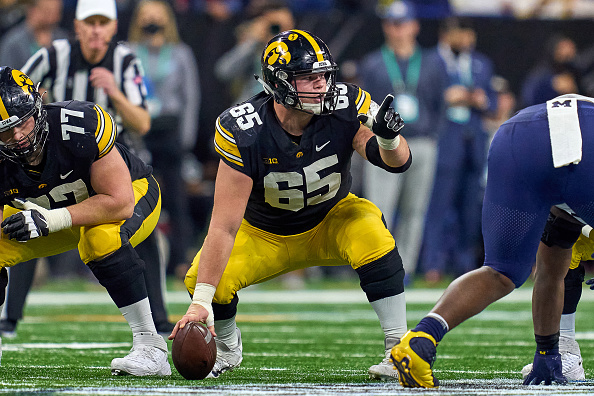 The 2022 Cincinnati Bengals draft is going to be harder to predict than past years. Assuming the team stays put at 31, it will be the latest first-round draft pick they've ever made. Over the last five years, Cincinnati has selected ninth, 21st, 11th, first, and fifth. For four of those, it was easier to predict the board at their pick. At 31, it gets a bit harder.
After making it to Super Bowl LVI and addressing how dreadful the offensive line was, Cincinnati does not have nearly as many holes as before. Of course, having
eight picks
will help the team attempt to run it back.
Options for the 2022 Cincinnati Bengals Draft
Interior Offensive Line
The offensive line was bad in 2021. As controversial as that statement isn't, Cincinnati went out and brought in three outside free agents to bolster the trenches. As of now, four of the starting five are penciled in. Left guard/center could be an area the team may look to upgrade. There is a very, very good possibility that all three of these have been taken by the time Cincinnati picks. Naturally, getting any one of these would be an A+.
Tyler Linderbaum
The top center in the draft is Tyler Linderbaum. While he has great tape and productivity, there are concerns about his arm length. On the interior, arm length is not nearly as much of a concern as it is at tackle. Linderbaum played at Iowa and got to face a slew of strong defensive lines. Even with the signing of Ted Karras, Alex Cappa, and La'el Collins, Cincinnati can continue to improve with a true center. And, no, don't worry Bengals fans, he's not Billy Price.
Honestly, Linderbaum has been mocked inside the top 15 frequently. At the same rate, he's been available at 31 for Cincinnati. There are not many no-brainers at the end of the first round, but Linderbaum would be one.
Zion Johnson
Between Zion Johnson and Kenyon Green, Cincinnati could not go wrong. Johnson played guard at Boston College and will be a day one starter in the NFL. If the Bengals are looking for more "glass-eaters," Johnson would be their man. He has a nastiness and physicality that would fit right in with what Cincinnati wants to do. He can impose his will on the interior defenders. Considering how weak the offensive line was on the interior, Johnson would be an immediate upgrade.
Kenyon Green
Keep Karras at center and select Kenyon Green. If Jackson Carman is any indication, Cincinnati enjoys selecting young offensive linemen. Green is only 21 and the best is yet to come from him. Green has serious, man-moving strength. Of these three, Green is most likely to be there at 31 due to poor testing.
Both Johnson and Green are legitimate guard prospects and each could start day one. An offensive line of Jonah Williams, Johnson/Green, Karras, Cappa, and Collins wouldn't give up 70+ sacks in a year. Give Joe Burrow a little more time and see what happens.
[pickup_prop id="19377″]
Cornerback
As of the draft, only Chidobe Awuzie and Mike Hilton are under contract past 2022. Eli Apple is currently CB2. While he played the best football of his career last year, the position needs upgrades and depth. It's not crazy to say the 2022 Cincinnati Bengals draft class will not include the likes of Ahmad Gardner or Derek Stingley. However, the depth is there in this class.
Kaiir Elam
There will be at least five cornerbacks taken in the first round and Kaiir Elam will be one. He has elite length and size. He forces turnovers. The Bengals have a history of selecting corners in the first round; they've selected five since 2006, easily the most of any position. There is a knock on him that he doesn't have elite footspeed — although, 4.39 speed isn't terrible. Elam is a physical corner and projects to be a legitimate corner in the NFL.
Andrew Booth, Jr.
Another physical specimen hailing from Clemson, Andrew Booth has plenty of skills that Cincinnati loves. On April 12th, the Bengals even hosted Booth on a pre-draft visit, cementing their interest. Booth can tear through screens, is more than willing to come downhill and defend the run, and has great reaction time. Booth is also projected to become a day one starter with CB1 potential once he hits his stride.
.@ClemsonFB CB Andrew Booth Jr. has top-30 visits scheduled w/the #Ravens, #Falcons and #Bengals, per source.

Booth, just 21, earned 1st-Team All-ACC honors last season while collecting three picks for the Tigers. He measured over 6-feet with an impressive 6-5 wingspan as well.

— Jordan Schultz (@Schultz_Report) April 11, 2022
Kyler Gordon
Of all of these potential 2022 Cincinnati Bengals draft picks, Kyler Gordon has the greatest chance to be there at 31. Overall, Gordon is very athletic but he's not on the faster side. He can play both man and zone coverage well and can even kick inside and play nickel. Scouts are projecting Gordon to develop into a good starter but he needs work. If Cincinnati goes this route at 31, don't be surprised if he goes the William Jackson III route and learns behind Awuzie and Apple while playing sparingly. They will be banking on his development into the team's CB2 in 2023.
Safety
Cincinnati has five safeties on the roster for 2022. None of them are currently under contract in 2023. The Bengals need at safety is an underrated need that many are not paying much attention to. All of the focus is on the offensive line and cornerback market, but Cincinnati will not walk away from this draft without a safety at some point. There's plenty of value at 31.
Daxton Hill
The highest-rated non-Kyle Hamilton safety is the athlete from Michigan, Daxton Hill. Hill has the ability to be flexible and would earn plenty of playing time for Cincinnati in 2022. He can play safety as well as nickel corner. He has ridiculous speed for a safety and can do just about anything. Hill has some legitimate instincts and is a very smooth athlete. It's unlikely that Hill will be there for Cincinnati 31 but it's good to have a plan just in case.
Lewis Cine
Why not improve the Bengals defense by selecting one of the integral parts of the elite Georgia defense? Lewis Cine is incredibly athletic and just as fast Hill. With how fast receivers are getting these days, it wouldn't hurt to have a safety that would be nearly impossible to beat deep. He also has positional versatility, though he is best suited as a punishing safety. Assuming Cincinnati can agree with Jessie Bates on a long-term extension, Cine could sit behind Von Bell and then seamlessly take his spot in 2023.
Jaquan Brisker
The second safety from the Big Ten is the decorated Jaquan Brisker from Penn State. Brisker has the versatility to play either safety position and can play special teams. Last year, Cincinnati was gashed by athletic tight ends when not covered by Tre Flowers. Adding Brisker would mitigate that. Considering they play Mark Andrews, Pat Freiermuth, and David Njoku/Harrison Bryant six games a year, Brisker would be a welcome addition. He's been sliding in mock drafts, so Cincinnati could resort to the next option and still get their guy:
Trade
To trade up or trade back, that is the question. Considering the Bengals very rarely trade up in the draft, it's extremely unlikely that that's the route they will go. Perhaps there's a massive run on wide receivers and a couple of quarterbacks go that they have a Linderbaum or the like sitting atop their board. Considering Cincinnati has just eight picks, it's very, very unlikely.
Trading back is a very good possibility. There's a very real possibility that a player like Linderbaum is gone by 31 and a quarterback like Desmond Ridder or Sam Howell is still available. Teams love the ability to draft a quarterback — even if he's a project — in the first round thanks to that fifth-year option. If Green, Brisker, Gordon, and another prospect they love are all still there at 31, Cincinnati could easily trade back a handful of picks, pick up a later selection, and get a guy they could have picked at 31.
[pickup_prop id="22057″]
It All Starts in the Draft
With their young core locked up for years to come, it's time for the Bengals to dynasty build. That's not to say that losing Super Bowl LVI is as good as it gets and the Bengals are already a dynasty, of course. Even with an atrocious offensive line, Cincinnati was 0.2 seconds away from winning it all. They've vastly improved in that area and the draft is going to be about replenishing the depth chart with talent to push them over the edge.
The 2022 Cincinnati Bengals draft class starts at 31. They can run it back and finish the job next year. Nailing this draft will be the final step toward sustained greatness.
Main Photo: