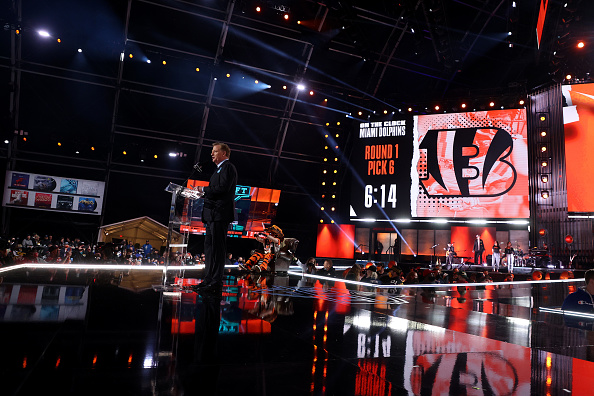 A play away from hoisting the Lombardi, the Cincinnati Bengals are slotted to pick at 31 for the first time in their history. There is an expectation that the Bengals will be active in free agency, but what if they aren't? This Bengals mock draft attempts to address some of the holes and lack of depth for the AFC Champions.
This mock is without trades and without official compensatory picks. Hopefully, during the free agency period, Cincinnati can make a trade and bolster their roster with a known commodity *cough* La'el Collins *cough*.
Pre-Free Agency Cincinnati Bengals Mock Draft
Round 1, Pick 31: Bernhard Raimann, Tackle, Central Michigan
The Bengals offensive line is not exactly great. It's not exactly good. It's not even decent. Some would even venture to say bad. They need help and they need help now. They are predicted to sign at least a couple free agents, but Bernhard Raimann could be the guy to take care of the right tackle position.
Athleticism scores for the 2022 offensive line class are now official.

Among offensive tackles, three prospects finished with an athleticism score of 90-plus:

🥇 Zach Tom, @WakeFB (99)
🥈 Bernhard Raimann, @CMU_Football (96)
🥉 Trevor Penning, @UNIFootball (90)#NextGenScores pic.twitter.com/USlfjcDibG

— Next Gen Stats (@NextGenStats) March 5, 2022
Raimann is an uber-athletic lineman, transitioning from tight end before CMU's 2020 season. He's relatively new to the game of football, but he's remarkably adept at the fundamentals of the position. Cincinnati loves their leaders and coachable players and Raimann is the guy for Frank Pollack. He was able to ride edge rushers outside to take them out of the play, plus he can smother inside moves with a quick recovery twitch.
Raimann could be considered raw with high upside. With proper coaching by Pollack — who, as we know, was having to coach and have his guys un-learn bad Jim Turner mechanics — Raimann will be able to step in and replace Riley Reiff on the right side of the line. Reiff wasn't the issue on this offensive line by any means, but any improvement is great to prevent Joe Burrow from hitting the turf 100+ times again.
[pickup_prop id="19377″]
Round 2, Pick 63: Tariq Woolen, Corner, UTSA
The Bengals have a need at corner. While Chidobe Awuzie had a great season and Eli Apple played better than one would think, they could use both an upgrade and depth. Even if Cincinnati brings back Apple for cheap, they will draft another corner to make up for the fact that Trae Waynes will be a cap casualty.
Tariq Woolen turned heads at the Combine with his 4.26 40-yard dash. Woolen, a converted wide receiver, is an athletic freak. That 4.26 is the fastest time recorded by a player 6'4″ or taller and he's still learning the position. With the selection of Woolen in this Bengals mock draft, Cincinnati would be taking back-to-back athletic players who have immense upside.
Barring having an incredible off-season and he learns the position, Woolen would not kick-off 2022 as a starter. However, he has the traits to be able to develop into a starter. At UTSA, he only recorded two interceptions and nine pass deflections. Even if he cannot start right away, Cincinnati could find a spot for him on special teams as a gunner.
Round 3: Pick 95: Myjai Sanders, EDGE, Cincinnati
Outside of Trey Hendrickson, the Bengals do not have a pass rusher they can rely on. Joseph Ossai looks like he will be a promising player, but you can never have too many pass rushers. Why not add a guy who played at UC?
Edge MyJai Sanders brings length and an explosive first step.#MyJaiSanders #NFLDraft2022

For more breakdowns head to https://t.co/XvXOpboJzP pic.twitter.com/sMn3wI8i90

— John Chapman (@JL_Chapman) March 11, 2022
Myjai Sanders was a leader on the Bearcats defensive line and often dictated what offenses could do. Sanders has quick hands and is able to win leverage and is extremely slippery when rushing the quarterback. Through his three years as a starter, Sanders racked up 13.5 sacks, 112 tackles, and 24.5 were for loss.
In 2021, offenses began to just play away from him but he showed up in the CFP semi-final against Alabama and recorded seven tackles. In a game where Alabama looked in a different league and just completely out-sized UC, Sanders held his own. Doubly impressive considering Cincinnati asked him to kick inside. For the Bengals, that versatility could be the difference. Having Hendrickson, Sam Hubbard, Ossai, and Sanders all on the field in a third-down package could help with their struggling pass rush.
Round 4, Pick 134: Haskell Garrett, Defensive Tackle, Ohio State
Interior defensive line continues to be a position of need, at least in terms of depth. A true 3T to go with D.J. Reader, Haskell Garrett would develop into a solid rotational piece. Garrett elected to return to Ohio State and put up career-best numbers in 2021.
Garrett was by-and-large a leader at Ohio State, a trait Cincinnati has shown it values. At Ohio State, Garrett showed strength and an ability to engage guards to free up linebackers. He's also been able to "get skinny" and penetrate between the guard and tackle to disrupt the backfield.
Garrett's 2021 season started off hot with his first-ever thick-six fumble return for a touchdown. Cincinnati loves guys who participate in the Senior Bowl and Garrett would continue that trend.
Round 5, Pick 173: Chigoziem Okonkwo, Tight End, Maryland
Another player who turned heads at the Combine, Chigoziem Okonkwo is an athletic freak. The senior from Maryland ran the best 40-yard time among all tight ends at the Combine with a 4.52. His performance prompted him to Tweet "they awake yet?"
Cincinnati doesn't utilize its tight ends to their fullest, so an athlete who could line up split out and in-line could provide an answer. Okwonkwo has strong hands and has an instinct to protect the ball when receiving. He's also a freak who bowls defenders over with a full head of steam. Even if Cincinnati's offensive line is sub-par, they need a guy who can explode off the ball and get open reliably and quickly. Okonkwo is your guy.
Perhaps one of the selling points is his impressive catch radius to go with his sure hands as a receiver. The Bengals offense lives and breathes big plays. Utilizing Okonkwo's abilities would provide a legitimate matchup nightmare for defenses looking to shut down Ja'Marr Chase and Tee Higgins.
The more one studies Okwonkwo, the more they hope he falls to their team on day three of the draft. In a seemingly-lackluster tight end class, Okonkwo could end up as a massive steal in the fifth round.
Round 6, Pick 208: Darien Butler, Linebacker, Arizona State
With just three picks left of the pre-free agency Bengals mock draft, Cincinnati looks to add depth in the linebacker corps. The top of the Bengals linebackers are good. Germaine Pratt, Logan Wilson, Akeem Davis-Gaither, Markus Bailey, and Joe Bachie make for a solid group. Cincinnati's linebackers were terrorized with injuries down the stretch and they had to rely on practice squad players.
Darien Butler fits the Bengals culture mold. He's a four-year starter, three-year captain for the Sun Devils. Across his four years, he started every game for ASU, save for three in 2021 due to a concussion. He finished with 241 tackles, 24.0 for loss, and 4.0 sacks. His sophomore campaign was his best, statistically, and he added three forced fumbles to his tally.
Before the 2021 season, Butler slimmed down and showed a brand new level to his play. He's incredibly quick for his position and is able to just slip by blockers. Athleticism is a major factor in the Bengals plans and Butler fits that bill. He showed that he's able to change direction and chase down ball carriers.
He's a sixth-rounder, so he will need more than just depth in order to justify his roster spot. His style of play is perfect for the Bengals special teams. Cincinnati loves to use special teams to get athletes on the field. Bailey is a prime example of this and it's paid off in his development.
[pickup_prop id="18214″]
Round 7, Pick 224: Delarrin Turner-Yell, Safety, Oklahoma
At the deadline, the Bengals used the Franchise Tag on Jessie Bates. Plus, Ricardo Allen retired. Cincinnati is in need of depth at Safety at the very least. Another three-year starter at a Power Five program, Delarrin Turner-Yell is the man.
2021 has Turner-Yell's best year as a Sooner. He recorded a trio of interceptions and 53 tackles. He's a 4.47 runner and is extremely fluid on the field. He's more of a Bates understudy than a Vonn Bell. One of his top abilities is his quick, efficient backpedal. When Cincinnati goes in two-high, he's able to cover plenty of ground to keep everything in front of him. If he were somehow beaten deep, he has the closing speed to take the angle to get the deflection/stop.
Turner-Yell isn't a day-one starter. However, having him learn under Bates would be invaluable. He has the traits to be able to take over one day. Hopefully, for Cincinnati's sake, that day comes later rather than sooner because Bates is still a top Safety in the league.
Round 7, Pick 250: Britain Covey, Wide Receiver, Utah
The value of a WR4 is likely going to cause Cincinnati to use at least one pick on a receiver. The stars never aligned for a receiver earlier thanks to the number of needs, but what is a late seventh-rounder for than a team taking a flier on a playmaker. Plus, Cincinnati needs a dynamic returner and could look to upgrade from Trent Taylor.
The last kick return for a touchdown was Brandon Wilson in Week 12 of the 2020 season. The last punt return for a touchdown was Adam Jones in Week 2 of the 2012 season.
Britain Covey, coming soon to an NFL end zone near youpic.twitter.com/MXy8epcTeO

— PFN Draft (@PFNDraft) January 1, 2022
Britain Covey is that guy that Cincinnati could take a chance on. The back-to-back PAC 12 leader in punt return yards, average return in yards, and touchdowns. In 2021, he led the entire nation in those three categories as well. Get this Bengals offense a dynamic returner who can set them up with short fields and watch the pressure dissolve from their shoulders.
He will be 25 by the time the draft rolls around, so age is certainly a factor. But, as Evan McPherson showed, having great special teams is invaluable.
Last year, this author banged the table for Jarrett Patterson. This year, it's Covey.
Bengals Must Build off of 2021
Sign free agents for need, draft talent. Drafting up a Bengals mock draft before free agency is just the start of the off-season and is mostly just a thought experiment. Once free agency settles down, fans will have a better idea of what needs to be done.
Main Photo: