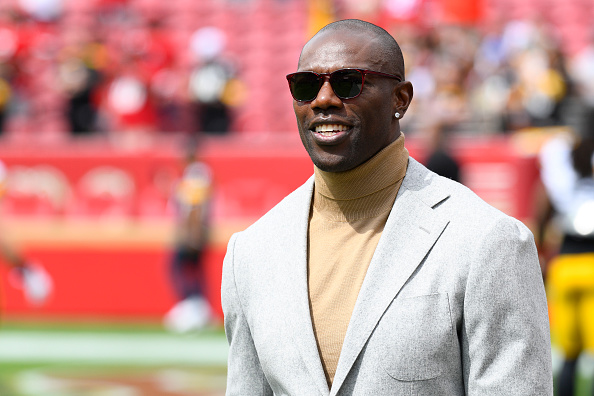 Apparently, Skip Bayless feels that Terrell Owens is ruining his legacy by playing in the Fan Controlled Football league. During a recent episode of Undisputed, Bayless went as far as to say that Owens playing in Fan Controlled Football is "beneath his stature [and] dignity." 
Now, it's understandable why a commentator with Skip Bayless' resume would feel that an NFL Hall of Famer is debasing himself by playing in an upstart indoor football league. However, I feel that Bayless' perspective is slightly misguided. For a second, let's consider the MAJOR move Fan Controlled Football just made by landing wide receiver Terrell Owens – even if it's only for a couple of games.
Fan Controlled Football: A Big Name for a Big Entertainment Product 
Owens is easily the biggest name that will take the field for Fan Controlled Football this season. Unless a catastrophe happens or Colin Kaepernick decides to give the minor league-to-NFL route a shot, Owens' performance will be the biggest storyline of Season 2.0. As a player who has many famous catchphrases, "Get yo popcorn ready!!" may be the most appropriate one to describe Owens' time in the league before it even begins.
Fan Controlled Football has one of the shortest regular seasons in all of pro football, so the 48-year-old should be able to give everything he has every week. Whether this is via him trash-talking the young pups around him or scoring on a few highlight reel-worthy catch and runs, T.O. will definitely give the viewers on Twitch, DAZN, and anywhere else their money and time's worth.
Speaking of which, we have to recognize the ultimate goal of Fan Controlled Football. Any league that lets the fans call all the plays is not entirely focused on creating the most prestigious championship game in the industry – and that's okay! Pro sports largely find their value through their ability to entertain live audiences and the fans at home who find *ahem* legal ways to watch the action.
One way to entertain mass audiences is to acquire and develop personalities who can be used as ambassadors and faces for the league over time. FCF Zappers quarterback Johnny Manziel has carried this role single-handedly since the league was founded. Likewise, the recent admission of his NFL dreams' death shows where the focus and, yes, the on-field prestige, of Fan Controlled Football is right now. Despite Manziel's inadvertent ding on the league, Fan Controlled Football's ability to lock him down for a second season shows that their show business minds are in the right place.
FCF Locked Down a Star to Build Around as Soon as Possible
As many gridiron fans should have figured out by now, landing a star quarterback as soon as possible is the fastest way to legitimize a pro football operation to both general AND hardcore audiences. During Season 1.0, Fan Controlled Football *wisely* focused the majority of their first campaign's marketing efforts on promoting the games Johnny Manziel would be playing in. Even though Manziel was a bust in the NFL, Fan Controlled Football was able to convince the former Heisman Trophy winner and first-round draft pick to end his own retirement and give the league a chance. Even better, the quarterback has already announced he will be returning to the league for a second season earlier this offseason. 
As a college athlete in the SEC, Manziel had two of the best seasons in college football history and helped bring Texas A&M's football program back into the mainstream. He also won numerous individual awards for his work during the 2012 regular season and led the Aggies to a blowout 41-13 victory in the 2013 Cotton Bowl Classic against the Oklahoma Sooners. With these accolades as an amateur in mind, it shouldn't be hard to remember that Johnny Manziel certainly had the resume necessary to play pro football at some level. Even though Fan Controlled Football is a startup league with very little on-field history and pedigree, Manziel and his future performances will ultimately help Fan Controlled Football accelerate the growth of its fanbase.
There are Other FCF Alums with NFL Potential or Experience
When I think of a minor league, the first word that comes to mind is "developmental." No matter what a group of minor league executives say after forging a partnership with their more major counterpart, every player at the lower levels of a sport's pyramid would prefer to be higher up on the food chain. Let's not fool ourselves here, Terrell Owens wants a spot in Fan Controlled Football to prove he can play well enough to earn an invite to someone's training camp.
After watching Chiefs wide receiver Josh Gordon score multiple touchdowns (three) in his short tenure with the FCF Zappers, it's possible Owens determined this league provides him the best chance to find a pro scout who is in the right place at the right time. 
With that in mind, there are other members of Fan Controlled Football's roster who either have NFL potential or an NFL training camp or two under their belt. After being signed by the Cincinnati Bengals as a running back, Quinton Flowers spent an entire season on the team's 2018 practice squad. In 2019, the player spent some time with the Indianapolis Colts' taxi team.
Since then, Flowers spent time in XFL 2020 as a quarterback for the Tampa Bay Vipers and had the best season of his pro career with the FCF Beasts in 2021. For the Beasts, Flowers threw 14 completions for 335 yards, six touchdowns, and one interception. On the ground, the indoor quarterback rushed 31 times for 269 yards (nine yards per carry) and six touchdowns.
When reading these stats, it's important to remember that teams in Fan Controlled Football only had four regular-season games and one guaranteed playoff game. Also, every player was frequently rotated in and out to give everyone on Fan Controlled Football's roster a chance to create good game film for pro scouts and their own coaches to review.
Keeping with pro players who had their best years in Fan Controlled Football, LaDarius Galloway was a franchise player for the FCF Wild Aces (RIP) in 2021 and rewarded the unit's faith in him by rushing 46 times for 313 yards (seven yards per carry) and seven touchdowns (with NO fumbles).
Through the air, wide receiver Andrew Jamiel had 23 receptions for 308 yards and nine touchdowns as the FCF Glacier Boyz' franchise player. To put the former's numbers into perspective, the leading rusher in the National Arena League (NAL) was Orlando's Desmond Maxwell. In 2021, the FB ran 56 times for 211 yards and seven touchdowns. These numbers were good enough to lead the NAL in every category and show that, in the indoor game, Galloway is already one of the best running backs in the sport. 
Dallas, Who Cares?
Well, if you've gotten this far, YOU do. Or, at the very least, you're interested in giving the league a shot this spring. Heading into its second year as an indoor league, Fan Controlled Football is the low man on the pro football totem pole. With its foggy status as a subsidiary of FOX, the United States Football League (USFL) is in position to steal the number two spot in the American market from…well…anybody.
Arena and indoor leagues have played for years in the United States; but the king of the sport, the Arena Football League, could not build the audience and finances needed to survive despite contracting to only four teams in its final season. One of those four teams, the Albany Empire, currently play in the NAL with the Jacksonville Sharks, who are former AFL Arena Bowl winners themselves.
Luckily for everyone involved with pro football, however, Fan Controlled Football's executives appear to be focused on building the best social and technology startup they can while also playing some entertaining football in the meantime. Since Fan Controlled Football appears to be extremely focused on giving its fans a never-before-seen experience through its namesake app, it's likely that the league will continue to attract new investors and, over time, monetize itself in a way that guarantees its existence for years to come. 
These positives as a business should actually attract Skip Bayless' praise instead of his sorrow for Terrell Owens' legacy, as the league is probably making multiple investments to ensure the Hall of Famer's short time in the league pays off over the long term. On Owens' end, I'm sure he would have played for the Canadian Football League (CFL) or the USFL if they wanted him. With Owens' entrance into Fan Controlled Football, however, it's clear these outdoor pro leagues did not. So, for both parties, this is the best-case scenario and a match made in six or seven-game heaven. 
Skip's opinion shouldn't be completely bashed because of the nature of debate TV and the need for each guy to pick a side and stick with it. However, the message it sends about the essence of minor league football and its ideal purpose to help guys get to the NFL through alternative means can be partially detrimental to the development of the American pro football pyramid – even if Owens' newfound gridiron dreams are "delusional" (Bayless' words, not mine).
Main Photo: