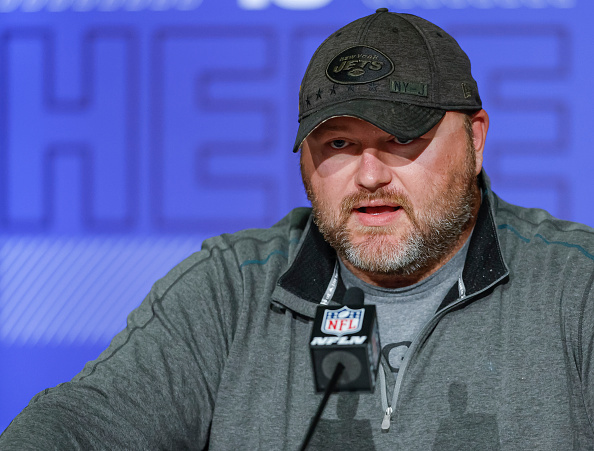 In the second year of a rebuild, general Joe Douglas felt the pressure to make aggressive moves to improve the New York Jets roster. Not so aggressive that he'd be overpaying like his predecessor in Mike Maccagnan.
Grading Joe Douglas' Free Agency
Evaluating Joe Douglas' Prior Attempts At Free Agency
2019
Shortly after being hired in June 2019, Jets general manager Douglas didn't impact the current roster much outside of signing veteran center Ryan Kalil out of retirement and tight end Ryan Griffin to one-year contracts. Kalil's production was below average before hitting injured reserve to end the season. As Sam Darnold's security blanket, Ryan Griffin became a reliable weapon in the Jets offense, recording 34 receptions for 320 yards and a career-high five touchdowns.
Griffin's positive season earned him a three-year contract extension. It's now been rumored that Griffin is a potential cap casualty because of his abysmal play over the past two seasons.
Then, the kicking woes came into play. Chandler Catanzaro retired after the Jets' first preseason game. The team then signed Taylor Bertolet who didn't make the team. Douglas then resorted to claiming Kaare Vedvik off of the Minnesota Vikings. Vedvik was cut after a miserable performance in Week 1 versus the Buffalo Bills after making none of his kicks. The Jets then signed Sam Ficken for the rest of the season. Ficken wasn't anything to write home about either but did his job.
2020
The 2020 offseason meant it was Douglas' first full free agency period as Jets general manager. Evaluating the signings now, the team didn't get proper returns on their investments.
Douglas mishandled contract negotiations with Robby Anderson, leading the latter to reunite with his former college coach in Carolina with the Panthers. In his post-trade deadline press conference, Douglas expressed regret for not making a better effort to re-sign Anderson.
Anderson's replacement on the outside was Breshad Perriman. Perriman, a former first-round pick, struggled with inconsistency and injuries throughout his career. He did have a hot streak towards the end of the 2019 season but that was in a very small sample size. Perriman never found his footing and struggled with injuries while Robby Anderson put up the first 1,000-yard season of his career in Carolina.
Douglas then began to start his rebuild of the trenches on the offensive side of the ball. Douglas first re-signed left guard Alex Lewis who had played admirably down the stretch of the season. Lewis would then retire in the summer of 2021 after a sub-par 2020 that was also hampered with injuries and rumored tension with the Jets coaching staff.
Douglas then broke through with new acquisitions in center Connor McGovern, guard Greg Van Roten, and tackle George Fant. McGovern has been fairly mediocre in his time with the Jets and hasn't lived up to his contract. Greg Van Roten had a rather abysmal 2020 season. Van Roten then got off to a bad start in 2021 before being benched for Laurent Duvernay-Tardif. Separating himself from his counterparts, George Fant is arguably the best signing of this class. Fant put up average production at right tackle in 2020 but shook the walls when he was slotted in at the left tackle position after Mekhi Becton's gruesome injury.
Despite being his weakness in past seasons, Fant became one of the league's best pass-protecting tackles in the NFL. He allowed the third-lowest pressure rate among left tackles at three percent. Fant also only allowed one sack in 887 offensive snaps.
Douglas then re-signed nickel cornerback Brian Poole for the 2020 season. Poole would amount to be one of the team's best defensive players in a very gloomy season.
After cutting Trumaine Johnson, Douglas then pivoted to signing former Indianapolis Colts cornerback Pierre Desir. Desir struggled in 2019 after the Colts changed up their defensive scheme to more of a zone look. The signing of Pierre Desir became another flop as he was benched at halftime in Week 1 versus the Buffalo Bills.
2021
The next year's free agency fared better, but the big signings didn't make their true impact. The team's first big signing would be former Cincinnati Bengals edge rusher, Carl Lawson. Looking at the numbers, Lawson never registered incredibly high sack numbers to earn $15 million per year from the Jets. But, he was a guy that would tally the stat sheet a ton when it came to quarterback hits and pressures. Ultimately, Lawson ruptured his Achilles in a joint camp practice with the Green Bay Packers in August. He should be ready for training camp.
The next big signing general Douglas made was signing former Tennessee Titans wideout Corey Davis to a three-year, $37.5 million deal. Davis never truly hit his potential as a former top-five pick in Tennessee, operating better as a number two wide receiver than a number one. Davis was supposed to be that big-bodied receiver that Zach Wilson would target in red-zone situations. Corey Davis' first season with the Jets was nothing but a disappointment. He wasn't consistently getting open and posted the highest drop rate of his career (15.6 percent). With Elijah Moore on the rise to be the team's potential number one receiver, Davis should feel more comfortable in his WR2 role.
After those big deals, most of the contracts that were signed were one-year contracts. Despite being considering injury-prone, Tevin Coleman signed a one-year contract and thrived as the second-string running back behind Michael Carter, earning him another contract with the Jets.
Former New Orleans Saints interior defensive lineman Sheldon Rankins signed with the Jets for a two-year contract worth $18 million. Rankins disappointed in his first season with the team as he was one of the main culprits as to why the Jets couldn't stop the run in 2021. Watching the film, he struggled with clogging holes and was moved easily by opposing linemen. Rankins placed in the 25th percentile in run-stop rate.
My biggest knock of this specific free agency wave and offseason in general for Douglas was not properly addressing the tight end position. The Jets signed Tyler Kroft to a one-year deal. His ideal role is as a second or third-string tight end. Kroft struggled with blocking along with some injuries and drops. The team did not draft a tight end in 2021. They resorted to trading Chris Herndon to the Minnesota Vikings, leaving them with Tyler Kroft, Daniel Brown, and Ryan Griffin as their three featured tight ends. Offensive coordinator Mike LaFleur anticipated running two tight-end sets early on in the season but couldn't because of the poor play of the tight-end room altogether.
Signing Keelan Cole as the team's third receiver didn't work out too well as Elijah Moore eventually passed him on the depth chart. Cole was a huge culprit as to why the Jets had so many drops. Thankfully, he was only signed to a one-year contract.
[pickup_prop id="22905″]
2022
Laken Tomlinson
Contract Details: three years, $40 million, $27 million guaranteed
Douglas' first move was to finish off his full overhaul of the Jets' offensive line. Luckily, this player had ties to the team's coaching staff back when they were in San Francisco.
Former San Francisco 49er Laken Tomlinson signed with the Jets, reuniting him with offensive line coach John Benton and offensive coordinator Mike LaFleur. Tomlinson didn't miss a beat in 2021 as he played all 17 games and was selected to his first Pro-Bowl. Pro Football Focus ranked him as the 13th best guard out of 82 qualified guards last season. He also ranked fifth among left guards.
Head coach Robert Saleh mentioned at his recent press conference that Tomlinson will be staying at left guard while sophomore Alijah Vera-Tucker will make the move to right guard.
What Laken Tomlinson brings to the Jets is a strong all-around game. Tomlinson doesn't have a major weakness but is a slightly better run-blocker than pass-blocker. He also allowed a pressure rate of 4.01 percent which ranked 25th among 68 qualified guards. Tomlinson's career pressure rate at 4.88 percent stands right around league average.
With that, Tomlinson will be playing in the same zone-heavy system back in his days with the San Francisco 49ers. He also brings strong durability as he has only missed one game throughout his entire career. The missed game wasn't even due to injury. Another thing the Jets offensive line lacked in the past is a tough edge. Too many times was Zach Wilson roughed up with hard and late hits by opposing defensive lineman and edge rushers. Wilson needs someone that can stick up for him. Laken Tomlinson is that player who will bring toughness every single game.
Some might see his age as a downside, but Tomlinson has only gotten better throughout his career, not worse.
Braxton Berrios
Contract Details: two years, $12 million, $7 million fully guaranteed
The second move of free agency from Douglas and the Jets was re-signing special teamer, Braxton Berrios.
Berrios had the best season of his career in 2021, earning First-Team All-Pro honors. He led the NFL with an average of 30.4 yards per return. Berrios recorded a total of 852 kick return yards, ranking third in the NFL, only trailing former Jet Andre Roberts and DeAndre Carter.
When injuries began to take their toll on the Jet's receiving core towards the end of the season, Braxton Berrios became Zach Wilson's most reliable weapon on offense. He recorded 205 yards from scrimmage and three touchdowns with another one coming on a kick return. On the year, Berrios only dropped one pass, proving to be a reliable depth receiver.
The Jets have more work to do with the wide receiver position but bringing back your own is a good start.
C.J. Uzomah
Contract Details: three years, $24 million, $15 million guaranteed
The next task marked off of Douglas' checklist was addressing the tight end position. As previously mentioned, the Jets had arguably the worst tight end room in the NFL with players like Tyler Kroft and Ryan Griffin taking major snaps at the position.
Former Cincinnati Bengal C.J. Uzomah signed with the Jets to cap off the first day of free agency for Douglas and co. Undeniably, Uzomah comes in as the team's best tight end since the days of Dustin Keller.
Last season for the AFC champion Cincinnati Bengals, Uzomah recorded 49 receptions for 493 yards and five touchdowns. He wasn't the best target on a stacked Bengals offense but proved to be a reliable security blanket for Joe Burrow. Uzomah caught 73.1 percent of passes thrown at him during his tenure in Cincinnati.
C.J. Uzomah doesn't just bring a reliable target to the Jets, but also a player who can make defenders miss after the catch. For his 6'6" size, Uzomah can bounce off of contact quickly and is quite shifty. This season, he recorded a career-high 300 yards after the catch, while averaging 6.1 yards after the catch per reception.
He also brings an upgrade in pass-blocking to the tight end room. In 2021, Uzomah allowed only one pressure on 41 pass-blocking snaps, ranking fifth out of 40 qualified tight ends.
D.J. Reed
Contract Details: three years, $33 million, $10.5 million
To start day two of free agency, the Jets elected to bolster their secondary first and foremost. To fill the void on the outside opposite Bryce Hall, the team decided to sign former San Francisco 49er and Seattle Seahawk D.J. Reed. This would reunite him with Robert Saleh.
For me, D.J. Reed was never on my radar as who I thought would fit best with the Jets. Players that came to mind for me were Casey Hayward, Rasul Douglas, and Donte Jackson. All are stout zone cornerbacks. Reed fits the same mold as the rest of the three but is younger.
Reed immediately comes into the Jets secondary as the team's best cornerback. He also brings top-tier numbers, despite not being widely regarded as a top-tier cornerback.
In 14 games in 2021, D.J. Reed saw 606 coverage snaps and was targeted 68 times. Out of those 68 times, he only allowed 35 receptions for 383 yards and two touchdowns. He also recorded two interceptions. That is one phenomenal stat line for such an underrated cornerback. More impressively, Reed only allowed 0.63 yards per coverage snap. The league average for cornerbacks stands at 1.08.
D.J. Reed also allowed an average of 5.6 yards per reception, ranking 12th among qualified cornerbacks. He ranked ahead of elite-level cornerbacks like Jalen Ramsay and J.C. Jackson in this specific category. Oh my goodness was his production elite.
Another strong suit of Reed's game that helps the Jets is his ability to stop the run. This past season, he recorded 29 tackles against the run, ranking fourth-most among cornerbacks. Reed only missed one tackle, leaving him at a missed tackle rate of 3.3 percent. Jets cornerbacks missed 15 tackles trying to stop the run last season which ranked fourth-worst in the league.
Signing D.J. Reed is the most overlooked signing the New York Jets have made this offseason. But, Douglas and co. might not be done trying to find answers at this
Jordan Whitehead
Contract Details: two years, $14.5 million, $7 million
Before free agency, the Jets lacked starting free and strong safeties. Marcus Maye wasn't likely coming back and didn't. Ashtyn Davis doesn't have the traits to be a starting safety. He doesn't cover well and takes a lot of bad angles on tackles.
General manager Douglas opted to poach a player from Todd Bowles' defense, that being Jordan Whitehead.
Watching the film, Jordan Whitehead brings a hard-hitting mentality the Jets have not had since the days of Jamal Adams. But he doesn't bring just that.
Whitehead, along with new acquisition D.J. Reed, is yet another run-stuffer that the Jets secondary desperately needed. Last season, he recorded 18 run stops which ranked fourth among safeties. Since 2018, Whitehead ranks fourth among safeties with 18 tackles for loss against the run.
Jordan Whitehead's production in coverage has also improved throughout his career. In 2021, Whitehead allowed a passer rating of 81.3, ranking 33rd among 105 qualified safeties. He was targeted 48 times this past season, allowing 33 receptions for 292 yards and two touchdowns with two interceptions. Whitehead also only allowed 6.1 yards per target.
Breaking down his statistics in zone coverage, Whitehead allowed a 51.8 passer rating in zone coverage, ranking 11th among 105 qualifiers. His production was far from solid in man coverage, as he allowed a passer rating of 155.8, which ranked 83rd out of 85 qualifying safeties. Whitehead will have to play a little bit more of man coverage in this scheme and his woes can only be hidden to a certain extent.
With his hard hits comes some struggles in the missed tackle department. In every season of his career, Jordan Whitehead has missed at least 11 tackles. This past season, he missed 15 tackles and registered a missed tackle percentage of 16.1 percent, ranking in the 21st percentile of safeties.
Overall, the Jets get a safety who excels in the zone scheme plays with a great edge, and can make the big hit.
Tyler Conklin
Contract Details: three years, $20.25 million, $10 million guaranteed
After signing C.J. Uzomah, reporters around the NFL said that the Jets were not done adding tight ends.
Former Minnesota Viking Tyler Conklin signed with the Jets to cap off day two of free agency for the team. Conklin broke out in 2021 as a pass-catcher, recording 61 receptions for 593 yards and three touchdowns. The combo of Conklin and Uzomah would have combined for over 1,000 yards receiving and eight touchdowns.
Tyler Conklin's reception total ranked ninth-best among tight ends and his yardage ranked 14th best. Not a single Jets tight end has caught over 60 passes since Dustin Keller did so in 2011. Conklin dropped only one pass this past season, amounting to a 1.6 percent drop rate. He's not great at contested catches but his speed is the better attribute. With that, the duo of Uzomah and Conklin will rack up a ton of yards after the catch. But, there's a catch.
This past season, Conklin recorded 332 yards after the catch, ranking eighth among tight ends. What the statistics won't tell you is that Conklin accrued a majority of the YAC on screen passes and dump-offs.
Conklin also handles his load well as a solid pass-blocker. He was tasked to block on 98 passing snaps in 2021, the most of any tight end. Conklin also ranked 13th among tight ends in run-blocking snaps. He joined Dallas Goedert, Cole Kmet, Dalton Schultz, Dawson Knox, Noah Fant, and George Kittle in ranking top-15 in both run-blocking snaps and receiving yards. Conklin has done some nice work against the league's best edge rushers in pass protection.
All I can say is general manager Douglas has done a nice job of rebuilding the tight end room this offseason as to what it was last year.
[pickup_prop id="21950″]
Jacob Martin
Contract Details: three years, $13.5 million, $6 million
After all these major moves the New York Jets made, the team found their replacement for Vinny Curry in Jacob Martin.
In Jeff Ulbrich's defensive scheme, the goal is to get to the passer with your four-down linemen, with strength and power on the interior and speed on the edges. Jacob Martin brings the speed and athleticism the Jets lacked last season in their rotational edge rushers.
Coming into the 2021 season, the Jets were expected to be feared on defense because of their front-seven with some nice depth. Vinny Curry and Carl Lawson missed the season while youngster Bryce Huff misses eight games. Fill-ins like Ronald Blair, Shaq Lawson, Kyle Phillips, and Tim Ward looked lethargic compared to their superiors and did little to help a defense that ranked 32nd in the NFL in points and yards allowed.
In his career, Jacob Martin has recorded 106 total snaps on 943 snaps which amount to a pressure rate of 11.3 percent, which is considered above-average.
From 2018 to 2020, Martin collected 68 pressures, 9.5 snacks, 18 quarterback hits, four forced fumbles, and three fumble recoveries in 44 games played with only one being a start for him. During that span, he played in over 820 snaps. The top edge rushers in 2021 combined to play 820 snaps which means that Martin was performing like a true 9.5 sack per year player during that span.
Contrary to his three-year span from 2018 to 2020, Jacob Martin made 14 starts for the Houston Texans in 2021. While he didn't wow anyone, Martin recorded 38 total pressures, four sacks, six quarterback hits, two forced fumbles, and three pass deflections, all of which are respectable numbers. He fared better than what the Jets got out of Shaq Lawson last season
Martin's main question mark is his run defense. From 2018 to 2020, Martin's teams only let him play 20.6 percent of snaps against the run, which amounted to 3.8 snaps against the run per game. The Texans finally gave Martin more snaps against the run in 2021 but his production remained below average. He recorded 10 run stops in 309 snaps against the run, which gave him a run-stop rate of 3.2 percent.
Depth Moves
Quarterback
The Jets elected to bring back the same quarterback room from last season. Joe Flacco was re-signed to a one-year deal and Mike White was tendered as a restricted free agent.
Mike White became a phenomenon after his Week 8 victory against the Cincinnati Bengals. White became the first Jets quarterback to throw for over 400 yards since Vinny Testaverde. White performed admirably in Week 9 versus the Indianapolis Colts until he got hurt. Week 10 presented a different fate as he struggled in against a mighty Buffalo Bills defense.
Joe Flacco performed well in his only start versus the Miami Dolphins in Week 11. It resulted in a loss but Flacco threw for 292 yards which matched his highest mark since September 2019.
General manager Douglas did his job by bringing back continuity and experience in the quarterback room.
Kicker
With the kicker position, the Jets brought back continuity and a widely-known face to compete in training camp.
Eddy Piniero re-signed with the Jets for a one-year contract. Piniero played better than his predecessors of that same season. Piniero made all of his field goals despite missing an extra point and his longest field goal was from 51 yards.
Greg Zuerlein's 2021 season doesn't represent the same success. Zuerlein had a rough go for the past two seasons, kicking under 83 percent. He also missed nine extra points during that span and has only made five field goals over 50 yards in 14 attempts. Zuerlein's reputation as an excellent kicker won't be buying him a spot on the roster. He's gonna have to work for it.
Where Did Joe Douglas Miss Out?
Number One Wide Receiver/Veteran Receiver
Although the wide receiver market in free agency left a lot to be desired with the lack of game-changers, Douglas and the New York Jets truly missed out on the trade market.
The Jets checked in on the Amari Cooper sweepstakes but didn't pull the trigger. Cooper was traded for a fifth-round pick and a sixth-round pick swap. The same could be said for Robert Woods but the Jets didn't check in there. Woods was traded for a sixth-round selection despite still being an impact receiver at age 29.
The Tyreek Hill sweepstakes just ended in bad luck for the Jets. Gang Green was truly aggressive in the talks despite not adding a first-round pick in their offer. The Kansas City Chiefs accepted the Jets' offer but they also accepted the Miami Dolphins' offer. Then, the Chiefs gave Hill the right to choose between the two teams where he wanted to go. Hill chose Miami. At least Douglas showed that he could be aggressive in trading draft picks for proven players.
The Jets are now eyeing the statuses of D.K. Metcalf, Deebo Samuel, and A.J. Brown, per ESPN's Rich Cimini.
The #Jets are "keeping an eye" on AJ Brown (#Titans), DK Metcalf (#Seahawks), & Deebo Samuel (#49ers) in potential trade talks, per @RichCimini.

All 3 are entering the final year of their rookie contracts & with WR market blowing up (contract-wise) something could shake here. pic.twitter.com/ScRQjpG3m2

— Paul Andrew Esden Jr (@BoyGreen25) March 27, 2022
Now, the Jets are stuck in a wide receiver conundrum. The first course of action should be signing a veteran wide receiver like Sammy Watkins or T.Y. Hilton. Then, the Jets should take a wide receiver at 10th overall. Or perhaps Douglas could double-up on the wide receiver position in the draft.
Signing a veteran on a one-year contract to be the Jets' third wide receiver would take pressure off of a rookie receiver. No one in their right mind would expect a rookie receiver to produce like Ja'Marr Chase and Justin Jefferson did in their rookie seasons. Rookie receivers take time to mold. That's what happened last season with Elijah Moore. The Jets signed Keelan Cole last season and he became one of their starting receivers in Week 1 versus the Carolina Panthers. Moore didn't get seriously involved in the offense until Week 7. Again, the NFL rarely sees a rookie receiver produce star-like numbers. This also helps the growth of Zach Wilson.
Edge Rusher
Although finding some solid depth in Jacob Martin in free agency, the Jets struck out on finding an impact edge rusher opposite Carl Lawson. Players like Chandler Jones, Haason Reddick, and Za'Darius Smith were available. The Jets were supposedly in on Chandler Jones but he opted to go to Las Vegas and join the Raiders.
Pro Football Network's Tony Pauline did mention before free agency that the Jets would be interested in Smith if he were cut by the Green Bay Packers. After that, no reports came out about the Jets' interest in Smith.
Now, Douglas and the Jets are stuck in another conundrum at another key area of need. The easy answer is grabbing an edge rusher at fourth overall. What if Kayvon Thibodeaux isn't there? Do the Jets grab the next best edge rusher on the board in Jermaine Johnson or draft a player in another area of need like Ahmad "Sauce" Gardner? If the Jets take Gardner, do they risk waiting on an edge rusher or wide receiver until the second round? Or do they use one or both of their second-rounders to trade back into the middle or back end of the first round?
But the Jets have another question to answer regarding the edge rusher position. Do they bother selecting two edge rushers in the draft? Here's why that should be at least in consideration.
Carl Lawson is coming off of a ruptured Achilles, which effectively ended his 2021 season. Lawson has suffered injuries before and there's a serious chance he may not be the same player when he returns to the football field. In the case that happens, Lawson can be cut or traded after the season and both rookie edge rushers from this season can line up on the outside for the foreseeable future for the New York Jets. If Lawson returns to the player he once was, the Jets have possibly one rising star on the other side of him and a reliable depth piece.
Final Grade of Free Agency For Joe Douglas
For this year's free agency, I am giving New York Jets manager Douglas a B+. Unlike years past, Douglas handed out more long-term contracts to more quality players.
Douglas signed not one but two quality tight ends in a room that was barren last season because of his doing. Zach Wilson now has reliable tight ends that can catch the football but also can block for the running backs in the backfield.
Douglas also finished off his rebuild of the offensive line by signing Laken Tomlinson.
D.J. Reed and Jordan Whitehead look like solid additions to a barren Jets' secondary.
What Douglas hasn't done gives him that B+. He hasn't signed a veteran receiver to be the number three guy yet. He also didn't go out to sign an edge rusher to play on the other side of Carl Lawson, although my preferred solution to that position in the draft.
Main Photo: