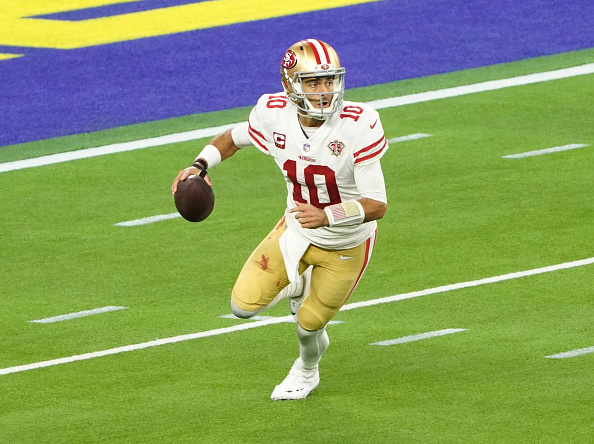 Is Jimmy Garoppolo Severely Underrated? 
Despite boasting a 33-14 career record, over 3,800 passing yards, and 20-plus touchdowns in two of the last three years, San Francisco 49ers head coach Kyle Shanahan has cast aside Jimmy Garoppolo. 
When considering his resume, this is a bold move. The quarterback has won the Super Bowl twice (as a back-up in New England), averages a high 60s pass completion rate, and boasts nearly a two-to-one touchdown-to-interception ratio. 
Teams should be fighting each other to get a player with such quality – but this is far from the case. What's more, when comparing the betting trends with his stats, the 30-year-old is also severely underrated by bettors. 
Want to bet on the NFL? Make sure you use a sportsbook that suits your wagering style. Read independent reviews of online NFL betting sites to help find the perfect platform for you. 
Betting Profits of Top NFL Quarterbacks
| | | |
| --- | --- | --- |
| Quarterback | Record | Profits (For $100 bettors) |
| Ryan Tannehill | 38-23 | +$1,989.66 |
| Marcus Mariota | 28-20 | +$1,563.5 |
| Taysom Hill | 49-17 | +$1,557.46 |
| Josh Allen | 42-25 | +$1,253.65 |
| Nick Foles | 19-12 | +$1,154.74 |
| Jimmy Garoppolo | 35-17 | +$1,011.03 |
| Patrick Mahomes | 58-16 | +$954.05 |
| Ryan Fitzpatrick | 15-24 | +$850.04 |
| Alex Smith | 20-14 | +$660.59 |
| Ben Roethlisberger | 42-24-1 | +$475.88 |
Looking at quarterback profitability when based on wins is one way to see how teams have played in relation to Vegas oddsmakers' expectations. According to these stats, Garoppolo is one of the most profitable quarterbacks in the last five years – securing +$1,011.03 for $100 bets wagered on the Moneyline in his last 52 games.
Therefore, he's been better betting value than Aaron Rodgers, Mahomes, and even Tom Brady. Aside from the betting profits, Garoppolo has the seventh-highest quarterback win percentage in football (minimum 50 games) during his time with the 49ers.
[pickup_prop id="22193″]
Covering the Spread
With Garoppolo on the field, San Francisco has gone 29-22-1 against the spread (56.9 percent win rate). But in games during the last five years without the former Patriots player, the 49ers are 15-20 against the spread (42.9%). Although coach Kyle Shanahan gets most of the credit for San Francisco's recent runs of success, the team has performed much better with "Jimmy G" than without him.
More Than A Game Manager
Once hailed as the next big thing in the NFL, Garoppolo's name is often mentioned in the same vein as quarterback "game managers" like Alex Smith and Derek Carr. 

Even though San Francisco's system produces easy throws, focuses on the running game, and enables quarterbacks to complete passes at a high rate, Garoppolo is not a game manager – and never has been. During his final college season with Eastern Illinois, he passed for 53 touchdowns and over 5,000 yards in only 14 games.

The 49ers desire to replace Garoppolo with emerging talent Trey Lance makes it seem like the quarterback's

performances have been sub-par

. However, he was the leader in yards per completion and net yards per attempt last season. Even though the 49ers limited Garoppolo's opportunities by opting to run the ball in the red zone, when he threw, he did so with a high success rate. In fact, the 49ers quarterback posted a higher red-zone completion percentage than Russell Wilson, Matthew Stafford, and Kyler Murray.

Admittedly, Garoppolo doesn't possess the mobility like young stars Burrow, Mahomes, or Jackson. But when it comes to passing accuracy, he can go toe to toe with the best in the league. 
Prop Betting: Passing Yards OVER/UNDER
Despite only covering his passing yards OVER/UNDER in five of his ten starts last season, he averaged 14 more yards per game than his average yardage prop (240.1). In the three starts where Garoppolo's passing yards line dropped below 230, he hit the OVER every time.
So regardless of who Garoppolo plays for next season, expect his passing yards to go over more than under. 
Main Photo: