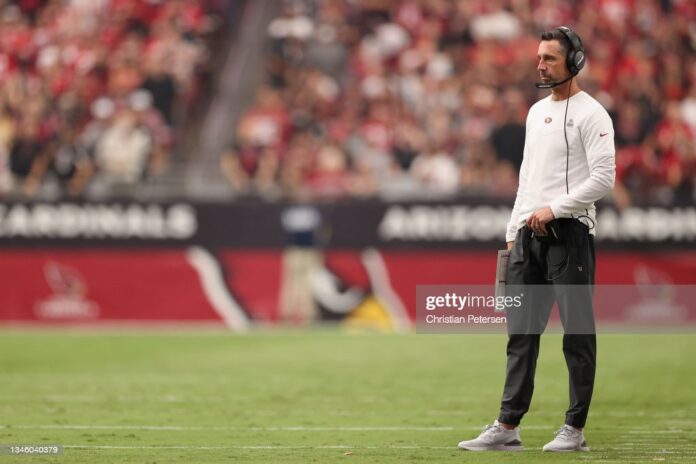 The San Francisco 49ers are going nowhere. They must fire Kyle Shanahan as soon as possible. Starting 2-4, the once-proud franchise is staring down a likely fourth losing season in the last 5 years.
Half of a decade should be enough time to fully display what your talents consist of. Imagine this: in the first two years of your job, you performed generally awful. I know, you're saying, "well, I'm fired then", but please, stay with me here. If your name is Kyle Shanahan, you are brought back for the third year. In that third year, you do great, but completely blow the biggest project the company has undertaken in years. Your company gives you a five-year contract extension following this massive meltdown, and in the next two years, you're back to being your old, awful self.
This is his coaching career. Here are the five reasons why the 49ers should fire Kyle Shanahan immediately.
Five Reasons the 49ers Must Fire Kyle Shanahan
Losers Lose A Lot
The first reason is quite simple: he does not win football games. With an overall record of 33-40, Shanahan's career win percentage (.452) is lower than Rex Ryan's (.489), Anthony Lynn's (.507), and Joe Philbin's (.464). Shanahan just cannot do what he is paid primarily to do. Remember when 49ers ex-coach Jim Harbaugh got fired after three NFC Championship appearances, a Super Bowl appearance, and an 8-8 season? Apparently winning on the field isn't what is valued in San Francisco, because the only place Shanahan seems to win is in the owner's box. I sure bet 49ers fans miss Harbaugh right about now. If they fire Kyle Shanahan, they could avoid a lengthy rebuild with a solid roster.
Penalties-a-Plenty
The 49ers aren't just a disappointing 2-4 team, they're a terribly ugly 2-4 team. If you appreciate the color yellow or have a secret fetish for flags, tune into a 49ers game. Week in and week out Shanahan produces an undisciplined team that commits idiotic penalties at the worst possible time.
Sunday night was another example of this. Playing in an absolute monsoon against the 2-4 Indianapolis Colts, the 49ers committed seven penalties for 122 total yards. This stat is omitting a near 50 yards pass interference that was declined due to the Colts making the catch. So, roughly 175 free yards the 49ers gifted a 2-4 Colts team in one of the wettest games you will ever see. It's always good to give away free yards when it's incredibly difficult to move the football. Good strategy there, Kyle.
Instead of playing smart, disciplined football coming off of their bye week, the 49ers played like a junior varsity team that didn't belong beneath the lights of Sunday Night Football. The 49ers lead the NFL in penalty yards per game (80.8), this complete lack of discipline reflects directly on the head coach. Shanahan lacks any accountability and the ripple effect is spreading to his talented roster. Even if they fire Kyle Shanahan, this problem could persist, so they need the right person.
Not a People Person
Great coaches are masters of managing the human experience. They brilliantly dissect their players psyche and find out how to unlock the best version of that person. Bill Walsh knew that acquiring Steve Young would only push Joe Montana to get better. Phil Jackson integrated Dennis Rodman onto a team that was led by Michael Jordan. Jackson even got Kobe and Shaq to coexist.
If there is one area of coaching where Shanahan fails more than any other, it is here. He cannot manage and motivate his talented players.
Shanahan is mostly praised for having a brilliant offensive mind. A true football nerd. If this is so, he should use that brilliant brain and take a course on effective communication skills. Over the past five seasons, Shanahan has failed to develop his players in a variety of ways. The 49ers have to fire Kyle Shanahan on this fact alone.
When quarterback Jimmy Garoppolo joined the 49ers in 2017, he took a 1-10 team and turned them into a 6-10 team with a five-game winning streak to close out the season. Garoppolo looked confident, poised, and he resembled a franchise quarterback. Over those five starts, Garoppolo averaged over 300 yards per game. This is significant to note because this is when Shanahan had the least influence over Garoppolo. In 2021, Garoppolo looks completely and utterly broken.
Wide receiver Brandon Aiyuk looked to be a star on the rise after an impressive 2020 campaign (over 800 scrimmage yards and seven touchdowns). In 2021, Aiyuk has taken up permanent residence in Shanahan's doghouse and through six games has caught nine passes for 96 yards. With superstar tight-end George Kittle out of the lineup, the 49ers need Aiyuk more than ever. Instead of getting behind the talented young wide receiver, the 49ers coaching staff and front office have run to the podium to question his abilities with a fraudulent "tough love" approach.
This isn't the first time Shanahan has soured on a player and discarded him like last night's leftovers. Whether it be running back Matt Breida or wide receiver Dante Pettis, Shanahan's approach has been cowardly and it is killing this roster.
There Are Better Options
I said it earlier this month, there are better options out there.
Buffalo Bills offensive coordinator Brian Daboll has turned Josh Allen into an elite quarterback. Doug Pederson won a Super Bowl with Nick Foles at quarterback. Even a guy like Bill O'Brien has had consistent success as a playoff contender while developing a young quarterback.
The false rhetoric that there aren't any options better than Shanahan is downright foolish. The 49ers have experienced five years of Shanahan, four of them were terrible and the other one ended by blowing a 10 point lead with seven minutes left in Super Bowl LIV. These have not been good times in Santa Clara.
Prior to becoming a Super Bowl choke artist, Shanahan was mostly known for destroying Robert Griffin III and helping him acquire the nickname RGKnee. In one game with Trey Lance starting at quarterback, Shanahan has already succeeded at getting the future of this franchise injured. Calling dive plays into the teeth of the defense, Lance injured his knee two weeks ago against the Arizona Cardinals.
On Monday, as the 49ers fans clamored for a quarterback change to salvage a seemingly soon to be lost season, Shanahan announced that Garoppolo will start vs. the Bears in Week 8. Whether it be by choice or due to medical reasons, understand, Shanahan is already hindering the progress of Lance in San Francisco. Plain and simple, if the 49ers want to get back to competing in the toughest division in football, they must get ahead of the curve and fire Kyle Shanahan.
Main Photo: