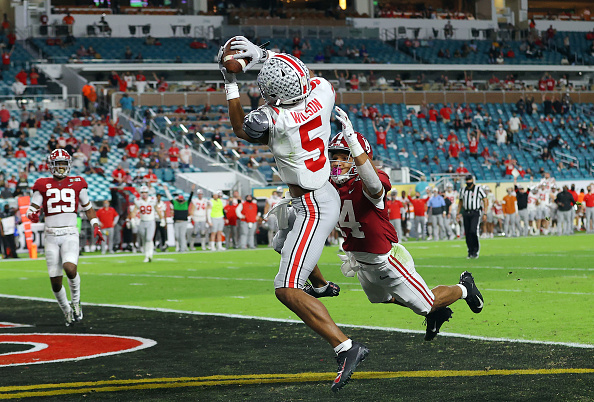 The New York Jets are heading the most critical offseason in a while. Building the offense around Zach Wilson is a good start to taking the next step in the team's rebuild.
This five-round (New York doesn't pick in rounds six or seven as of yet) Jets mock draft makes the finishing touches on the offensive side of the ball for the Jets while also filling some holes on the defensive side. With this mock draft, the team completes their offseason with the best foot forward and can finally try to compete for the playoffs.
2022 New York Jets Mock Draft
Round 1, 4th Overall: Evan Neal, Tackle, Alabama
Some may ask why would the New York Jets take another offensive tackle with two starting-caliber tackles in George Fant and Mekhi Becton. Well, there are simply two reasons for this.
Evan Neal is arguably the best offensive lineman in his class. There's even speculation that Neal could be the first overall pick since the Jacksonville Jaguars need to add better protection for their young quarterback, Trevor Lawrence. For starters, Neal offers versatility as he's played both on the left and right sides of the offensive line with experience at guard as well. He moves very well for his daunting size. Neal was also the best-run blocker in the nation and has All-Pro upside.
Getting to his weaknesses, Neal needs to refine his technique in pass protection with enhanced foot movement. There are also concerns about his massive frame at 6'7″ and 351 pounds entering the NFL, just like former Jets first-round pick Mekhi Becton.
Getting to why the Jets would draft yet another offensive tackle, there are ongoing concerns about Becton's weight. Becton went down with a knee injury after being rolled up on in the Week 1 matchup versus the Carolina Panthers. The recovery time was only supposed to be about four to six weeks. However, he did not play a snap for the Jets for the rest of the season. Could his weight have complicated the rehabilitation process? Becton also missed time in 2020 due to injuries so it would be a smart idea to have a good insurance policy in case Becton goes down again with an injury.
Another reason why the Jets could take Evan Neal is that Fant turns 30 in July and will be an impending free agent in 2023. Although, Tony Pauline of Pro Football Network reported that the team wants to set up a contract extension. Fant had an adequate first season with the Jets in 2020 but really took off in 2021. In just 15 games, the veteran offensive lineman only allowed eight pressures and just one sack. Fant, primarily known as a good run-blocker, excelled in pass protection this past season. Even if Fant is extended, you can move Neal inside to play right guard.
Round 1, 10th Overall: Garrett Wilson, Wide Receiver, Ohio State
Some say doubling up on offense in the first round for the New York Jets mock draft is quite sketchy considering the number of holes on the defensive side of the football.
Outside of Davante Adams, there is no real game-changing receiver on the free-agent market. Jamison Crowder is likely not coming back and Braxton Berrios is not talented enough offensively to be the team's third-string wide receiver. The Jets could trade for one but realistically they wouldn't need to pick a wide receiver in the first round if that was the case.
The Jets fill their need of an X receiver by drafting Ohio State product Garrett Wilson. Wilson's speed creates excellent separation and makes defenders miss on a consistent basis. Like Elijah Moore, Wilson can play in the slot or on the outside. He's also good with yards after the catch, something the Jets have truly lacked since Quincy Enunwa last played with the team.
At the next level, Wilson's route-running will have to get better as he constantly struggled against physical cornerbacks with his passable speed.
2021 Statistics: 11 games, 70 receptions, 1,058 yards, 12 touchdowns, four rushes, 76 yards, one touchdown
[pickup_prop id="18305″]
Round 2, 35th Overall: Jaquan Brisker, Safety, Penn State
With this pick, the New York Jets fill their void at safety with Penn State product Jaquan Brisker. Marcus Maye is unlikely to return in a Jets uniform due to tensions with the front office as he'll probably be looking for a long-term contract elsewhere where he can get more money. Ashtyn Davis is also not starting safety material, so ideally the Jets would sign one safety in free agency and then draft one.
First, Brisker is a physical specimen who could play deep and line up in the box to blitz. When he's in the box, he has good burst and bend to take on opposing linemen. Brisker can also play in man and zone coverage. He's also a very-hard hitting tackler and has good range to track the ball from sideline to sideline.
There were times that Brisker would not be set would get burned with speed when he wasn't set. His hips would tend to stiffen up and would be put on his heels.
2021 Statistics: 12 games, 63 tackles, six tackles for loss, two interceptions, five pass defenses
Round 2, 38th Overall: Jermaine Johnson, EDGE, Florida State
The Jets find their much-needed edge rusher opposite Carl Lawson with the 38th pick in Jermaine Johnson. The decision-makers line up the value and the player after both Kayvon Thibodeaux and Aidan Hutchinson were taken with the first two selections of the draft.
For starters, Jermaine Johnson is well-balanced in defending both the run and rushing the passer. Johnson has good vision seeing blocks develop and can control offensive linemen with his long frame and arms. He also has enough energy to slip through gaps and get into the backfield to make tackles for loss. As an edge presence, Johnson wins because of his strong motor and length.
Johnson's power as an edge-rusher also tends to be unpredictable, both as a positive and negative. He also will have to face bigger linemen in the NFL so there is a worry he might get swallowed up off the edge.
Jermaine Johnson is not a truly astounding player but he's another guy who will free up his teammates off of the edge for easy sacks.
2021 Statistics: 12 games, 70 tackles, 17.5 tackles for loss, 11.5 sacks, 12 quarterback hurries, two forced fumbles, one fumble recovered
Round 3, 69th Overall: Chad Muma, Linebacker, Wyoming
Fans and analysts alike have fallen in love with Chad Muma as a prospect and his stock has only risen because of his performance in the Senior Bowl. Like the safety position, the Jets best option to fill the rest of the starting linebacker spots would be signing one in free agency and drafting one.
Muma offers a little bit of everything as a linebacker. To start, he has great speed and his athleticism allows him to take great angles at attacking the football and ball-carriers. Muma is fantastic at reading blocks and eluding blockers in space. He's also a consistently great tackler as he led all of college football in tackles with 142.
Although he seems hard-hitting, Muma can be hot-and-cold with his point of attack physicality. There are times when he is caught flat-footed, especially when he's covering big tight ends.
With the right coaching, Muma can play all three linebacker spots. He won't be at his most natural spot at MIKE since C.J. Mosley is set to return. This guy has the tools to be a Pro-Bowler one day if he lives up to his potential.
2021 Statistics: 13 games, 142 tackles (led the nation), eight tackles for loss, 1.5 sacks, three interceptions, two defensive touchdowns, one fumble recovery
Round 4, 108th Overall: Jeremy Ruckert, Tight End, Ohio State
With this selection, the New York Jets mock draft goes with Long Island-born Jeremy Ruckert to fill the tight end position. Ideally, Ruckert could be a team's second-string tight end but having him as a team's lead tight end is not half bad. He also grew up a Jets fan and it feels like his dad is campaigning for his favorite team to draft him.
Although Jeremy Ruckert wasn't Ohio State's best receiving option, he put up solid numbers. In 2021, he recorded 26 receptions for 309 yards and three touchdowns.
Ruckert is a willing blocker who has good strength and pop versus edge defenders coming in from in-line positions. He's a monster versus smaller defenders but his enthusiasm could distract him and lose his technique. He tends to go for the home run block and whiffs completely. Ruckert has good hands and catching range. With his standard athleticism, he can make catches in space or in traffic.
The main thing for Ruckert to fix in his game is the overall consistency in his blocking and needs to play more within himself.
2021 Statistics: 11 games, 26 receptions, 309 yards, three touchdowns
Round 4, 114th Overall: Marcus Jones, Corner, Houston
With this selection, the New York Jets go with their first depth pick in cornerback Marcus Jones. The team already has two starting caliber cornerbacks in Bryce Hall and Michael Carter II and will probably look to add a veteran cornerback in free agency. One thing that this new regime did well last season was finding gems in the mid to late rounds (ex: Carter II, Brandin Echols, Jason Pinnock).
Marcus Jones is an experienced cornerback as he spent his collegiate career with both Troy and Houston. Although he's undersized, he can both man the slot and outside cornerback spots. When taking on blocks, Jones has the physicality to beat his opponents. Jones also has shown great awareness and has good eyes to see what's in front of him. He's also a fundamentally good tackler who rarely misses tackles.
On the downside, Jones plays hesitant on the outside and doesn't trust his eyes allowing for easy completions. He also doesn't have the size to take on bigger receivers downfield, creating the advantage for the opposition.
With the way this Jets coaching staff has gotten the most out of mid to late round talents, it wouldn't surprise me if Marcus Jones comes in and serves as a pivotal depth piece for this squad.
2021 Statistics: 13 games, 47 tackles, one tackle for loss, five interceptions, 13 pass defenses, one forced fumble
[pickup_prop id="18304″]
Round 5, 145th Overall: Jerome Ford, Running Back, Cincinnati
The New York Jets get their bone-bruising running back in Jerome Ford with this selection. The team currently has a crowded backfield with Michael Carter, Ty Johnson, Austin Walter, and La'Mical Perine. In one of my past articles, I was focused on fixing the defense both via free agency and draft. I used Perine as one of my cap cuts. His role simply declined dramatically as he was more of a fit for Adam Gase's offense rather than Mike LaFleur's wide zone scheme. The Jets can also opt to cut Ty Johnson and sign a veteran along with drafting Ford.
Jerome Ford has an excellent combination of speed, size and power, and explosion to run off of the outside to run outside the tackles. He logged a jaw-dropping 6.1 yards per carry in his final season at Cincinnati in 2021. Ford also possesses good vision with lightning-quick feet. With his vision, he also displays good patience to see blocks develop and find the open hole, working well for halfback screens.
On the downside, Ford is a solid receiver coming out of the backfield but he's not a natural catcher of the football. He's also not a great run or pass blocker as he displays poor technique. Sometimes, Ford is also too hesitant at the line of scrimmage and doesn't hit the hole immediately.
Jerome Ford ideally can serve as Michael Carter's 1B at the next level. He will have to improve his blocking at the next level if he wants to be considered a three-down back. Ideally, the Jets don't need another three-down running back.
2021 Statistics: 13 games, 215 rush attempts, 1319 rushing yards, 6.1 yards per carry, 19 rushing touchdowns, 21 receptions, 220 yards, 10.5 yards per reception, one receiving touchdown
Round 5, 162nd Overall: Cole Strange, Guard, Chattanooga
Another player's stock who rose during the Senior Bowl, Cole Strange's nasty edge as a blocker is intriguing for coaching staffs who want fighters on their line. Strange was primarily a left guard in Chattanooga's run-heavy scheme.
Strange is a fit for the Jets offensive system as he excels both in gap and zone schemes. In run-blocking, his best and most noticeable trait is his quickness. He has good hand placement and good strength to sustain the block. On combo blocks, Strange has good timing and can get to the second level as quick as possible.
As a pass blocker, Strange showcases good quicknesses, pad level placement, with quality lateral agility to slide with the edge rusher. He can anchor well against power rushers with his good core strength. He also showcases good awareness as he knows how to recognize the blitz and can pick up the most dangerous defenders.
At the next level, Strange will have to clean up his footwork and be more disciplined against evasive rushers who can set up their moves with stutters to not open his shoulders prematurely. He also is often late repositioning his hands and feet on blocks, which allows defenders to draw holding penalties on Strange.
Strange is not your typical developmental fifth or sixth-round pick. He can actually one day be an average starting-caliber lineman or be really good depth.
Main Photo: