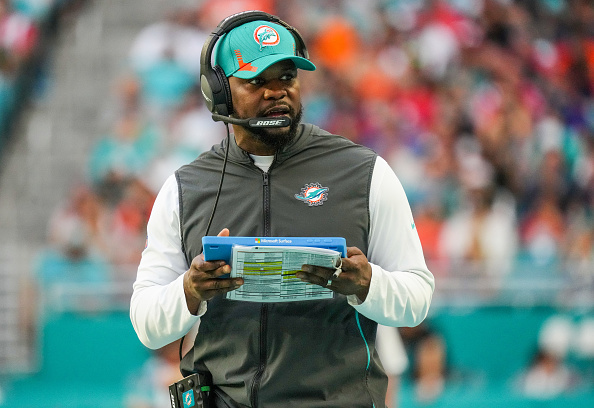 With the end of the season looming closer, and the playoff teams getting ready to battle for Super Bowl LVI, there are also teams where changes must be made. In this article, I will look at and make my coaching carousel 2022 predictions, predicting the firings and hirings around the league in as much detail as possible. I will start with the already announced coaching changes and move on to predictions afterward.
Coaching Carousel 2022 Predictions
Denver Broncos
Head Coach and Offensive Coordinator
What happened
Vic Fangio has already been fired as the head coach of the Broncos and Pat Shurmur, his offensive coordinator, has been given his marching orders alongside him. After a few seasons of disappointing football, on both sides of the ball, he has been fired along with Shurmur, whose offense has been quite terrible this season.
Predictions
I think that the Broncos have to hire an offensive mind as their new head coach, this offensive unit has been extremely subpar in recent years. I think that they hire the Bills offensive coordinator Brian Daboll as their head coach. He has managed Josh Allen's emergence as one of the league's leading quarterbacks very well, and the Broncos are hoping he can do the same with either Drew Lock or with a QB they draft this year.
In terms of offensive coordinator, I think that Brian Daboll brings along one of his assistant coaches in former NFL QB Ken Dorsey to become offensive coordinator. Dorsey has been the passing game coordinator and QB coach in Buffalo since 2019, where Josh Allen has excelled. He was also quarterbacks coach for the Panthers during Cam Newton's MVP season in 2015.
Chicago Bears
Head Coach, Offensive Coordinator, and General Manager
What happened
After another year of underachievement and another year without the playoffs, Matt Nagy and Ryan Pace have both been fired from their duties at the Chicago Bears. It would also not surprise me if offensive coordinator, Bill Lazor, is also relieved of his duties in the Windy City.
[pickup_prop id="18658″]
Predictions
For their general manager role, I think the Bears will hire Ryan Cowden, the VP of Player Personnel for the Titans. Ever since his hiring, the Titans have drafted 2020 Offensive Player of the Year, Derrick Henry, and traded for their starting quarterback, Ryan Tannehill, among various other moves.
I predict that Cowden will hire Leslie Frazier as the new head coach of the Bears. Frazier played in Chicago, between 1981-85 as part of their record-setting '85 defense. His Bills defense currently ranks first in the majority of major categories and is the best defense in the NFL.
For their offensive coordinator, I think that Cowden makes a radical move and brings in former Panthers Offensive Coordinator, Joe Brady to run their offense. Brady was in charge of the 2019 LSU offense that set countless records and had the majority of its roster drafted to the NFL. His scheme would bode very well with Justin Fields' skill set and could be a combination that works very well.
Minnesota Vikings
Head Coach, Defensive Coordinator, and General Manager
What happened
Much like their NFC North counterparts, the Vikings have had back-to-back disappointing seasons. In the Vikings case, they were both under .500. Mike Zimmer has been fired as head coach and Rick Spielman has been fired as general manager after nine years in the role. I also predict that their joint defensive coordinators also get sacked, while Klint Kubiak keeps his job as offensive coordinator.
Predictions
For their general manager role, the Vikings should hire Ed Dodds, the VP of Player Personnel for the Colts. Dodds has looked after the Colts' roster since 2018, where they had one of the best drafts of any team in the league, and has built one of the best offensive lines in the league, alongside drafting MVP candidate Jonathan Taylor in the second round.
As GM, Dodds should look to hire a defensive-minded head coach to look to get the best out of this talented defense. I believe that Todd Bowles, the defensive coordinator of the Buccaneers, would be an excellent hire. Bowles has put together and run one of the most dominant units in the NFL in Tampa Bay, and he has coaching experience before, having coached in New York for four years, amassing a record of 26-41 with a subpar roster.
As defensive coordinator, I would guess that Bowles will bring someone along with him from Tampa. I would guess that that person would be inside linebackers coach, Mike Caldwell. Caldwell has coached a formidable linebacker unit in Tampa Bay, including Devin White and Lavonte David. He was also Bowles' assistant head coach when Bowles was in New York, so they have an extra connection there.
Miami Dolphins
Head Coach
What happened
I'm not sure really. After an extremely rocky start, the Dolphins looked to be recovering, and even making a playoff push. There were even calls for Brian Flores to win Coch of the Year. But he was fired, likely due to him falling out with Chris Grier, the GM.
Predictions
The Dolphins have already said that they are not looking at hiring Michigan Head Coach, Jim Harbaugh, for their head coaching role. I do think that they should hire an offensive-minded coach, to see if Tua Tagovailoa is really the answer, or if they should move on and find a replacement. I think that Kellen Moore would be a good hire, he is a young coach who has built a machine in Dallas, and he can take over playcalling duties for the offense too.
Jacksonville Jaguars
Head Coach
What happened
After Urban Meyer's disastrous spell as head coach, Darrell Bevell has led them into a bit of stability, but the front office should be looking at a more long-term solution for their head coaching role.
Predictions
I have already written an article on this, but I also want to add Doug Pederson to that list as I had forgotten he was out of a job at that time, and his experience as a head coach, tied in with his roster-building capabilities are all that Jacksonville needs out of their next head coach.
Main Photo: