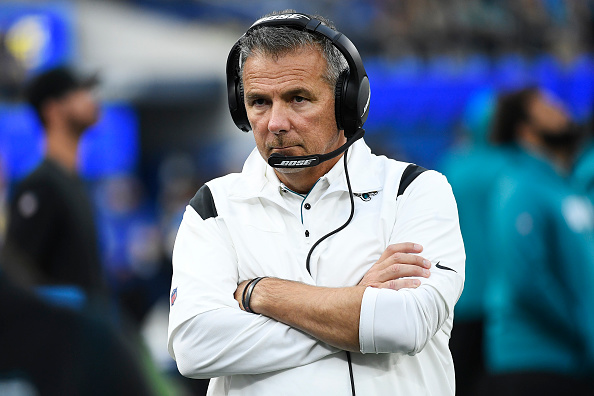 After a disastrous 11 months as the Head Coach of the Jacksonville Jaguars, Urban Meyer has been relieved of his duties due to numerous complaints from players and staff over his attitude and his style of coaching. He leaves the NFL with a 2-11 record and a winning percentage of 15.4%, good for third-worst in the 21st century. But with a generational prospect at QB and with, what seems to be, a top-three pick in this upcoming draft, the head coaching role is an intriguing one, and I believe there to be five primary replacements for Urban Meyer.
5 Best Replacements for Urban Meyer in Jacksonville
As the offensive coordinator of the Patriots, Josh McDaniels has been responsible for operating an offense centered around Tom Brady, which in itself is not an achievement due to Brady's unearthly skills. But this season, McDaniels has transformed that offense into one that has elevated Mac Jones to an Offensive Rookie of the Year standard and one that is making the former Alabama quarterback look like the best of the bunch from the 2021 draft class.
He also has head coaching experience as he did exactly that in Denver for two years (2008-2009) and had an 11-17 record as head coach. He did have a videotaping scandal, which might put a strain on his chances, but I believe he will not make that same mistake with a new start.
Much like McDaniels, it is possible to accredit most of Leftwich's success to Tom Brady, however much of the credit from the Super Bowl LV win has to go to Byron Leftwich as his offensive scheme allowed Brady to make use of his numerous weapons on the offensive side of the ball and allowed the Buccaneers to cruise to the Super Bowl off the back of their explosive offense.
Most importantly, however, Byron Leftwich was a starting quarterback in Jacksonville for almost four years and is a fan-favorite with many people in the area. If hired, he would reignite the love that the city had had for him less than twenty years ago.
[pickup_prop id="17250″]
Jim Caldwell – Former Head Coach,  Lions and Colts
Jim Caldwell embodies exactly what the Jags need right now, stability. Caldwell was a head coach in the NFL for nearly seven years and even has a winning record (62-50) to show for it. He was the coach during the 2008 season, where he went 14-2 during his first year as a head coach and lost narrowly in the Super Bowl to New Orleans.
However, the reason why I think he is one of the best five replacements for Urban Meyer is due to the years he spent in Detroit, clinching them two playoff berths, achieving an 11-5 record in his first season. 11-5 would be up there with one of the Jags' best seasons ever and many Jags fans would kill for a season like that after their consistent seasons of failure.
Kellen Moore – Offensive Coordinator, Dallas Cowboys
Kellen Moore is currently one of the hottest coaching candidates in the NFL right now. He is in charge of operating the second-best offense in the league, behind Leftwich's Buccaneers, in Dallas.
The reason why I believe he is a bit of a wildcard choice is due to his inexperience, as he has only been a coach for four years, and due to his age, being only 33 years old. If the Jags were to hire him, it would be a "boom or bust" hiring. If he is a good coach, you may have the leader of your franchise for the next 30+ years, but if he is a bad coach, it may go down as one of the least intelligent hirings in NFL history.
Darrell Bevell – Offensive Coordinator, Jacksonville Jaguars
Finally, the man who will take over from Urban as the interim head coach until, at least, the end of this season. He has run some, pretty consistently, good offenses in Seattle, Detroit, and now in Jacksonville.
I think he is one of the best five replacements for Urban Meyer as he does have a bit of head coaching experience, having been Matt Patricia's replacement for the final five games of the 2020 season, leading Detroit to a 1-4 record in his time there. He is also a figure that the Jacksonville players know and, hopefully, respect and he could act as a "bridge" coach until they find their long-term solution in that position.
Overall, I believe that Josh McDaniels is the best choice for Shahid Khan and the franchise to have as their head coach moving forward. His offensive schemes are more than capable of fulfilling Trevor Lawrence's potential and the draft pick they have this year will, hopefully, be used to give Jacksonville a major player on the defensive side of the ball in either Kayvon Thibodeaux or Aidan Hutchinson, depending on what Detroit do with number one. But either way, at least they got rid of Urban Meyer.
Main Photo: