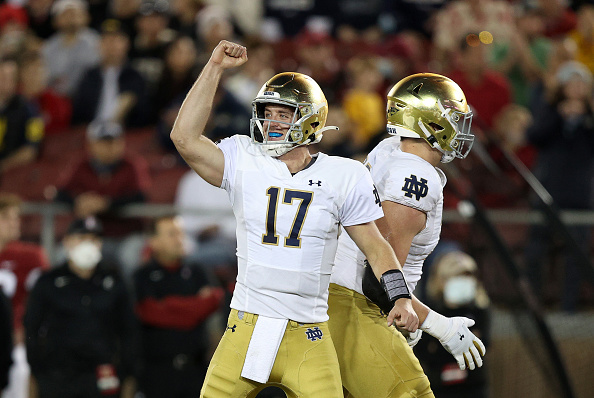 It's the most wonderful time of the year! As we did in 2019 and 2020, let's take a look at all 42 bowl games, plus the CFP National Championship Game. 18 matchups feature a first-ever meeting of programs.  
With how insane the coaching carousel has been, plus the full utilization of the Transfer Portal, we will try to keep up with all of the moving parts and put footnotes for notable players leaving. So, without further ado, time for the 2021 FBS Independents bowls preview! 
2021 FBS Independents Bowls Preview
Independence Bowl (December 18, 3:30 p.m., ABC)
BYU vs UAB
Head-to-head: 0-0
BYU bowls record: 16-21-1 
How would the BYU Cougars replace Zach Wilson and improve on an 11-1 2020 season? By continuing what they started and going 10-2, dropping games to Boise State and Baylor. They finished the season by beating USC, who responded by turning the college football world on its head and poaching Lincoln Riley from Oklahoma. With a victory here, BYU could end up as a top-10 team. 
The offense runs through running back Tyler Allgeier. Allgeier got his shot as the workhorse last year and greatly improved. He went off for 1,414 yards and a nation-leading 20 touchdowns off of 249 rushes. He has the ability to put the team on his back and carry them to victory, as he did against USC.  
Taking over for the second-overall pick is Jaren Hall, a fourth-year sophomore (COVID-eligibility really makes things confusing). Hall completed 64% of his passes for 2,583 yards and 20 touchdowns. UAB will have to limit Washington transfer receiver Puka Nacua and Neil Pau'u and their combined 88 receptions, 1,322 yards, and 16 touchdowns on the year. 
Oddly enough, the offense scored 52 touchdowns: 26 passing, 26 rushing. Perfectly balanced, as all things should be. 
On defense, the BYU Cougars have been solid against the pass, allowing fewer than one touchdown through the air per game. Defensive backs Malik Moore and Jakob Robinson have forced three interceptions each to go along with Kaleb Hayes' 11 passes defensed. The front seven is weaker, so if the Blazers can get the run game going, it could be a long afternoon. 
When it's all said and done, BYU takes care of business in this matchup of acronyms to get the 2021 FBS Independents bowl record to 1-0. 
[pickup_prop id="16507″]
Lending Tree Bowl (December 18, 5:45 p.m., ESPN)
Liberty vs Eastern Michigan
Head-to-head: Liberty 1-0 Eastern Michigan
Liberty bowl record: 2-0 
What started off as NY6 bowl expectations quickly tapered off for the 7-5 Liberty Flames squad. Against bowl-bound teams, Liberty finished with an uninspiring 4-3 mark. Coach Hugh Freeze was poised to repeat last year's exciting 10-1 season, culminating in a classic Cure Bowl win over then-undefeated and ranked ninth, Coastal Carolina. 
Quarterback Malik Willis is one of the most exciting players in college football and has a great opportunity to play himself into a first-round draft slot. Compared to last year, Willis improved in passing yards (2,626) and touchdowns (24), though his marks per game declined. Additionally, his interceptions doubled from six to 12 in 2021. Running is a massive part of his game as well, but his yardage declined from 944 to 820 and touchdowns from 14 to 11 despite 48 more rushing attempts.  
Behind him is senior running back Joshua Mack and his 447 rushing yards and three touchdowns. Willis is the Flames' main rusher and it's obvious why. He's by far the most athletic player on the field at any given time. If EMU can bottle up this rushing attack, they'll have to contend with Demario Douglas (49 receptions, 684 yards, 5 touchdowns) and CJ Daniels (36 receptions, 590 yards, 7 touchdowns. 
The defensive side of the ball is significantly weaker than the offense. While they may have been decent to start the year, the Flames finished the year allowing 12 touchdowns in the final six games on the ground (sure, Army was three of those, but still). 
When drafting initial reactions to these games, Liberty was considered to be on the losing side of things. However, when it was official that they drew Eastern Michigan, things changed. Willis' playmaking ability will be able to push Liberty over the edge for the second victory of the 2021 FBS Independents bowls. 
Armed Forces Bowl (December 22, 8:00 p.m., ESPN)
Army vs Missouri
Head-to-head: Army 1-3 Missouri
Army bowl record: 6-3 
If you're looking for toughness, grit, and the ability to look you in the eye as they physically wear you down, Army is the one for you. An 8-4 mark may not seem too impressive, but those losses came to Ball State (28-16), Wisconsin (20-14), Wake Forest (70-56!!), and Navy (17-13). It's not too often a service academy gets into 126-point shootouts. Army can score when needed and, aside from that Wake Forest game, the defense held tough. 
As we all know, It's a triple-option attack. The three-headed monster was stifled three times: once against the top rushing defense in the nation and twice against the other two service academies. Quarterback Christian Anderson (100 rushes, 592 yards, eight touchdowns) is the leader of this trio. Running backs Tyhier Tyler (122, 478, seven) and Jokobi Buchanan (115, 436, 11) do most of the heavy lifting. At 287 yards per game, Army is only behind Air Force nationally. 
Junior linebacker Andre Carter II is the leader of this Army defense that stood tall when needed. Carter tallied 15.0 tackles for loss and 13.0 sacks on the year and was everywhere. Aside from the obvious outlier where they gave up 638 yards to Wake, this defense has been able to hold opponents to under 292 yards per game. Sure, the schedule isn't murder's row, having played an FCS school with UCONN and UMASS (both kinda FCS). It's still impressive. 
Army isn't the most complete or strongest team around. Neither is Missouri. Mizzou has struggled all year to contain the rush attack and even gave up nearly 300 yards on the ground to an FCS school. This won't be the prettiest game on the 2021 FBS Independents schedule, but Army will be able to pound the ball and secure the victory. 
NY6 Fiesta Bowl (January 1, 1:00 p.m., ESPN)
Notre Dame vs Oklahoma State
Head-to-head: 0-0
Notre Dame bowl record: 19-20 
It has been a wild ride for Notre Dame. An 11-1 season isn't anything to sneeze at, even if that one loss was to Cincinnati at home by 11. The lack of a conference championship likely kept Notre Dame from cementing itself in the CFP, but they were one upset away anyway. At times, this team was dominant, other times, they were extremely beatable. This will be the first test for new head coach Marcus Freeman as Brian Kelly decided to jump ship in the middle of the night for LSU. 
Elephant in the room: Kyren Williams is gone. Williams is a top running back in the nation and has decided to forgo his senior year to play on Sundays. This likely means that sophomore running back Chris Tyree will be taking over to give the Irish faithful a sneak peak into what he will be in 2022. Wisconsin transfer Jack Coan was up and down this year, but was able to get the job done. Oklahoma State has a very strong defense, but they lost their defensive coordinator, so this could be an interesting back and forth. 
This defense also took a hit with Kyle Hamilton opting out for the NFL. The unit as a whole has been elite all year. Only allowing 18.2 points per game, the Irish rank 10th in the nation. In their final four games, the defense allowed a total of 23 points and just two touchdowns. Those two touchdowns and 14 of those points were in the final week of the season, oddly enough. So, for three weeks, Notre Dame was able to keep opponents out of the endzone. Given, it was Navy, Virginia, and Georgia Tech, but it's still impressive.  
The perception of Notre Dame in the modern era of football will always be that they are, at the very best, second-tier. Whether this has been due to the Kelly-era of not being able to win the big games, never winning at BCS or NY6 game, or just a plain oversight because they don't play in a conference. The last time Notre Dame has won a game that is currently featured as an NY6 bowl was the 1993 Cotton Bowl. It has to end at some point, so why not now? Notre Dame secures the victory and the 2021 FBS Independents bowls record finishes at a perfect 4-0. 
Opted out for NFL: Kyren Williams (two-year starting running back, 2,210 yards, 27 touchdowns), Kyle Hamilton (elite safety, likely to be first at his position drafted) 
[pickup_prop id="16514″]
No Conference, No Problem!
No conference means schedule flexibility. No conference also means you're likely to get the scraps after P5 teams fill theirs. However, Independents have been doing well in the past few years. In 2023, New Mexico State and Liberty will join the Conference USA and BYU will make the jump to the Big 12. Will Notre Dame ever join a conference? Likely not, but it's always fun to speculate. 
Group of 5 down, Independents down, time to move to the Power 5! PAC-12, you're next! 
Main Photo: