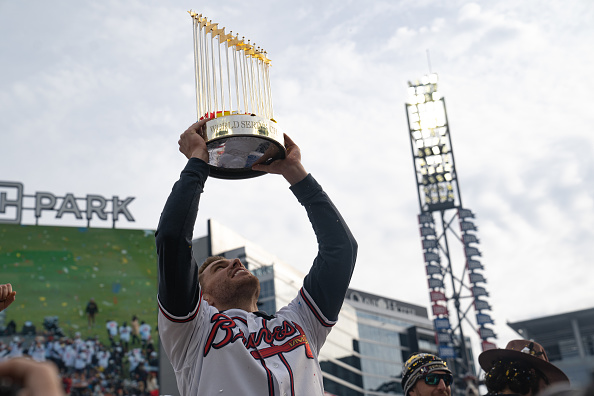 The month of November saw a flurry of action on the market as MLB free agents signed left and right before the December 1st lockout. Top players like Max Scherzer, Corey Seager, and Marcus Semien were taken off the market before then but there are also a lot of top talents left out there. Once the lockout is lifted, expect there to be a rush to pick up these MLB free agents as soon a possible in time for the season to start.
Top Five Remaining MLB Free Agents
Carlos Correa (SS)
Going into the offseason, Carlos Correa was viewed as one of the top shortstops on the market in a class full of great talent. He's now one of two top talents at the position still left on the board after the lockout. In 148 games, Correa hit .279 with 26 home runs and 92 RBI. He led all shortstops in defensive runs saved and that captured him his first Gold Glove.
Fellow shortstop Corey Seager got a 10-year, $325M contract from the Rangers so whoever wants Correa is going to have to spend the big bucks. The 27-year-old all-star shortstop is a true all-around player that shows up in big moments so he is poised to be the talk of the baseball world after the lockout has ended. Fans love Correa because he often likes to give away his best youth batting gloves to young fans, so wherever he goes, he'll be a fan favorite.
Trevor Story (SS)
Another one of the top shortstops headed into the offseason will still be on the market after the lockout and that's Trevor Story. Compared to past seasons, he had a "down year" in the eyes of many but that doesn't stop teams from having an interest in him. Story became the fastest shortstop to hit 100 home runs in MLB history. In 2021, he still hit 24 home runs and had 75 RBI. The power he possesses, the speed to steal 20-plus bases, and a Gold Glove-caliber defender are more than enough to award him a pretty good contract.
Kris Bryant (3B/OF)
There are about seven teams actively interested in Kris Bryant and there may be more to come. Bryant was one of the stars to get traded from the Chicago Cubs at the MLB Trade Deadline and he ended up with the San Francisco Giants. Overall, Bryant hit .265 with 25 home runs and 73 RBI. As impressive as he is on offense, his defensive versatility might be even more impressive. He's primarily a third baseman but as the years went on, he's been able to transition on playing in all three outfield positions pretty fluently. That alone itself makes him one of the most valuable players left in MLB free agency.
Freddie Freeman (1B)
It's hard to imagine Freddie Freeman playing for another team other than the Atlanta Braves but that could be a real possibility. Although the Braves still are looking to bring him back, the most notable team interested in Freeman is the New York Yankees. The pinstripes certainly have more than enough money to accommodate the needs of the first baseman. He followed up his MVP campaign in 2020 by winning the Silver Slugger award this past season as he batted .300 with 31 home runs and 83 RBI. Let's not forget he led the Braves to their first World Series win since 1995. A bidding war is sure to ensue for his services once the lockout is lifted.
Nick Castellanos (OF)
Nick Castellanos is one of the biggest bats to hit MLB free agency after having a batting average of .309 with 34 home runs and 100 RBI. He also had a .362 OBP, .583 SLG, and a .939 OPS. Castellanos' offensive prowess lead him to his first Silver Slugger award and the best season of his career. Teams are willing to look past his lack of defense if that means he can put up these types of numbers all season. A universal DH would also grow his market and maybe help him seek the contract he wants. Castellanos would be a perfect middle-of-the-order bat for a team looking to contend right away. He enjoys giving away his gloves to young fans as well. For more info, bestbaseballreviews ranks each of the best gloves.
There are many great options still on the board and a few who are coming off of great seasons and just might add enough to push your team over the edge.
Other Remaining MLB Free Agents
Anthony Rizzo (1B)
Clayton Kershaw (SP)
Carlos Rodon (SP)
Michael Conforto (OF)
Kyle Schwarber (OF/DH)
Main Photo: