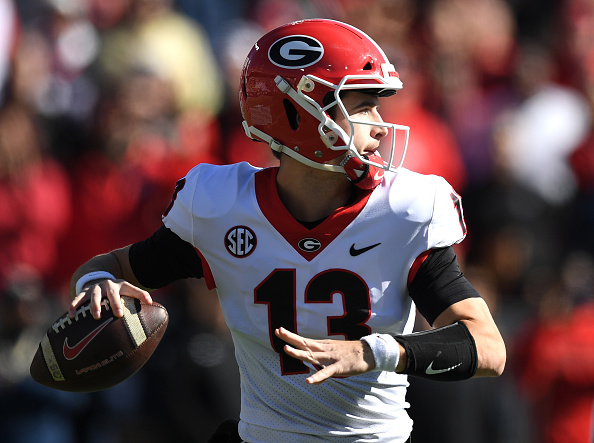 The college football calendar has flipped over to December and that means conference championship games are just about to get underway. It's been a season of turnover at the top of the college football rankings and it might continue after this weekend. As we speak, Georgia holds the top spot followed by Michigan, Alabama, and Cincinnati. The teams on the outside looking in are Oklahoma State (5) and Notre Dame (6). We're about to witness some of the most exciting games in the world as we get closer to the college football National Championship.
College Football: Power Five Conference Championship Games
Pac-12 Championship: Oregon vs Utah
These two teams faced each other in the Pac-12 Championship Game in 2019 and Oregon came out on top in convincing fashion 37-15. They also faced each other this season and this time Utah claimed victory 38-7. This will be the 3rd consecutive Championship game for the Ducks, winning the previous two. The Utes aren't foreign to this game either as this will be their third Pac-12 Championship game in four years.
Oregon comes into this game as the #10 ranked team in the country, due in part to quarterback Anthony Brown, as he's passed for just over 2,500 yards with 16 touchdowns to only four interceptions. Their rushing attack has been one of the best in the country with running back Travis Dye rushing for over 1,000 yards and 14 touchdowns. Brown has also contributed to that as he's rushed for 642 yards and nine touchdowns. Being a dual-threat quarterback will be a key in this game for Brown.
Despite being in the big game three of the last four years, Utah has never won. They look to change that this year as Cameron Rising leads them under center. Rising takes care of the ball, which will be key in this game, as he has only thrown three interceptions. He's also thrown for 17 touchdowns and has rushed for five. Tavion Thomas has been fantastic in the backfield as he rushed for almost 1,000 yards for 18 touchdowns. Utah had gathered a total of 37 sacks, with 9.5 coming from Mika Tafua and seven from Devin Lloyd, who also has three interceptions. This game will probably come down to who's defense makes the critical play.
Big 12 Championship: Baylor vs Oklahoma State
We'll get to two fresh teams this year competing for the Big-12 Championship as Baylor and Oklahoma get two huge wins to end the college football season. This is only Baylor's second championship game, the first coming in 2019, and Oklahoma State is making their first-ever championship game appearance.
No one predicted Oklahoma State to have this type of season but they exceeded all odds with only one loss on the season. In a season they lost Chuba Hubbard to the NFL, Jaylen Warren took over as he rushed for over 1,100 yards and 11 touchdowns. Quarterback Spencer Sanders has had a great connection with receiver Tay Martin, who's caught 61 passes for 854 yards and seven touchdowns. Sanders can throw the ball as he has over 2,000 yards and 16 touchdowns but he has also been intercepted eight times. He will be facing a team known for their defensive mindset so he's going to have to be on his game.
On the other side, Baylor's offense can do just about everything Oklahoma State's offense can. Both of their top quarterbacks, running backs, and wide receivers have identical numbers on the season. One difference is that Baylor's defense has been their identity for the past several years. It will be a tough task stopping this Cowboys offense but don't sleep on Oklahoma State's defense this year as they can get after the quarterback all game. Like in the Pac-12 championship, this game will probably be decided on who can make the critical play on defense. This matchup will be one of the best during championship weekend.
SEC Championship: Georgia vs Alabama
For the second time in four years, Georgia will face Alabama in the SEC Championship Game. Alabama won the game in 2018 in one of the best comeback stories in college football. This time around, Georgia is the number one team in the country and has been dominating every opponent in their path. The Bulldogs have been known for their defense for a long time but this is on another level. The offense has been average and that's the only concern if there was one. They feel like they have figured a few things out with Stetson Bennett at quarterback heading into this game.
If you go by the eye test, Alabama hasn't looked like themselves. They've lost a game against Texas A&M and have been in several close games, included last week when they beat Auburn in four overtimes. Despite all of this, many people still see the Crimson Tide as the team to beat. They still have a Heisman caliber quarterback in Bryce Young, who has thrown for almost 4,000 yards and 40 touchdowns to only four interceptions. Alabama also has a 1,000-yard rusher and receiver. The defense has been led by Will Anderson Jr, who has 14.5 sacks.
Georgia's defense alone makes them a favorite to win this game but if anyone can be the one to breach the Bulldog defense, it's Alabama's offense. The Crimson Tide's defense will also have to step up and limit this Georgia offense, which is a possibility. If that happens, all it takes is one great throw from Young to secure a spot in the College Football Playoff for Alabama.
ACC Championship: Pittsburgh vs Wake Forest
This game will mean absolutely nothing in terms of the playoff but these two teams will fight until the end for the next best thing, a conference championship. Pittsburgh has an electric QB-WR duo with Kenny Pickett, who's thrown for over 4,000 yards and 40 touchdowns, and Jordan Addison, who's caught 85 passes for 1,353 yards and 17 touchdowns. As explosive as Pittsburgh's offense is, Wake Forest' is just as explosive. Sam Hartman has almost thrown for 4,000 yards and also has a 1,000-yard receiver.
This game has the potential to be a high-scoring game, but both defenses will need to step up and make a couple of key stops. Pittsburgh can get after the quarterback more than Wake Forest but the Decons have taken the ball away through the air more. The offenses will take over this game from start to finish but the takeaway battle will be the most important thing to pay attention to.
Big Ten Championship: Michigan vs Iowa
Iowa will be playing in their second Big Ten Championship Game in school history after winning last Saturday and Wisconsin losing. This comes in a year where the defense ranks as one of the best in the country. They are led by Jack Campbell, who leads the team in total tackles with 121. This defense isn't allowing many points and that's a great sign heading into Saturday. One thing that is a huge worry is the offense. That side of the ball ranks toward the bottom in the country in passing and rushing yards. Iowa has to get better in that category if they want to get past Michigan.
As good as Iowa's defense is, Michigan's might be a little better. They're allowing fewer points and passing yards than Iowa is. Michigan also has the better offense by far, as quarterback Cade McNamara has thrown for 2,301 yards and 14 touchdowns to only three interceptions. Running back Hassan Haskins has been incredible for the Wolverines as he's rushed for 1,232 yards and 18 touchdowns. This team looks dangerous and if Iowa can't get things going on offense, it's going to be a tough night.
Other Conference Championship Games
Western Kentucky vs UTSA (Conference USA)
Kent State vs Northern Illinois (MAC)
Utah State vs #21 San Diego State (Mountain West)
Appalachian State vs Lousiana (Sun Belt)
#21 Houston vs #4 Cincinnati (American Conference)
Main Photo: