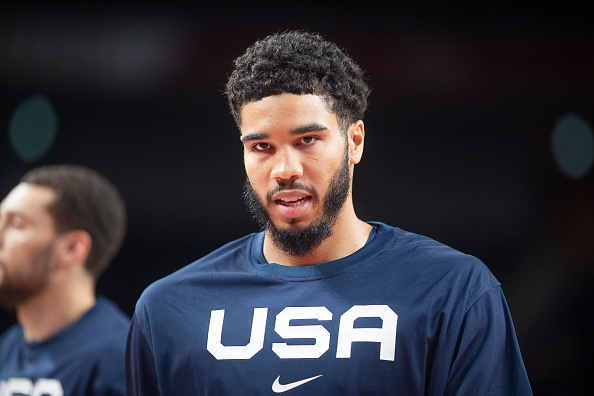 I am done defending the Boston Celtics – for now, at least. Monday night, we somehow saw the Boston Celtics play the best basketball of the season, and then the absolute worst we have seen. The season has not gotten off to the best start for the C's, to say the least, but Monday's collapse sparked some potential concern with the team moving forward. The 2021 offseason moves were supposed to fix their problems in 2020, but so far, we are seeing the same identical problems with this bunch that are so difficult to pinpoint.
SOMETHING Is Wrong With The Boston Celtics
Start With The Positives
For the sake of optimism, let's start by identifying the few positives from Monday night. For three quarters, the Boston Celtics play great basketball. After a slow start to the second quarter, we saw Jaylen Brown go on an offensive tear, rattling off 13 straight points on his own. He finished with a team high 28 points, despite going scoreless in the fourth quarter (more on that later).
Al Horford also continued his best season since he left Boston in 2019. He finished with 20 points and 10 rebounds, as he has without a doubt been the most consistent Celtic since the start of the season, him and Robert Williams III at least. That is where the positives come to an abrupt end. Brace yourselves.
11 Point Fourth Quarter
To finish off with one last positive, the Boston Celtics put up three stellar quarters of offense, scoring 35, 32, and 36 points in each, before a disastrous 11 points over the last 12 minutes of action. They entered the quarter up 103-89, and finished with a 128-114 loss. Some of the stats to come from the Celtics fourth quarter are mind-boggling, including not grabbing a single defensive rebound the whole quarter, while shooting just 5-23 from the field.
There are plenty of other stats to nitpick from this performance, but I won't bother diving into that rabbit hole. This is unfortunately something we have become accustomed to for the Boston Celtics since last season. We manage to grab a decent lead, maybe ten, fifteen, twenty points, and slowly watch it shrink to single digits, and watch as we just barely hang onto the lead by the end, or watch the opponent beat us by double digits. This theme has got to come to an end sooner than later if this team wishes to make any sort of noise with this core.
What Did Marcus Smart Mean?
Smart: "We're running plays for our best players. The other team knows that. They do a good job of shutting that down. We can't allow that. When they shut that down, we can't keep trying to go to those guys. We've gotta abort that and find another way to get them the ball…"

— Jay King (@ByJayKing) November 2, 2021
Now, for the elephant in the room. Marcus Smart lit the postgame podium on fire, not holding back at all in his comments to the press, and honestly, good on him. Too often, we saw former head coach Brad Stevens try to keep a naive sense of optimism for a team that did not have any sort of spark under them. Very rarely did we hear any players outcry or come forth to the media regarding team morale or where the team's head was at.
Full Marcus Smart quote on Brown/Tatum and wanting to play with more flow in crunch time pic.twitter.com/RKTlm5SVEm

— Brian Robb (@BrianTRobb) November 2, 2021
Smart called out Jayson Tatum and Jaylen Brown for how the team has managed to close out, or not close out, fourth quarters down the stretch. He stated how clear it has become to opponents that the team wants to run the offense through Tatum (primarily) and Brown, and that he can only do so much standing in the corner. We may be misinterpreting Smart's attitude behind his statements, perhaps trying to come forth as a locker room leader, but this is fairly new. We have not exactly had many players just say what is on their mind, and that may be what this team needs.
I'm the only person who keeps bringing up the locker room fight Brad had to break up against the Raptors in the Bubble. That was simultaneously two seasons ago and also only 12 months ago. Whatever happened, it hasn't been resolved. https://t.co/8KqCksYtZh

— Sloppy 6'5" (@ColeyMick) November 2, 2021
Smart had a similar situation transpire with Jaylen Brown, going back to the Bubble and the Boston Celtics series versus the Miami Heat. Presumably, chairs were being thrown and words were exchanged between the loud and outgoing Smart versus the often calm and cool Brown. Whether the continued animosity stems from that, or if this is just two competitors in a pressure-cooker environment, remains to be seen. There was no reports of chairs being thrown postgame, so that's a healthy sign. To turn this situation into a positive, the Boston Celtics responded the next game with a win in Game Three of that series, despite eventually falling to them. Maybe a bounce back win is in store.
Who Is To Blame?
Perhaps these are growing pains of a new coach and new players being incorporated, perhaps not. On paper, this team should be much better, and they very well could have been. The Boston Celtics currently see themselves at 2-5, dropping their last three games consecutively. However, they could realistically be seeing themselves as a four, five win team at the moment, had it not been for maybe one or two minor lapses that cost them each game.
The loss to the New York Knicks was in Double OT, and went down to the wire, the second loss to the Washington Wizards could have been an easy win had the Celtics just hit maybe three or four more three-pointers, instead hitting just 2-26 from beyond the arc. Monday night was perhaps the most avoidable loss of the season, with the Wizards game in close contention if they could just hit one or two extra three-pointers. A blown 19 point lead turned 14 point loss is a tough blow.
While it does not reflect in the standings, the Celtics are 4th in the league in points per night with 113.9. However, they are dead last in opponent scoring, giving up 119.7 points per night. For years, the philosophy was the opposite for the Boston Celtics. Defense was rarely the issue, and was the team's identity for the longest time. It was the offense that was hard to come by. The fact that it is now flipped, with scoring coming in bunches, but defense being extremely lackluster, could potentially be fixable in relatively quick fashion.
Head coach Ime Udoka preached team basketball and defense when he was awarded the job this summer, and the team has provided neither in this small sample size. There is still time to fix it, but Udoka himself has some thinking to do as he goes back to the drawing board.
How To Fix This?
As I touched on last chapter, the Boston Celtics are not screwed beyond any hope. If they wish to flourish, then Smart may have a point. It is on the other players to come through when Tatum and Brown do not have it, but Tatum and Brown have to relay to others if they want to both grow as players and as a team. This also means going to Jaylen Brown in crunch time more, and a bit less of Tatum, and definitely before Smart.
Rotations can also be better as well. Aaron Nesmith could have been incredibly useful in the team's loss to the Wizards after shooting 2-26 from three. The fact that he has been DNP these last few games while Grant Williams chucks from three is mind-boggling.
After saying I would not defend them at the beginning, I may have lied by the time you are reading this. Nonetheless, in an ideal world, this should light a fire under this team. The team is at full-strength for the time being, they have players who are more than capable, we still are not very sure what to make of Ime Udoka, but the team seems to be behind him. Clean up the mistakes, leave the entitlement at the door, and learn to play with mental toughness.
Main Image Credit:
Embed from Getty Images