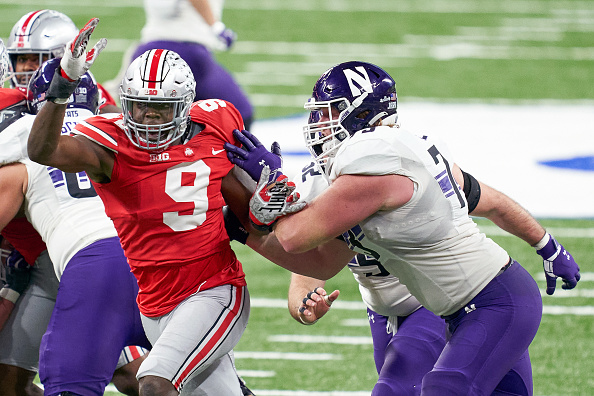 Talent. There's no other way to describe the 2021 Ohio State Buckeyes. Everywhere you look, there's a four or five-star recruit, with the exception of Chris Olave (three-star) who will go on to be one of the first receivers drafted in 2022.
As we did with the Cincinnati Bearcats, we've compiled a list of 2021 Ohio State Buckeyes are are not household names YET. Olave, Garrett Wilson, Jeremy Ruckert, and Josh Proctor are veterans whom everyone knows. Even J.T. Tuimolou is well-known due to his unorthodox recruiting cycle (which was 100% warranted because he is a legitimate stud, shedding his black stripe after only 10 practices).
2021 Ohio State Buckeyes: Five Names You Should Know
Presumably winning the wide-open quarterback battle, Stroud steps into quite possibly the best situation a first-year quarterback could have despite never attempting a pass. He has elite receivers and NFL-worthy offensive linemen in front of him. Not bad at all.
Stroud is already garnering national hype, but if you don't follow recruiting, you may not know just how talented he is. He is an effortless thrower of the football and is slippery as all get out. With a system that is favorable to a quarterback with his skillset, Stroud is going to turn heads and may even be considered to be featured on a certain video game now that college athletes can profit off their Name, Image, and Likeness…
With a backfield of incumbent Master Teague and the incoming freshmen TreVeyon Henderson and Evan Pryor, Williams could get lost in the shuffle. Considering he only appeared in four games in 2020 rushing for 64 yards on 10 carries, it was the showing at the CFP Semi-Finals against Clemson that has Buckeye fans talking.
He was RB3 (at best) last year behind Teague and Trey Sermon, so he knew he had to make his carries count. Williams runs downhill and punishes any defender unlucky enough to be in his way. When he spelled Sermon against Clemson, he ripped off three crucial rushes to total 21 yards. The quintet of Teague, Williams, Henderson, Pryor, and Marcus Crowley may be the most talented backfield the Buckeyes have had in a very long time. The 2021 Ohio State Buckeyes "Tote Nation" is in great hands.
Of these five, three are from Ohio. Harrison hails from Olentangy Orange High School and was a highly-touted recruit. The Buckeyes fended off rival Michigan for his services and he has only scratched the surface of his abilities to this point.
To date, he has 38 tackles, 5.5 sacks, two pass deflections, and a fumble recovery. These are not eye-popping numbers, but when you're at Ohio State, you have to wait your turn due to the abundance of pass-rushing talent. With the departure of Jonathon Cooper, it's Harrison's turn to develop into a top defender and continue the Rushmen tradition.
With how maligned the Buckeyes' secondary was last year, we should have seen Williams make his debut. Alas, he suffered an ACL injury before the season and was unavailable for his first year. This is going to change in 2021. He enrolled early in 2020 and has been healthy through spring and summer.
It seems that the Buckeyes are actually going to feature the "Bullet" position this season, so the uber-athletic corner/safety Williams will fit right in. He was an absolute monster in high school and was listed as a safety on the official Ohio State roster last year. His athleticism will help for a defense that seemed to lack it in 2020. A fully healthy Kourt Williams will be near-impossible to keep off the field, no matter how talented the back-end of the defense is.
Finally, we have the true freshman who turned heads at the 2021 Ohio State Buckeyes spring game. Sawyer is from Columbus, so coming home to continue the elite pass-rushing tradition was his goal. And continue it will.
As a true freshman, it looks like he's 6'5″, 248 lbs…and that's before he gets into the vaunted strength and condition program at OSU. 247Sports has his NFL comparison as a familiar face in Columbus: Nick Bosa. Between he and Tuimolou, the Buckeyes may have found it's next elite 1-2 punch at EDGE. They could be the duo that Chase Young and Bosa should have been in 2018.
[pickup_prop id="9342″]
Honorable Mention:
Marvin Harrison, Jr., WR
Paris Johnson, Jr., OL
Cody Simon, LB
The Buckeyes Don't Rebuild; They Reload
It seems that even with the departure of the best quarterback in program history, the Buckeyes are primed for yet another CFP appearance. The offense will be on par with anyone in the nation. Questions do remain on the defensive side of the ball, of course.
Ohio State has a platform that only the bluebloods of college football could have. Each of these five athletes will become household names by the time Championship Weekend rolls around. Do yourself a favor: get to know them now.
Main Photo: