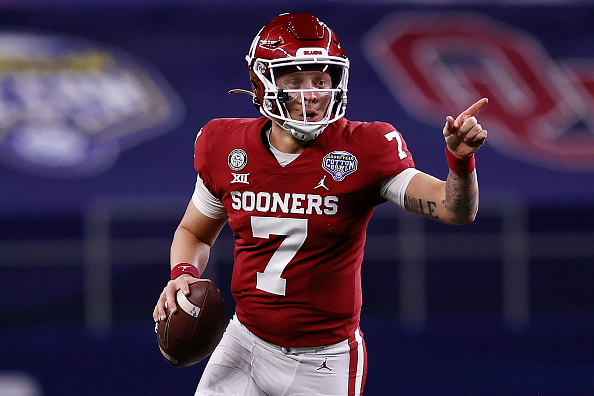 We're just under two weeks away from the 2021 college football season and fans couldn't be happier to hear that. Every year it seems like the off-seasons get longer in anticipation for the upcoming year. There's expected to be a wide range of great performances across the nation, maybe even more than in years past.
The quarterback position looks strong yet again this season with many of them filling up the Heisman Trophy ballots. It seemed like a quarterback award until receiver DeVonta Smith was one of few outside of the position to win it. Fall is in the air and we can't wait for the bands to start playing and the stands to be packed for the upcoming season.
Five Best Odds To Win The 2021 Heisman Trophy
Spencer Rattler, Oklahoma, QB (+600)
Oklahoma has had a history of winning the Heisman Trophy at the quarterback position. In recent years, the school has had back-to-back winners with Baker Mayfield (2018) and Kyler Murray (2019). In 2021, Oklahoma has a good chance to have their third Heisman Trophy in four years when Spencer Rattler takes the snaps under center in his sophomore season. Last year, he threw 3,031 yards with 28 touchdowns and seven interceptions. Oklahoma has a great chance to make the College Football Playoff and Lincoln Riley's system will set Rattler up to have a more explosive year.
D.J. Uiagalelei, Clemson, Quarterback (+750)
Like Oklahoma, Clemson has gotten lucky in finding quarterbacks throughout the years, and this year is no different. With Trevor Lawrence leaving for the NFL, D.J. Uiagalelei takes over the helm on a championship-caliber team. He gave us a sneak peek last year of what we'll see in 2021. Uiagalelei started two games last season and threw for over 330 yards in both, one of them being in a 47-40 loss to a top-five Notre Dame team while throwing for 439 yards and two touchdowns. Dabo Sweeney has produced Heisman Trophy runner-ups for a few seasons now and with the talent at the quarterback position, this might be the year to capture the trophy.
Bryce Young, Alabama, Quarterback (+900)
Whoever plays for Alabama will instantly be in the Heisman Trophy conversation. Bryce Young sat behind Mac Jones for the 2020 season and watched him help wide receiver DeVonta Smith win the Heisman Trophy. His ability to stay relaxed inside and out of the pocket makes him a perfect quarterback for what Alabama is trying to achieve. Young is more than ready to take over the Crimson Tide as a playmaker and a Heisman Trophy caliber player.
C.J. Stroud, Ohio State, Quarterback (+1000)
Although it isn't official, everyone expects C.J. Stroud to be the starting quarterback for Ohio State when they take the field in week one. Even though head coach Ryan Day says the competition is still open, people who have watched Stroud compete have said that he has the potential to put up crazy numbers this season.
Not only does he have a big arm, but he has the legs to take off when it's needed. Stroud came in for one play last season but not to throw the ball. His single play was a rushing touchdown for 48 yards. This is a special talent at quarterback and he will put on a display as a Heisman Trophy favorite and a hopeful national championship winner.
JT Daniels, Georgia, Quarterback (+1200)
JT Daniels is going into his second season with Georgia and his fourth season overall. In his freshman season at USC, Daniels threw for over 2,500 yards and threw 14 touchdowns but threw ten interceptions. In only four games last year with Georgia, he threw for 1,231 yards with ten touchdowns and only two interceptions.
Daniels suffered an ACL injury at USC before coming to Georgia but it doesn't look like he's thinking about that with what we saw last year. He moves the ball and that allows this offense to be more explosive, something it hasn't been in the last couple of years. With this team getting better, Daniels has a great chance to be in the Heisman conversation.
[pickup_prop id="8845″]
Next Best Odds
Sam Howell, North Carolina, Quarterback (+1400)
D'Eriq King, Miami, Quaterback (+1800)
Matt Corral, Ole Miss, Quarterback (+2500)
Kedon Slovis, USC, Quarterback (+2500)
Bijan Robinson, Texas, Running back (+3000)
Main Photo:
Embed from Getty Imageswindow.gie=window.gie||function(c){(gie.q=gie.q||[]).push(c)};gie(function(){gie.widgets.load({id:'UmflUYpnTONHFaMHREnwCA',sig:'_LEzBEjBlBSqHluTXKHVgn-ygYEJSF-MbLCQOcrrPfk=',w:'594px',h:'396px',items:'1293827534′,caption: true ,tld:'com',is360: false })});