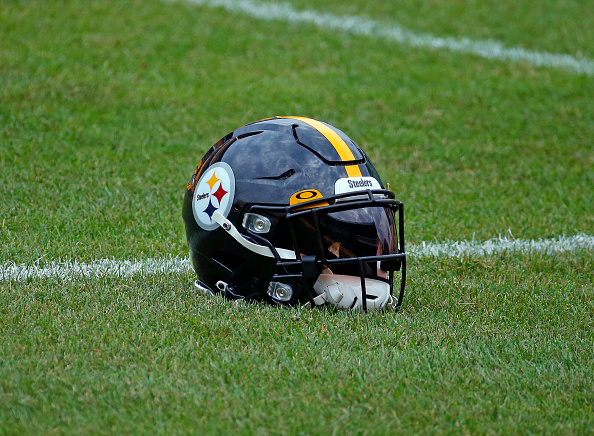 Starting this week, football will be back in our lives until Valentines' Day. The Pittsburgh Steelers preseason kicks off in the Hall of fame game against the Dallas Cowboys on August 5. The Steelers are entering Ben Roethlisberger's swan song season and have many burning questions to be solved.
Those questions will begin to be answered in the preseason. This year the NFL changed the number of preseason games teams play. The Steelers and Cowboys will be the only teams playing four, while the rest of the league plays just three. With the benefit of an extra week, here are the burning questions ahead of the Pittsburgh Steelers preseason.
3 Burning Questions Ahead Of The Pittsburgh Steelers Preseason
Will The Offensive Line Be As Bad As Projected?
The biggest unknown surrounding the Steelers is their revamped offensive line. PFF graded the Steelers unit as the second-worst in the league. Kevin Dotson is the most reliable player of the bunch, but that's not saying much given he's played just 13 games. Starting tackles Chukwuma Okorafor and Zach Banner were inconsistent and are a work in progress.
The two bright spots are Kendrick Green, and potentially Trai Turner. Green has impressed many in training camp so far, including Roethlisberger. He'll have to be the star of the line so Roethlisberger can stay on his feet and the run game can be opened up. The wild card is Turner. Turner made five straight pro bowls before injuries sent his 2020 season off a cliff. His pass blocking has historically been ahead of his run blocking, and that'll probably hold true at age 28.
The Steelers need Turner to be respectable, Dotson to prove 2020 wasn't a fluke, and Green to develop at lightning speed to have a chance in the AFC North.
How Much Does Losing Steven Nelson Hurt?
This Pittsburgh Steelers preseason could see their cornerbacks challenged like never before. Joe Haden is the only outside corner who has major experience in that role. Cameron Sutton was one of the best slot corners in football last year but is now opposite Haden. Whether Sutton's skills can translate to bigger receivers will remain to be seen, but this wouldn't have been an issue if Steven Nelson was still on the team.
Nelson had a stellar two seasons with Pittsburgh but wasn't brought back due to salary cap turmoil. Nelson was arguably better than Haden last year, and Haden's age could start to become a concern (32). With this, the player in the back eight to watch this Pittsburgh Steelers preseason is Antoine Brooks Jr. Brooks was a backup safety last year and is having an up-and-down transition to slot corner throughout camp. He'll need time to get his sea legs under him.
Assuming they don't play Haden much in August, Justin Layne and James Pierre will see a lot of snaps during the Pittsburgh Steelers preseason. Last year they had a combined 32 tackles, and are raw prospects in their own right. The Steelers allowed the second-fewest passing yards and fifth least points in 2020. The preseason might give us an idea of how far they could slip in those categories.
How Much Of An Impact Will The Rookies Bring?
The best part of any preseason is watching the rookie class. The most heralded of the class Najee Harris has expressed a desire to get heavy snaps in the HOF game. Harris projects to be a star and must-watch, but he's not the only rookie to have your eye on. Quincy Roche was a sixth-round pick this draft but had the talent to be drafted in rounds three or four. Immediately after being selected, ESPN analyst Louis Riddick said Roche could have ten sacks in his rookie year. Out of all the pass rushers in the draft, he had the highest career pass-rush grade according to PFF.
[pickup_prop id="10165″]
Special teams aren't excluded from this conversation either. Pressley Harvin III won the award for the best punter in college football last year. No disrespect to incumbent Jordan Berry, but his leg strength leaves something to be desired as his punts don't cover as much ground as you'd like. Harvin meanwhile has a much stronger leg and more athleticism than Berry offers.
Dan Moore Jr at tackle is another rookie to watch, even though he was a projected long-term prospect initially. He's spent some reps at first-team already throughout camp and will get reps in the preseason too. Finally, the Steelers will see more of Buddy Johnson now that Vince Williams has retired. While Devin Bush works his way back from injury this preseason, Johnson will get practice calling the defense with Robert Spillane.
The Pittsburgh Steelers Preseason Matters
The winds of change are palpable in the Steel City. There's a lot of fresh young blood that has the task of replacing production that led the Steelers to an 11-0 start. As I mentioned, the offensive line and the secondary will be the areas of most concern for Miike Tomlin. Another question will be how much the new play-caller Matt Canada changes the offense from 2020. So far it sounds like there'll be much more play-action and motion than the Steelers have seen in years.
As much as this year is about Roethlisberger's farewell tour, it's also about seeing who will be a part of the future. This preseason matters and the Steelers should get a good test from the Cowboys in the hall of fame game.
Main Photo: