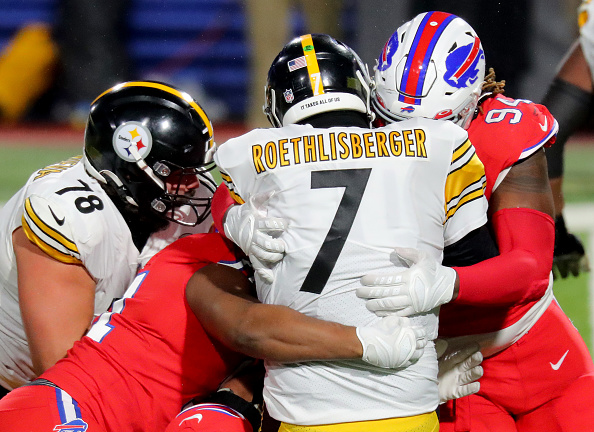 The Steelers offensive line in 2020 contributed to the worst run game in the NFL and the least-sacked quarterback. The Steelers were obviously not happy about the former, and the latter resulted from how quickly the ball was being passed. The run game will be fixed in 2021.
"We don't want to see the Pittsburgh Steelers last in the league in rushing ever again. It's something we've gotta fix. We're working on it." Art Rooney II made clear that the main focus in the offseason would be on fixing the run game. The Steelers committed to that by selecting a running back, Najee Harris, a blocking tight end, and two offensive linemen in the first, second, third, and fourth rounds, respectively.
Obviously, the Steelers WANT to fix the run game. The running back room is no longer an issue with the addition of Najee Harris. What IS a problem is the possibility that the players blocking for Harris might not be very good at their job.
Or just plain awful at it.
The Steelers have to hope that this is not the case. Up until a few days ago, the Steelers at least could lean on a veteran lineman and three-time All-Pro David DeCastro. The Steelers had to cut him after DeCastro was told that he needed surgery for a third time on his right ankle.  DeCastro said in a text Thursday. "I tried to fix it last year but the bone spurs kept coming back. It nagged me pretty bad all last year." That helps explain why the Steelers offensive line was bad last year but did not help the Steelers out at all this year.
The question facing the Steelers this year is not going to be "can they run the ball?" The answer is yes. Harris makes that certain. But the offensive line is much more of an unknown. The Steelers cannot afford to have lofty expectations for the offensive lineman left. They have done nothing to earn it.
[pickup_prop id="6781″]
How Bad Will the Steelers Offensive Line Be In 2021?
The Steelers offensive line will not be a top ten group in 2021. They probably will not be a top 15 group. But, they won't be awful. That was last year. And last year was rock bottom.
So, the only place to go is up. At least, that's the hope. And to be fair, the Steelers offensive line has a lot of potential. But there is a lot of growing to do to meet that potential. Unfortunately, the Steelers' offseason losses have not helped with that situation whatsoever. And to preface this, it is pretty hard to back this up with statistics. That's the thing with potential. It's an unknown, and those two words, unknown potential, accurately describe the Steelers offensive line.
Steelers Offensive Line Losses
Starting with David DeCastro, it's easy to think that the Steelers offensive line won't improve in the wake of his loss. The three-time All-Pro, six-time Pro-Bowl player was supposed to be the veteran presence in the offensive line room. He would presumably return to form after a pretty bad 2020 season, though injuries had a lot to do with that. Unfortunately, injuries forced the Steelers to replace him, and as of right now DeCastro is leaning towards retirement.
This loss hurt the most, at least in the locker room, but was also the most expected. The eight-time Pro-Bowl and five-time All-Pro did not have a great 2020 season. After a disappointing ending in the playoffs to the Cleveland Browns, Pouncey and his brother announced together that they were retiring from the NFL. The Steelers will certainly miss his leadership on the field, and his play. This marked starter number two on the offensive line from 2020 that would not return for 2021.
Perhaps, actually, not perhaps, certainly the player on the Steelers offensive line that they could most afford to lose, Villanueva's loss is still felt. While he was not exactly a star on the line in 2020 (sense a trend here?), he still knew what he was doing. He had chemistry with the rest of the line and was someone that Ben Roethlisberger was comfortable with. Villanueva left in free agency to sign with the Baltimore Ravens, marking the third player on the 2020 offensive line that would not return.
This one was less of a surprise to the Steelers than the other three players. Feiler had played well enough to price him outside of the cap-strapped Steelers, but was not exactly a star player on the line in 2020 (remember that trend that I mentioned earlier?). But he was a serviceable player, a veteran, and had chemistry with the other players on the Steelers offensive line.
All these losses certainly will be felt in 2021. While there is potential for the players that replace said losses, the communication and chemistry will not be the same. Those three players had been together for quite a while and knew what they were doing. They were veterans. Their replacements, while full of potential, are much greener.
Steelers Offensive Line Additions
Kendrick Green
A promising young rookie player, Green plays with tremendous strength and power. The Steelers drafted him in the third round of the 2021 NFL draft. He is light on his feet and relentlessly runs through defenders when blocking. His main problem is that he is new to the center position, which he will play for the Steelers. He only started a few games at center in college, but when he did, it was impressive.
A little-noticed free-agent pickup, Haeg is purely a depth player. He can play guard or tackle and will provide a veteran presence that the room desperately needs. Haeg was an underrated piece on the Tampa Bay Buccaneers offensive line in 2020, and if called upon, will provide little to no drop-off in play in 2021.
David DeCastro's replacement, the three-time Pro-Bowler will take DeCastro's spot immediately. Signed hours after DeCastro's release, Turner is reportedly healthy and ready to go after healing from a 2020 season full of injuries. While he has never made it through a full season unscathed, Turner provides a veteran presence that the line needs. He also could potentially play better than DeCastro was playing, possibly even much better. Turner probably won't be a star in 2021 on the Steelers offensive line, but you won't notice him in games. Which is a good thing when talking about offensive linemen.
Dan Moore Jr.
The Steelers draft pick to begin the fourth round of the 2021 NFL draft, Moore will see little playing time in 2021. Not because he is not a good player, but because the Steelers drafted him for his potential. A big, nasty blocker, Moore still needs to work on hand placement and continue to grow his play strength. He is a pick for 2022 more than anything else but carries a lot of potential. He could see play in 2021 as a swing tackle, aside from injuries to the starters. Otherwise, that is probably the only playing time he will see in 2021.
Finney is not really a new player that the Steelers added, even though that's is technically what he is. He played with the Steelers in 2019, and left in free agency in 2020. After playing six games with the Seattle Seahawks he was traded to the Cincinnati Bengals who let him go in free agency. Finney is a capable starter and someone who the Steelers know very well. Finney is not a weakness on the offensive line, and the Steelers seem to expect him to be the day one starter before eventually giving way to Kendrick Green.
Another depth addition, Coward will be a backup guard for the Steelers. Like Finney, he is a capable starter who can hold down the fort for a few games if necessary and provides a veteran presence in the Steelers offensive line room.
[pickup_prop id="5199″]
Steelers Offensive Line Expectations
With all that movement, what can we expect from the Steelers offensive line in 2021? David DeCastro has high hopes for the group entering into the season.
"They'll be fine. They'll get it right. They'll have a good training camp. It's a good group. They have some experience. … As far as the guys go, I hope (Zach) Banner gets that knee right. Obviously he has a tremendous amount of physical talent. Chuks (Okorafor), I'm looking forward to watching him, looking forward to watching all these guys – (Kevin) Dotson, all these young guys I've played with and watched. I think they'll do well. It's going to be weird watching from a distance but they'll do well."
The Steelers do have talent on their offensive line. Kevin Dotson, in limited playing time last year, looked tremendous and is a likely star. Finney will hold down the center position until Green is ready to take over. Trai Turner will provide a veteran presence and is no slouch on the line. Turner in particular could surprise a lot of people with his play in 2021.
Zach Banner will return to the right tackle position, where he started in 2020 before exiting the first game of the season with an ACL tear. And Chukwuma Orkorafor will return to left tackle, a position which is better suited for. Orkorafor was forced to take Banner's position last year after Banner's injury and played well in his stead. Joe Haeg will provide strong depth, and Dan Moore can certainly take players' spot for a game or two.
The Steelers offensive line has strong depth, with either Finney or Green as the backup center, depending on who is starting. Haeg can play guard or tackle, Moore can also play guard or tackle, and Rashaad Coward will back up both of the guards. So what can be expected of this group?
Solid play. With a lot of room to grow, but a high ceiling. The best will come in the future, but expect the Steelers offensive line to look big and play like it on game days. The Steelers have been preaching that they need to get better at running the football, and that starts with the line. As such, they have drafted or signed big, tough linemen in the offseason. The Steelers have a lot of potential for star power in Kevin Dotson and Kendrick Green and Zach Banner and Chuk's Orkorafor at worst would be a top-20 tackle pairing in the NFL.
The Steelers offensive line will be fine.
They won't be amazing in 2020 and neither will they embarrass themselves. It will be a group with ups and downs, but showing a lot of flashes of potential greatness. Heading into the 2021 regular season with a goal in mind to dominate in the run game the Steelers offensive line looks like it will do well in that regard. Pass blocking will follow, though that should not be quite as good as is their run blocking.
They have strong depth at every position on the line. And if the run game can start to take over games with Najee Harris at the helm, pass blocking will be less of a worry. Defenders will be keyed on stopping the run, not rushing an aging Ben Roethlisberger. At worst, the Steelers offensive line will be a top 20 line in pass blocking and top 15 in run blocking. There will be growing pains. But with a line that has two players returning to the positions that they started at in 2020, what else can you expect?
The Steelers offensive line is an unknown potential. And that isn't a bad thing.
Main Photo: