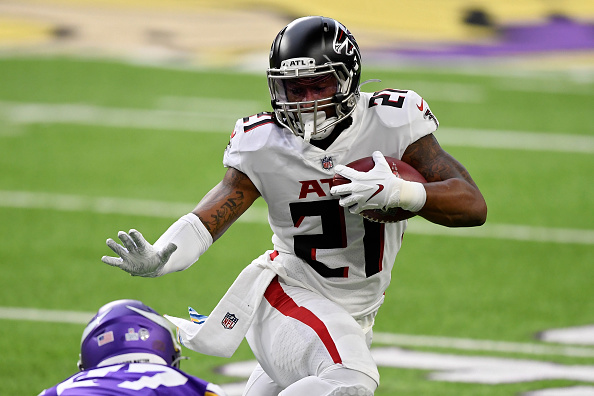 With NFL Training Camp starting for teams around the league, many will be looking at the free-agent market, especially at veteran running backs. Despite the NFL being a "passing league", there's a need for experienced veteran running backs that can get the job done. The ground and pound style is nowhere near done and these veterans want to prove that they still can do that and have what it takes to compete in this league.
Veteran Running Backs Still On The Market
Todd Gurley
After suffering a significant knee injury in 2018, Todd Gurley hasn't been quite the same. He put together three 1,000-yard seasons in four years before his injury. He was released after the 2019 season by the Los Angeles Rams after rushing for 857 yards and 12 touchdowns. He had a pretty good season but the Rams saw that the knee wasn't getting any better.
The Atlanta Falcons took a flyer on him last season in a reduced role and he was solid. Gurley rushed for 678 yards for nine touchdowns in 15 games. He is yet again a free agent and looking for a team who needs a bulldog for short-yardage situations. Gurley is one of many veteran running backs that can help a team that needs it.
Le'Veon Bell
Le'Veon Bell is just one of a long list of veteran running backs still wanting to play but is currently looking for a team. Bell was once considered the best running back in the league before he sat out with the Pittsburgh Steelers in 2018. He's never been the same since and it shows. Bell signed a big contract with the New York Jets in 2019, only rushing for 789 yards and three touchdowns in 15 games. The Jets cut him after only playing only two games in 2020, tallying only 74 yards. Signing with the Kansas City Chiefs the same season, Bell rushed for 254 yards and two touchdowns in nine games while playing in a minimal role.
Bell isn't at all what he once was and it shows in the lack of interest shown in free agency. With so many bridges being burned in only a couple of years, many teams will be hesitant to sign him but many think he still has a place in this league as a depth piece at the running back position.
[pickup_prop id="9749″]
Adrian Peterson
36-year old running back Adrian Peterson says his body feels good and is more than healthy going into 2021. When people doubted he had anything left, he proved them wrong. Peterson signed with Washington in 2018 and had to carry the bulk of the load due to injuries. He did just that as he rushed for 1,042 yards and seven touchdowns in all 16 games. The following year for Washington, he rushed for just under 900 yards and tallied five touchdowns.
Peterson signed with the Detroit Lions and played in all 16 games but started only ten of them. He rushed for just over 600 yards but ran for seven touchdowns for a team that didn't have much going for them. Peterson is 100 percent ready for the 2021 season and is just waiting for a call from a team. He is still a bruiser that can contribute to a team that needs the experience. His training could not be going any better than it is right now. Peterson just needs another chance to prove he still has it and will give it his best every week to help a team as much as he can.
Devonta Freeman
Ever since the Super Bowl run for the Falcons in 2016, Devonta Freeman hasn't been the same. He rushed for over 1,000 yards in 2015 and 2016 but has never reached that milestone again. Freeman rushed for just over 800 yards in 2017 but injuries started to pile up over the next couple of years. His last relatively healthy season was in 2019 when he played in what was eventually his last season in Atlanta. He played 14 games and rushed for 656 yards and two touchdowns.
Freeman signed with the New York Giants last year but only played in five games. He is still looking for a team but in no way can he be counted on to stay healthy all season long. Many say we could see an eventual reunion with Atlanta and that may be the best spot for him given his history.
Frank Gore
"I know that I can still play the game, I know I can help a team." Those were the words spoken by Frank Gore when asked about the 2021 team. He's one of many veteran running backs that feel like they still have what it takes to play the game. Gore has built the career resume to be selected into the Pro Football Hall of Fame after he hangs up the cleats. With that comes the experience teams need for the 2021 season and Gore has more than enough. 
Gore spent the 2020 season with the Jets as he played in 15 games and rushed for 653 yards and two touchdowns. The 16-year veteran is looking for the right situation this time around, not wanting to settle for a spot with a bad team like the Jets again. 
Other Veteran Running Backs On The Market
LeSean McCoy
Duke Johnson
Dion Lewis
Chris Thompson
T.J. Yeldon
DeAndre Washington
Main Photo:
Embed from Getty Imageswindow.gie=window.gie||function(c){(gie.q=gie.q||[]).push(c)};gie(function(){gie.widgets.load({id:'7ad0xz9YTaF6NlwThX6eSg',sig:'TQSHs2a5p4wBTsT0KHJtYTBJIvHcjvoZJn2gCGWyAvE=',w:'594px',h:'396px',items:'1280927847′,caption: true ,tld:'com',is360: false })});