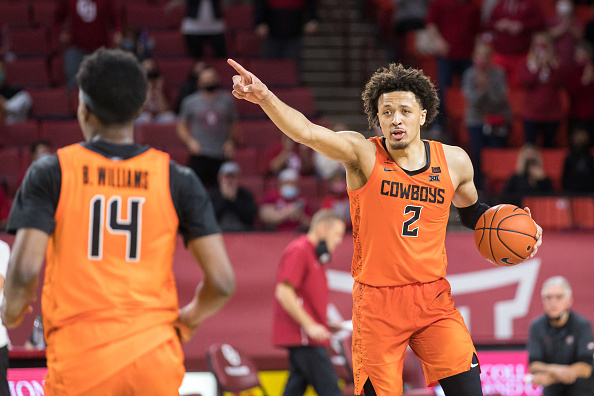 The 2021 NBA Draft is set to take place in a couple of weeks on July 29th and this year's draft seems to have more intrigue than is year's past. Cade Cunningham is set to be the first overall pick but three other players have a great case to take that spot as well. The Detroit Pistons will make the tough decision first, followed by the Houston Rockets, Cleveland Cavaliers, Toronto Raptors, and Orlando Magic. The 2021 NBA Draft will be full of excitement and interesting moves around the league.
Top Five 2021 NBA Draft Prospects
Cade Cunningham
Many people tag Cade Cunningham as the clear-cut number one overall pick but the Pistons aren't ready to say that yet. They're keeping their options open at the moment. That being said, Cunningham has all the talent in the world to be in that position. Many say he's a franchise changer and what he's done at Oklahoma State backs that up.
In 2021, Cunningham played in 27 games while collecting 20.1 points per game along with 6.2 rebounds, 3.5 assists, and 1.6 steals per game. His scoring and playmaking make him a highly coveted player. Cunningham can also play on the defensive side, making him a dynamic all-around player. Even though the Pistons don't have their mind made up yet, everyone has his name being called first.
Evan Mobley
If Cunningham doesn't go number one, Evan Mobley certainly will. The 19-year old big man from USC, one of the best, if not the best two-way players in the 2021 NBA Draft. His skill set as a rim protector is like no other. Mobley has a great defensive mind that consists of blocked shots (2.9 per game) and interior defense. He also can be a reliable scorer whether it's from the post or behind the arc. Stretching the floor like he is capable of is why he is the consistent number two overall pick.
Jalen Green
The first player drafted from the G-League will be Jalen Green. Skipping college didn't affect his draft position one bit as he's a highly coveted 2021 NBA Draft prospect. Green will bring electrifying skills to the court as an explosive athlete. His aestheticism is off the charts as he finds different ways to score whether it's creating shots off the dribble or finishing at the rim. Green's all-around ability makes him a great choice for the future of a franchise.
[pickup_prop id="8527″]
Jalen Suggs
There are many attributes to be impressed by from Jalen Suggs. Alongside his leadership, is his basketball IQ on both ends of the floor. He can drive to the bucket and push defenders around in the paint. Suggs also has quick hands, which helps him not only distribute the ball but to disrupt plays on defense. His on-ball defense is impressive but what may be even more impressive is his mindset on defense away from the ball. He also can play defense around the perimeter, which just adds to his all-around skill on the court. If Suggs goes fourth overall in the 2021 NBA Draft, that tells you how strong of class it is.
Jonathan Kuminga
Jonathan Kuminga isn't as strong of a name as the others but he has the skills possessed to help any team. He is a strong and versatile defender with a long wingspan. Kuminga's quickness just adds to his defensive attributes. He's not as strong of a scorer as hoped but if he can raise that part of his game, his athletic ability has him primed to be one of the best all-around players in the 2021 NBA draft.
Other 2021 NBA Draft Prospects To Keep An Eye On
Scottie Barnes (Guard/forward)
Davion Mitchell (Guard)
Keon Johnson (Guard)
Franz Wagner (Center)
Corey Kispert (Forward)
Jalen Johnson (Forward)
Main Photo: