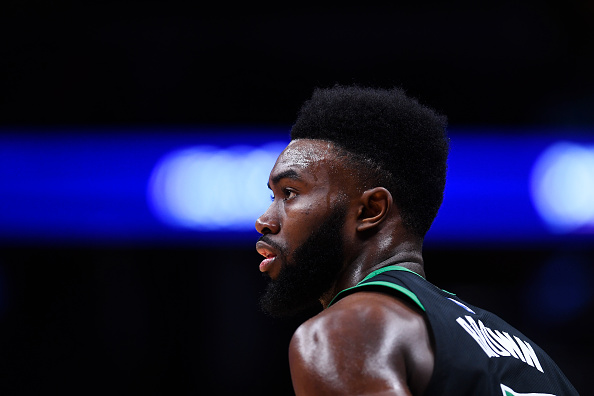 The 2021 Boston Celtics season has been a rollercoaster for fans to endure and for all the wrong reasons. For a franchise that is based on the idea of luck, the Celtics were hit with very unlucky news following the announcement of the Jaylen Brown injury that will keep him out for the remainder of the season. Now Boston must go into the postseason, or at least the play-in tournament, without one-half of its young star duo. What can this team's mindset be moving forward into the postseason? What are the fans thinking? Are they even excited about this normally highly-anticipated point of the season?
What Is The Boston Celtics' Ceiling After The Jaylen Brown Injury?
A Fitting End
As much as we enjoy making jokes on Twitter towards the irrational takes made by internet keyboard warriors, no one ever wishes injury on another being, or make a joke about a player being injured, at least no sane person would. That being said, it is only fitting that this rollercoaster 2021 Celtics season would end in this sort of fashion.
Jaylen Brown was in the midst of a monster season, taking a massive leap to superstardom alongside Jayson Tatum. He secured his first All-Star selection of his career, and it is highly likely that he will receive more down the line. He fine-tuned his game so well that he has become one of the best two-way multi-dimensional players in the league, at just the age of 24. At such a young age, Brown already has plenty of playoff experience, playing 61 career postseason contests. That kind of experience at such a young age can only pay dividends for a team like Boston with two young superstars looking to remain competitive for the next five, six, even seven seasons.
Unfortunately, that number is going to remain at 61 this year, as Brown will miss out on the entire postseason after suffering a torn ligament in his wrist. For a player with such an impact and presence on his team, the Jaylen Brown injury is more than likely to put a damper on the team's championship hopes this year.
Who Will Step Up?
As an optimistic Celtics fan, of which it appears I am in the minority, I try to look on the bright side when things do not go to my full liking for the Celtics. The Jaylen Brown injury is obviously a huge detriment to the team, as he is such a big piece of the puzzle for Boston. But, with nothing left to do but watch how the remainder of the season plays out without him, it is time to shift our focus to who will be on the floor for Boston.
Evan Fournier, Aaron Nesmith, and Romeo Langford are all near locks to see more minutes with Brown out indefinitely. Fournier and Nesmith seem to be clicking at just the right time, as Fournier has been averaging over 18 points a night the last five contests, and Nesmith averaging just over 14 points in that same span. Langford is a raw, energetic young player with stout defense, and there is still hope that he can find an impact on offense so he can earn consistent minutes. He may need to find it faster now with just four regular season contests left before the playoffs.
In a season of ups and downs, Kemba Walker also appears to be finding his groove as well. His offense is coming to him with much more ease than at the start of the season, and he is building the type of consistency that this team needs for it to succeed at the next level, or at least prevent them from playing in the play-in tournament.
Also, Jayson Tatum exists.
Moving Forward
I think I speak for many fans when I say that I wish for the 2021 NBA season to end sooner than later so that these players, not just the Boston Celtics, can have their much earned rest. Trying to squeeze 72 games into a four and a half month season brought upon several headaches for fans and injuries to players that it made for a chaotic mess that could have been avoided.
The Jaylen Brown injury now takes whatever pressure the Celtics had on them immediately off, and they can either lay down and take an early exit in the postseason, or they can play like they have nothing to lose and surprise the entire league with a lengthy run. Nonetheless, the team we saw in 2021 is no where near the ceiling that this team is capable of, which fans and teams around the league are very ignorant about.
At their best, they have many weapons on the offensive end to torch opponents, along with a young, energetic second unit that can make any team work on any given night over an 82 game span. At no point of the season did the Celtics have a clean injury report, nor did they have all seven, eight, nine of the rotational players all healthy for just a single contest. This resulted in many adjustments both in-game and prior to each contest.
As sad as it is to say, the team as a whole appears pretty checked out, and who can really blame them. Yes, we expect them at their best each and every night, but the 2021 COVID season has put them through the ringer, and they are not even in the postseason yet. With a full offseason of rest and recovery, expect the 2022 Boston Celtics to return to the top of the Eastern Conference.
Main Image: Embed from Getty Images