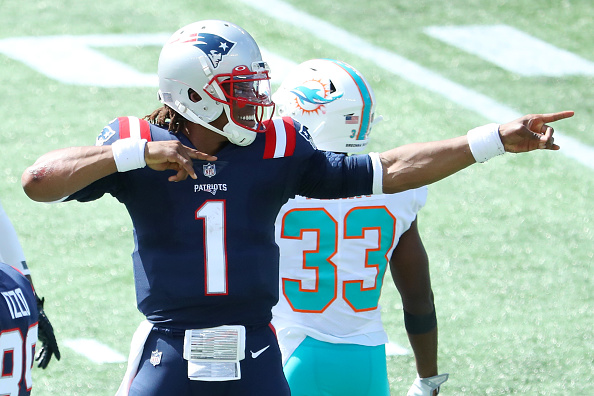 It's pretty clear that the New England Patriots acquiring Cam Newton didn't work out. The former NFL MVP looked strong for the first three games of the season, but once he caught Covid-19, Newton couldn't get back on track. With Newton's career on the brink, we will explore potential Cam Newton landing spots.
Cam Newtons passing struggles were magnified across the media all season. Even though he may have had the worst receiving core in the league, Newton definitely deserved blame for his play.
Potential Cam Newton landing spots
Denver Broncos
I've talked about why a Deshaun Watson trade would make sense for the Denver Broncos, but the Broncos likely don't have the trade assets. After being named the starter in Week 13 of the 2019 season, Drew Lock would show promise late, as he won four of his last five games.
But in 2020, Lock regressed tremendously and a quarterback switch up could be what the Broncos need. Lock could learn a lot from the veteran (Newton) entering his 11th year in the league.
Cam Newtons best play-action passes from Week 1 pic.twitter.com/3fAFdIDKwL

— Xavier Dixon (@GOOBVILLE) March 3, 2021
Pat Shurmurs' offense may work better with Newton, who has shown he's way more comfortable with the play-action passes than other concepts. Shurmur led Nick Foles and Case Keenum to career years as well as Keenum reaching the NFC Championship game.
Shurmur ran 11 personnel (three wideouts and one tight end) for 66 percent of offensive plays called in 2020. That leaves plenty of options for play-action, inside zone, and Newton scrambling. Cam Newton landing spots will vary, but Shurmur could be a great influence for Newton.
San Francisco 49ers
Speaking of play-action, Kyle Shanahan has utilized it for years, even dating back to the magical 2016 Atlanta Falcons run. In the last two years, the San Francisco 49ers have been top-ten in play-action pass attempts. The 49ers could be the favorite for potential Cam Newton landing spots.
With questions looming if Jimmy Garoppolo will be on the roster for 202, Newton could bring a different dynamic to the 49ers with his ability to run. Due to Garoppolo's injury history, acquiring Newton could serve as a great insurance policy.
The 49ers' offensive line had major issues in the passing game last season. Having a mobile quarterback who can evade sacks like Newton is an upside for the offense. Matching Newton with Shanahan's witty play-calling could give defenses trouble.
Washington Football Team
Ron Rivera and Cam Newton had a nine-year connection with the Carolina Panthers. Alex Smith isn't expected to return to the Washington Football Team and Newton could easily fill that void.
Cam Newton briefly worked with Offensive Coordinator Scott Turner in 2019 and had his career year in terms of completion percentage (67.9) with Scott's father Norv Turner in 2018. Washington is in win-now mode as they went toe-to-toe with the Super Bowl LV champion Tampa Bay Buccaneers in the Wildcard round of the 2020 NFL playoffs.
Cam Newton inaccurate throws from Weeks 1 and 2 pic.twitter.com/y5w7M5XzHS

— Xavier Dixon (@GOOBVILLE) March 3, 2021
Ken Zampese was the quarterback coach for the Cincinnati Bengals for 13 years. Not to mention that many credit Baker Mayfield's rookie success to Zampese when he was in Cleveland. If Zampese can clean up Newton's accuracy issues, the Washington Football Team could be an immediate threat to the league.
Chicago Bears
The Chicago Bears don't have an answer at quarterback with Nick Foles or Mitchell Trubisky. Nor at wide receiver as Allen Robinson wasn't re-signed, but is likely a target for the Franchise Tag. The Bears will need someone who can stretch the defense in 2021.
It's unclear if Matt Nagy or Bill Lazor will call plays heading into 2021, but the Bears were fourth in the league in play-action pass attempts in 2020. This would make Cam Newtown more than comfortable especially with a solid defense.
Chicago's defense was ranked top-five in both 2018 and 2019 but fell to 14th in 2020. Defensive play-caller Chuck Pagano announced his retirement after this season, promoting Sean Desai who enters his first year as a Defensive Coordinator. Desai has been credited with helping mold the defense over the last four years but will need all the help he can get from the offense.
Cam Newton runs from Week 1 pic.twitter.com/fAW9GXJbbT

— Xavier Dixon (@GOOBVILLE) March 3, 2021
For Cam Newton to succeed with the Bears, they would need to re-sign Robinson and focus on shortening the game for the defense. And, Newton's ability to run can uplift the Bears struggling run-game. Desai may step in and be great but adding Newton to the offense could give them a different dynamic.
New England Patriots
Adam Schefter speculated that Cam Newton wouldn't return to the New England Patriots, but Bill Belichick and Newton disagreed. This all trickles down to the Patriot's 15th overall pick in the NFL Draft.
Newton being familiar with the offense, wide receiver group, and performing well before catching Covid-19 would all factor into his return. Having three players return in 2021 from opt-outs in 2020 should make Belichick think about bringing Newton back. The Patriots need to add a dynamic wide receiver or tight end, so Newton can flourish.
[pickup_prop id="3942″]
Who Will Sign the Former MVP?
Cam Newton, like any other quarterback, needs to be matched with a scheme that can maximize his talent. The 2020 NFL season wasn't pretty for Newton but that doesn't mean that his career is over. With these potential Cam Newton landing spots, Newton would be able to change every narrative from the 2020 season.
Main Photo: