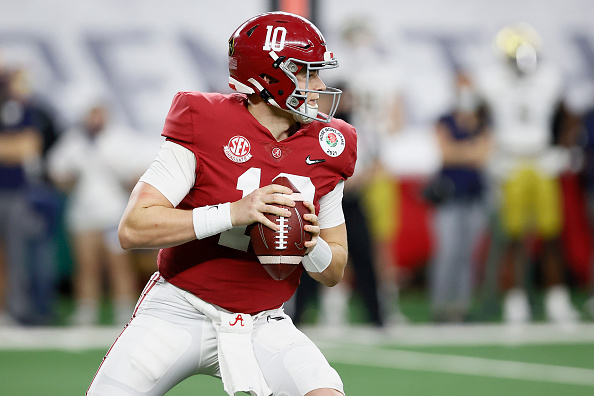 The Washington Football Team had a rollercoaster 2020 season that ended in a playoff birth despite a 7-9 record. With four different quarterbacks that have started a game for them, they have some things to address on offense this off-season. Their defense played great but needs depth additions to help maintain that level of play during offensive struggles. With all of that in mind, here is a 2021 Washington football team mock draft.
[pickup_prop id="4993″]
2021 Washington Football Team Mock Draft
Round 1 – Mac Jones, QB, Alabama
The Washington Football team was a team of destiny this season. Quarterback Alex Smith overcame his serious leg injury to start several games, including the Week 17 victory that sent Washington to the post-season, this season. Head coach Ron Rivera coached through cancer en route to making the playoffs.
Playoffs seemed like a distant thought after Washington went through three different quarterbacks to get there. They then started the fourth quarterback in Taylor Heinicke for their one and only playoff game. After starting four different quarterbacks in 2020, Washington would like to have a clear number one option going into 2021. Adding that option is a must-do in any 2021 Washington Football Team mock draft.
Mac Jones should be that option. Jones dominated college football this season with 4,500 yards and 41 touchdowns with just four interceptions thrown. Jones had help from a fantastic receiving group that consists of two projected first-round picks in this draft. Those being DeVonta Smith and Jaylen Waddle. While Jones is a wildcard prospect that will need a strong system to get the most out of him, but Washington needs to get a potential franchise quarterback on their roster as soon as possible.
After drafting Mac Jones in round one, Washington gets the tackle who protected him in college too. Leatherwood played over 800 snaps in 2020 and allowed just two sacks on the season. Leatherwood played well against many great SEC pass rushers in 2020 and should be a great addition to the Washington offensive line.
Washington lost all-pro tackle, Trent Williams, last year when they traded him to San Francisco due to Williams' displeasure with the organization. Now, they finally draft a true potential replacement for Williams with Leatherwood.
Washington struck gold with their drafting of Terry McLaurin in 2019. McLaurin has been great for Washington, but the rest of their receiving group has been lackluster. McLaurin had 1,100 yards in 2020 and the next highest total for a wide receiver was just 477. Also, McLaurin was the only wide receiver to be targeted at least 50 times in 2020. This lack of production from their primary pass catchers is a major issue that could lead to struggles for a young quarterback. So, they address this issue here by drafting Elijah Moore.
Moore has been a prospect on the rise recently with his talents being showcased more and more in his film. Moore is the latest receiver out of Ole Miss to generate buzz heading into the draft. Moore had 1,200 yards and eight touchdowns in 2020. Moore is an undersized receiver at just 5-foot-9 and would excel in the slot at the NFL level. He would be a great weapon for Washington's offense with McLaurin playing on the outside.
Adebo is an interesting prospect that could be a true draft steal for Washington. Adebo did not play the 2020 season with Stanford, but in his two seasons with Stanford, Adebo intercepted eight passes and had 27 total passes defended. He also showed the ability to get in the backfield from the cornerback spot with five tackles for loss in 2018. His 6-foot-1 frame gives him good size for an outside cornerback. Adebo will be a nice depth addition to what is already a strong Washington defense.
Washington is a physical zone safety who could give Washington great depth options. He is undersized but plays big and can even play some cornerback in nickel formations. More than just because of name value, Washington is a perfect fit for Washington. He can fill in behind surprise seventh-round standout Kamren Curl and play on special teams in his rookie year. He'll give Washington lots of options for different defensive sets in 2021 and beyond.
The fifth round can be used here to continue adding depth to the wide receiver position. Philyor is another receiver built to play in the slot. His breakout season came in 2019 where he caught 70 passes for 1,000 yards and five touchdowns. His stat line dipped in 2020, but he did not play a full season in 2020. He still managed to catch 54 passes in just eight games. Philyor played four seasons with Indiana and is just 22-years-old. He'll have plenty of time to continue developing with Washington at the next level.
The late rounds of this 2021 Washington football team mock draft continue to be used on depth positions. With two receivers taken so far, it is only right to add a second cornerback in round seven. Wilson played with the dynamic Florida Gators defense in 2020. Wilson has been a strong player for Florida over several years and should land on an NFL roster towards the end of the draft. He lands with Washington here who can develop him and see if he can be a depth cornerback like his brother Quincy Wilson has been for the past few seasons.
Young is the final pick in this 2021 Washington Football Team mock draft, Young is a 6-foot-7 tackle who translates his size into power. He can offer more in the running game than the passing game. Young had an incredible 2020 with Kentucky earning Second-Team All-SEC honors and being apart of an offensive line that was nominated for the Joe Moore Award. The award is given to the nation's best offensive line. Young should be a solid player in the NFL off of size alone. His consistency in school and on the field at Kentucky offers more proof that Young has the tools to be a great player.
Main Photo: