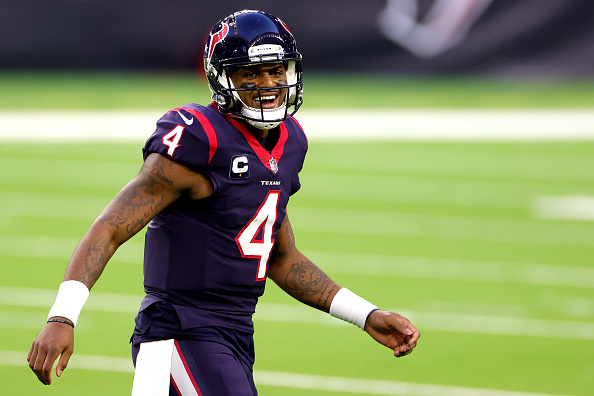 It's not every day a 25-year-old superstar quarterback is on the trade market. But last week, we learned that Deshaun Watson requested a trade from the Houston Texans. A trade for Deshaun Watson is going to be one of the key storylines to track all offseason. Last season, Watson managed to have the best statistical season of his four-year career. He led the league in passing yards with 4,823 and had a stellar 33 to seven touchdown to interception ratio. What's incredible is he did that on a 4-12 team without his former favorite target, DeAndre Hopkins. So it's safe to say Watson will have a long list of suitors. These are the NFL teams most likely to trade for Watson.
NFL Teams Most Likely To Trade For Deshaun Watson
Las Vegas Raiders
We start with a team that's had a rocky start to the Jon Gruden era. In his three seasons, the Las Vegas Raiders have yet to make the postseason. In 2020 they were 8-8 and came close, but injuries at the end of the season ended their chances. Gruden's relationship with Derek Carr has been swirled with trade rumors since he took over as head coach. But despite Carr having a good statistical year, the chance to upgrade to Watson might be too good to pass up.
The latest from an NFL insider is that a Carr trade out of Vegas would require two first-round picks. The Raiders would then be able to use those picks as assets to try and trade for Deshaun Watson. Watson would immediately be paired with the best running back he's ever had in Josh Jacobs. He'd also have a fantasy football stud in Darren Waller, speedster Henry Ruggs, and an offensive line that, when healthy, will be a massive upgrade over the Texans. If the Raiders were to pull off this trade, the AFC West would be loaded at quarterback with Patrick Mahomes and Justin Herbert already in place.
Denver Broncos
We go from one struggling AFC West team to another. The Denver Broncos are the newest team to have an interest in landing Watson. The Broncos are a team who've struggled to find an answer at the position since the Peyton Manning era concluded. And currently, they have a quarterback in Drew Lock whom the jury is still out on. If they're interested, Lock, who has two years left on his rookie deal, and the ninth overall pick would be used to kickstart negotiations.
If Watson landed in Denver, he wouldn't have as much help as he would on the Raiders. Outside of left tackle Garett Boles having a stellar season, the offensive line left a lot to be desired. However, they're a young unit that could get better simply by practicing together more. Watson would have an instant impact receiver in Courtland Sutton to hook up with, as well as last year's first-round pick Jerry Jeudy. But the running back position is up in the air with the restricted free agency of Phillip Lindsay. That said, with the return of Von Miller, the Broncos would be in the wild card mix next year if Watson was leading the way.
New York Jets
Finally, we've reached the preferred destination in the trade for Deshaun Watson sweepstakes according to one NFL insider. The New York Jets have needed an answer at quarterback since Mark Sanchez. And with Joe Douglas as general manager, there's optimism they'll get one soon. The Jets are similar to the Broncos in terms of their current status at the position. Sam Darnold has been incredibly inconsistent, and the jury is still out on the former number two overall pick.
But they have the second overall pick in the draft once more. And instead of hoping for Justin Fields or Zach Wilson to be the answer, they should use the pick to get Watson. Obviously, any trade for Watson would require more than that and the Jets could throw in as many future picks as necessary. Throwing in Darnold and another young player like Quinnen Williams would also help sweeten the deal.
Unfortunately for Watson, the Jets have the longest road to go towards contention out of the four teams on this list. As of now, Ty Johnson and La'Mical Perine (who had 486 combined yards in 2020) are the teams' starting running backs. On top of that, their wide receiver corps is among the least productive in the league and needs an overhaul. Lastly, the defense only has one legitimate pass rusher in Williams. So including him in the trade for Deshaun Watson would be costly. In the end, head coach Robert Saleh could be the difference-maker in the Jets executing the trade as Watson has a lot of respect for him.
[pickup_prop id="3775″]
Other Teams Will Want To Trade For Deshaun Watson
Above, I listed the three teams I think are most likely to trade for Deshaun Watson based on recent reports, as well as the likelihood it happens. There are other teams I didn't mention who are serious contenders to make the deal. The Miami Dolphins have been mentioned as suitors, but with just having drafted Tua Tagovailoa last year and going 10-6, it doesn't feel as likely.
Other possibilities include the Indianapolis Colts, New England Patriots, and also him remaining with the Texans isn't off the table. Although they do have the best roster of any team listed in this article, the Colts aren't considered a legitimate threat in my book. And this is because it'd be a rare interdivisional trade that'd give the Colts a direct path to the Super Bowl. The Patriots are listed because Bill Belichick could be near the end of his career, and could want to push for one last Super Bowl run.
Last but not least, Watson returning to the Texans isn't a scenario to rule out. Watson has a no-trade clause on his contract, so he can dictate where he wants to go. But general manager Nick Caserio said they have zero interest in trading Watson. At some point, Watson and Caserio are going to have to talk again to discuss the future. But until we know more specifics, this is a storyline every team in the league will be keeping an eye on.
Main Image: Embed from Getty Images