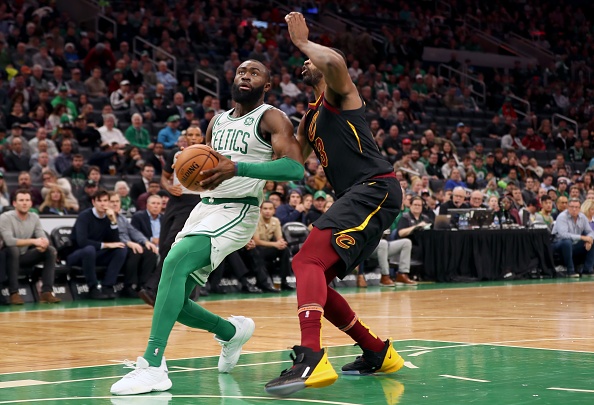 On June 23, 2016, the Boston Celtics selected University of California Berkeley forward Jaylen Brown. This move was met with the dismay of many Celtics fans at the time, as the young prospect was booed by the Celtics faithful at the TD Garden draft party. Little did those same fans know at the time, drafting Jaylen Brown would become one of the best decisions that this franchise has ever made in just a few short years.
It Is Time to Put Some Respect On Jaylen Brown's Name
Jaylen Brown is having a career year:

25.8 PPG (career-high)
4.5 RPG
3.8 APG (career-high)
1.5 SPG (career-high)
0.5 BPG (career-high)
51 FG% (career-high)
39 3P% (career-high)
77 FT% (career-high)

Jaylen is the real deal. 🥶 pic.twitter.com/tliYmAmZh7

— Hoop Central (@TheHoopCentral) January 21, 2021
An Opportunity For Brown
This past offseason saw the Boston Celtics' roster shake-up drastically from last year's team. The team lost Gordon Hayward after three seasons in what will go down as one of the biggest "what-ifs" in NBA history had he stayed healthy in Boston. They also lost a few key role players in Enes Kanter and Brad Wanamaker. In addition to the roster vacancies, All-Star point guard Kemba Walker would miss extensive time rehabbing from his knee injury that bothered him since last year's All-Star break. With the number of open minutes and touches up for grabs in 2021, Jaylen Brown stepped right in and went above and beyond expectations.
In his fifth year in the NBA, Brown's game has improved exponentially year after year. He has continued to add another tool to his skill set with each passing season, blossoming from a raw, unproven athlete to a well-rounded, skilled NBA star at just 24 years of age. Jaylen Brown has assumed a larger role this season alongside fellow young star Jayson Tatum and the young duo has propelled the Boston Celtics to a top seed in a loaded Eastern Conference. 
Jaylen gets a "come on now" from @heydb

NBA LEADERS – FG/48 Minutes

1. Beal, Was 16.2
2. Antetokounmpo, Mil 15.0
3. Irving, Bkn 14.8
4. BROWN, BOS 14.1
5. Williamson, NO 14.0
TATUM, BOS 14.0 https://t.co/Nv02AflNUB

— Sean Grande (@SeanGrandePBP) January 21, 2021
A Dynamic Duo Forms
Brown's numbers this year speak to his level of improvement as a scorer and facilitator on the Celtics and is largely what has entered his name into "superstar" territory in this league. Last season, the NBA gave recognition to Jayson Tatum's breakout performance in the early part of 2020 prior to the league shutdown, as he secured the February Eastern Conference Player of the Month honors. Tatum was becoming the Celtics' franchise superstar while Brown was yet to reach that sort of level. This year, not only has Tatum surpassed his own measuring stick, but so has Jaylen Brown.
LeBron James, Joel Embiid, Kevin Durant, Nikola Jokić and Jaylen Brown are the top five MVP candidates right now.

— Earvin Magic Johnson (@MagicJohnson) January 21, 2021
Jaylen Brown and Jayson Tatum are both signed to the Boston Celtics long-term, which puts the Celtics in a unique position amongst the top NBA teams. With players like Kemba Walker, Marcus Smart, and a number of key rotational players gaining some steam, the Celtics are in a position to be competitive now and for the next five, six, even seven seasons. As I said before, Jaylen Brown and Jayson Tatum are just 24 and 22 years old.
Proving the Haters Wrong
When Brown first declared for the draft, many GMs and scouts profiled the Cal Berkeley prospect "too smart" for the NBA, whereas Danny Ainge saw that as the most intriguing attribute of the versatile forward. Very few players in the NBA have the combined level of strength, athleticism, skill, and IQ that Jaylen Brown possesses.
I'll admit, in 2016, I was in the large majority of Celtics fans who did not think too highly of the Jaylen Brown pick at number three overall. I was pushing for a trade for another superstar to play alongside Isaiah Thomas and whoever the Celtics signed in that year's free agency, who turned out to be Al Horford. However, that selection turned out to be one of the best things to come out of Boston in recent memory.
What's to Come For Jaylen Brown?
Unfortunately for Brown, the 2021 NBA season will not feature their annual All-Star Break due to the COVID-19 pandemic. It is possible that the NBA will still recognize its All-Stars in an alternative approach, but regardless, Jaylen Brown deserves to be among those given their credit when it is due. If this is the type of player Brown is this season, and this current streak he is on is not just a matter of being hot at the right time, then not only should Brown receive All-Star recognition, but potentially All-NBA honors as well.
The Boston Celtics have a very bright future ahead of themselves. In a league where fans have bought into the "championship-or-bust" mentality now more than ever, Jaylen Brown and Jayson Tatum's performance to this point in their careers suggest that Boston will remain in the hunt for years to come and will have a great opportunity to take the mantle as we transition to the next generation of NBA greats.
Brown's transformation into a consistent and efficient shooter, scorer, passer, and defender over the last few years should make Celtics fans extremely excited for their future. Jaylen Brown has already added so much to his arsenal that it is not out of the realm of possibility that the 24-year old is not done progressing in the NBA. But one thing is for certain, it is time for the entire NBA, players, coaches, and fans alike, to put some respect on Jaylen Brown's name.