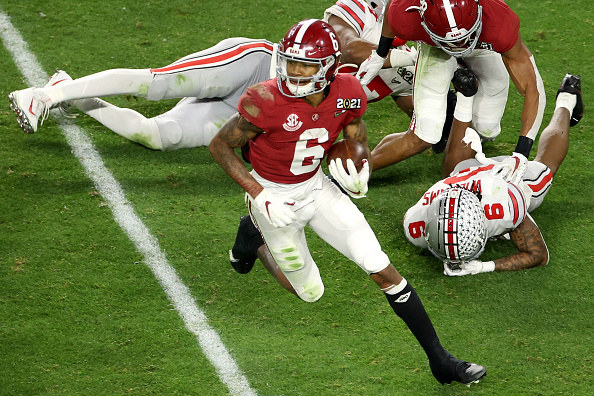 The college football season is over and we're just a month away from Super Bowl LV. This means we're getting close to the 2021 NFL Draft. A lot of people like this draft class across the board and that includes a good wide receiver group. It might not be as good as last year's but there are some good comparables, especially with the top three. The depth of this class has everyone excited to see what they can do at the next level. We're months away from the 2021 NFL Draft but it's never too early to look ahead at the talent that it will be displayed.
2021 NFL Draft: Top Five Wide Receivers
DeVonta Smith (Alabama)
In 2019, DeVonta Smith broke out as a top option in a crowded Alabama receiving group. It was just the beginning as he caught 68 passes for 1,256 with 14 touchdowns. Going into 2020, Smith was the number one option for quarterback Mac Jones as he caught 117 passes for a whopping 1,856 yards with 23 touchdowns. Smith is the only player in the SEC with over 2,000 yards after catch over the last seven seasons.
He added to his resume as he was named the Heisman Trophy winner, the first receiver to win the award since Desmond Howard in 1991. Smith showed us why he won by having over 200 receiving yards and three touchdowns in the first half on his way to his second National Championship (won his first as a freshman in 2017). For his winning performance, he also was named the Offensive Most Valuable Player. After his year, it's hard to not pick him first among wide receivers.
Ja'Marr Chase (LSU)
Ja'Marr Chase likely would've been the number one pick among wide receivers in the 2021 NFL Draft if it wasn't the announcement that he would opt-out this past season. Reports suggested that Chase opted out to focus on his NFL career, not because of COVID-19. In 2019, he was part of one of if not the best offense in college football history. His outstanding year included 1,780 yards and 20 touchdowns with 21.2 yards per reception.
He carried those numbers all the way to a National Championship with number one overall pick Joe Burrow as his quarterback. Scouts would've surely liked to see what he looked like without Burrow. Chase's skill set can easily transfer over to the NFL and a big one is contested catches. He can go up and get a ball better than anyone but he also has good hands that make that possible. That combo is what so many teams in the NFL are looking for.
Jaylen Waddle (Alabama)
Coming into the season, Jaylen Waddle was going to challenge Smith for the number one receiving spot until he broke his ankle against Tennessee. Through six games, Waddle had 591 yards, suggesting that he would've had over 1,000 yards on the season. He also averaged 21.1 yards per catch and added four touchdowns. Waddle amazingly practiced before the National Championship game and even caught three passed for 34 yards in that game.
Many questioned why he was out there in the first place as he had a noticeable limp but that goes to show you the heart this guy has for the game. When he gets healthy, Waddle is one of the fastest guys on the field. He is also a polished route-runner that can go up to get a football. Waddle can also play all over the field which makes him that much more dangerous. These skill sets put him near the top of the leader board with the wide receivers group.
Rashod Bateman (Minnesota)
One of the biggest opt-outs on the season was Rashod Bateman from Minnesota. Bateman opted out at first, then opted in for five games until he ultimately decided to opt-out and focus on the 2021 NFL Draft. In those five games, the Minnesota star went for 472 yards and two touchdowns. Scouts were impressed by what little game action they saw this year but what he's done in 2018 and 2019 should be more than enough film. His freshman year in 2018 looked like a star in the making as he caught 51 passes for just over 700 yards and six touchdowns.
Bateman broke out the following year with 60 catches for 1,219 yards and 11 touchdowns in 13 games. Like a lot of receivers in the 2021 class, he has a great ability to go up and catch a contested ball with the best of them. The hands of Bateman, along with his size, make him one of the top receivers in this class.
Terrace Marshall Jr. (LSU)
LSU was hit hard with opt-outs this season and that includes Terrace Marshall Jr. After seven games, the LSU wideout decided his college career was over and declared himself for the 2021 NFL Draft. Over the past two seasons, Marshall has been near the top in receiving touchdowns as he had 13 in 2019 (4th in SEC) and 10 in 2020 (3rd in SEC). He likely would've had his first 1,000-yard season if he played the whole year (finished with 731 yards).
Marshall was one of the best wide receivers in college football at the beginning of the year but slightly slowed down towards the end of the season. That is in part to LSU as a whole not performing well but that slight decline isn't enough to knock him off. Marshall has the speed and athleticism that a lot of teams love but if he can clean up his route-running just a little, he will be a premier pick for any team.
Other Top Wide Receivers:
Rondale Moore (Purdue)
Kadarius Toney (Florida)
Amon-Ra St. Brown (USC)
Tylan Wallace (Oklahoma State)
Main Photo:
Embed from Getty Imageswindow.gie=window.gie||function(c){(gie.q=gie.q||[]).push(c)};gie(function(){gie.widgets.load({id:'EiCmPmXuT0xlTKi54_edSQ',sig:'4JHh7-Ayv249hA_FG4hZlr10NcyULU2_ukOGLDQHmXo=',w:'594px',h:'396px',items:'1295921080′,caption: true ,tld:'com',is360: false })});