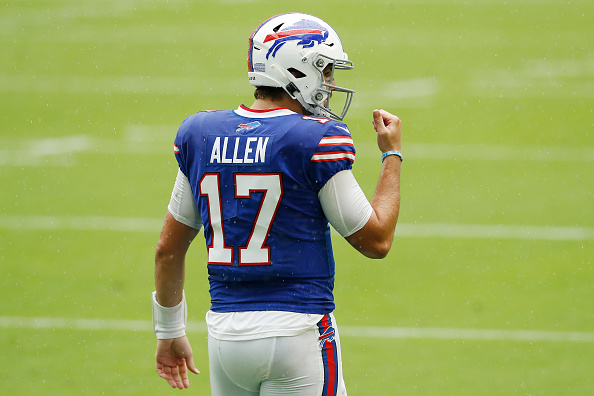 Entering the new year, I wanted to review the biggest headlines of the 2020 NFL season. There were big trades, questions about whether some quarterbacks could take the next step, or if they would turn out to be a bust. Some big players were coming off of big injuries, some players looking to follow up their best season with another great one.
Here, I compiled nine of the biggest headlines of the 2020 NFL season and reviewed them. They say hindsight is 2020. While that phrase may need to be changed, the process remains the same. So taking a look back, here is the 2020 NFL season in review.
The 2020 NFL Season in Review: Good, Bad, or Ugly?
Could the league play all 256 games?
Short answer: Thankfully, yes.
Unless something drastic happens within the next 24 hours of when this was written, all 256 games of the 2020 NFL regular season will have been played successfully. On-time? No. The league has been forced to do a lot of shuffling with games this year, for obvious reasons. Teams have been forced to play without their quarterbacks, like the Denver Broncos, or come Sunday, without their running backs like the New Orleans Saints.
Some teams *cough* the Pittsburgh Steelers *cough* have been forced to play without a bye week and on extremely short weeks due to COVID-19. However, considering the overall circumstances, the league has done a fairly good job of making sure that all 256 games were played.
Short answer: The "bionic" arm looks as good as new.
Ben Roethlisberger was entering his 17th year and coming off surgery on his elbow that reattached three ligaments in his throwing arm. There was a big question looming over the Steelers entering the 2020 NFL season; could Big Ben still throw at an NFL level? He answered with a resounding yes.
Roethlisberger has not shown any real loss of strength in his arm this regular season. While the touch on his deep ball seems to have rescinded a little, he still has the arm strength to throw a thirty-yard strike through cold and windy weather. The struggles on offense for the Steelers, while partly Ben's fault, don't have much to do with his arm. Earlier in the year, I wrote an article regarding the Steelers' offensive woes.
Overall, Ben has looked completely fine coming off surgery on his throwing arm. Until the three-game losing streak the Steelers suffered, Ben was playing some of the best football of his career.
Brady and the Buccaneers: 2020 NFL Superteam?
Short answer: No.
When Tom Brady signed with the Tampa Bay Buccaneers in March of 2020, most people in the national media started booking them for a home super bowl game. The Buccaneers were already loaded on offense and now the GOAT was at quarterback. Oh, and Antonio Brown also signed with the team midway through the season. The Buccaneers were considered as a top-five team in the NFL.
However, the Buccaneers failed to live up to the massive expectations placed on their shoulders, and have been wildly inconsistent. I also wrote an article covering the Buccaneers and their struggles.
While the Buccaneers have flashed immense potential at times this season, they still disappoint, typically on the largest stage. Most people thought it was obvious when Brady signed with the Buccaneers; they were the next superteam, right? As it turns out, not at all.
Baker and Stefanski; Right men for the job?
Short answer: Looks like it.
More questions needed answering for Baker Mayfield entering the 2020 NFL season than Kevin Stefanski, but questions were there. Could Baker prove he could be a franchise quarterback? Could Stefanski manage the Browns as a first-year head coach, with no training camp to implement a new offense?
The answer to both is yes. Baker Mayfield has been competent this season, mostly as a game manager, but he has improved on his decision making. And while the commercial jokes still floated around in 2020, and probably will in 2021, he has been quiet this season. There were not any controversial statements, no calling out teammates, nothing to draw unwanted attention to himself and the team. Mayfield has put his ego away and has succeeded in part because of his new humility.
Stefanski has answered every question and then some regarding whether the first-year head coach could successfully bring a Cleveland Browns organization that has only known losing nearly two decades. The Browns finished the regular season with a record of 11-5 and are heading to the playoffs for the first time since 2002. Pretty good for a losing team and a new head coach.
Chiefs; (Still great?)
Short answer: Yes, but…
The Kansas City Chiefs finished the 2020 NFL season with a record of 14-1 and will probably finish with a record of 15-1. While they have shown they still have that explosive ability to score points like no other team in the NFL except perhaps the Green Bay Packers, the Chiefs have flaws.
Yes, they remain great and the favorite to win Super Bowl LIV, there isn't any other answer to that question. However, the Chiefs have shown some weaknesses in 2020. They have the worst red-zone defense in the NFL. They can't run the ball (which no one seems to notice or care about) and they can't stop the run.
Brett Kollmann made a great video covering the Chiefs and how they are more vulnerable than most people realize. The Chiefs could be a one-and-done in the playoffs this year. So yes, the Chiefs are still great. But they are anything but unbeatable.
Josh Allen; Can he take the next step?
Short answer: Resounding yes.
A lot of people, including myself, were down on Josh Allen entering the 2020 NFL season. I thought he was too inaccurate, his enormous arm strength almost being too much for himself. Allen proved that I and most of the NFL media world wrong. In fact, he was so good through 2020 and entering 2021 that he could win MVP.
Allen has thrown for 4,300 yards, 34 touchdowns, and nine interceptions through 2020. He still has one game left to play and improve his shot to win MVP. I had not seen this coming and I don't think most people did either. While the addition of Stefon Diggs has certainly helped Allen, he still has become much more accurate and smarter with his decision making. Allen has my MVP vote this year.
Tua or Burrow; who would win OROY?
Short answer: Neither.
If not for the unfortunate injury to Joe Burrow on November 22nd against the Washington Football Team, he probably would have the award locked up now. Tua Tagovailoa has been disappointing this season, though he took Ryan Fitzpatrick's job, he hasn't played as if he earned it, throwing a measly 1,400 yards and 10 touchdowns to pair with two interceptions.
Neither of the aforementioned quarterbacks will win the OROY award however, another quarterback that most considered to be a project, is now the favorite to take the award home. Justin Herbert set the rookie record for touchdowns with 28 last week. He has thrown for almost exactly 4,000 yards this year. Herbert was sensational during the 2020 NFL season and has a bright future ahead of him.
Could the "King" keep it up?
Short answer: The "King" still reigns.
Derrick Henry led the NFL in rushing in 2019 with 1,540 yards, and 16 touchdowns. Including the playoffs, he ran for over 2,000 yards. After a season in which he touched the ball over 300 times, there were questions if he could sustain the ridiculous pace he was on.
Simply take a look at his 2020 stats and you will see that 2019 may have been worse than this season. Henry has rushed for 1,777 yards on 344 attempts, once again leading the league in rushing and once again on track to break 2,000 yards rushing. The "King" has more than earned his title and silenced all doubters. Henry is an absolute freak of nature and his stellar season will probably net him the OPOY award.
Short answer: Both teams.
The Buffalo Bills received a true number one receiver, rounding out their offense. Paired with Josh Allen putting it all together, it has made the Buffalo Bills one of the best teams in the NFL.  The Minnesota Vikings could not be more pleased with the wide receiver they received (through the draft) in return. Jefferson has 79 receptions for 1,267 yards and seven touchdowns. Both teams got what they wanted and needed. As a result, this was probably the best trade of the 2020 NFL season.
Could the Patriots survive without Tom Brady in 2020?
Short answer: No.
Has the absence of Tom Brady been the reason for the New England Patriots offensive demise in the 2020 NFL season? The answer is also no. The Patriots have very few explosive players on offense, the former first-round pick N'Keal Harry looks like a bust, Jakobi Meyers is the number one receiver, and Julian Edelman is an afterthought on offense. The problems on offense are mostly the product of a lack of talent, not scheme.
The Cam Newton "experiment" has worn out its welcome and the 2015 MVP appears to be on his last legs. The Patriot's stellar defense of 2019 continued their great play into 2020 but it hasn't been enough to save the sinking ship that has been the Patriots. For the first time since 2000, the Patriots will finish the year with a losing record.
Here's To 2021
A lot happened over the 2020 NFL regular season. Players switched teams, coaches got hired and fired, players were cut and injured, and life moved on. No matter the challenge, no matter the hurdle life always moves on, and just like life, so does the NFL. 2020 may have been a down year (that's an understatement if I've ever seen one), but the 2020 NFL season was still an exciting and fun football year. Here's to 2021 being just as good and hopefully, better.
Main Photo: