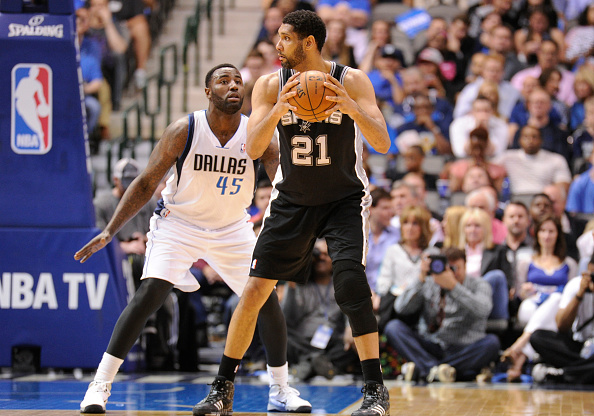 We've made it to the five best NBA players of all time. This elite class of NBA legends has transcended the game of basketball beyond the parquet. These rankings, as a collective, did not just measure feats and achievements on the court, but for what they did outside the floor. Professional athletes can be extremely influential, and these players that will be named have been some of the most influential figures for basketball, politics, social justice, charity, and plenty of more causes that are bigger than basketball. All that, and they still had time to dominate their sport.
20-16 Best NBA Players of all Time
15-11 Best NBA Players of all Time
10-6 Best NBA Players of all Time
20 Best NBA Players Of All Time – #5-1
5. Tim Duncan
Career Accomplishments: 5x NBA Champion (1999, 2003, 2005, 2007, 2014), 3x NBA Finals MVP (1999, 2003, 2005), 2x NBA MVP (2002, 2003), 15x All-Star, 10x All-NBA First Team, 3x All-NBA Second Team, 8x All-Defensive First Team, 7x All-Defensive Second Team, Rookie of the Year (1998), Most All-Defensive Teams in NBA History, 14th All-Time in Career Points (26,496), 6th All-Time in Career Rebounds (15,091), 5th All-Time in Career Blocks (3,020)
Tim Duncan is the most fundamentally sound player to ever step on an NBA court. His approach to the game under the San Antonio Spurs brand of basketball shaped the foundation of the game in the early 2000s. Duncan and the Spurs were so dominant for over a decade and controlled the early 21st century. He was a prime example of an era of basketball that bled out to the 2010s when the league moved to more three-pointers and flashy dunks.
Even at the tail end of his career, Duncan was still a problem in the league where the traditional power forward was becoming nearly non-existent. Though the 2014 NBA Finals win for the Spurs was thanks to the breakout star Kawhi Leonard, Duncan still played to his level at his old age. That speaks volumes to how his playstyle could fit into any era. He probably would have been even better in the older generation of NBA.
One feat that somehow eluded Tim Duncan's historic career is that he never won a Defensive Player of the Year award. Ever. This achievement would not add a whole lot to his already illustrious resume, but for someone with the most All-Defensive Teams in NBA history at 15, it is puzzling how he never won that yearly award. Nonetheless, Duncan belongs in the top five best NBA players of all time.
4. Bill Russell
Career Accomplishments: 11x NBA Champion (1957, 1956-1966, 1968, 1969), 5x NBA MVP (1958, 1961-1963, 1965), 12x All-Star, All-Star Game MVP (1963), 3x All-NBA First Team, 8x All-NBA Second Team, All-Defensive First Team (1969), 4x Rebounding Champion (1958, 1959, 1964, 1965), 2nd All-Time in Rebounds (21,620), Most Championship Rings in NBA History (11)
This one may be met with some great controversy and debate from fans. The 1950s and 1960s NBA likes to be slandered due to the lesser competition of that era. There were two titans of that era of basketball named Bill Russell and Wilt Chamberlain. Chamberlain already clocked in at number 11, and many would put Russell side-by-side with Wilt, much like Bird and Magic, but Russell thoroughly outplayed Wilt in all matchups.
While Chamberlain's counting numbers were higher than Bill's, he was not beating him when it mattered. During their era of basketball, Russell was the one winning all of the championships. Russell and the Boston Celtics won every NBA championship from 1956 through 1966 consecutively, the bulk of Chamberlain's prime. Russell literally has too many rings that exceed the number of fingers on both of his hands. The fact that his winning experience outweighed Wilt 11 to 2 should speak volumes to the kind of careers the two had when comparing the two legends.
3. LeBron James
Career Accomplishments: 4x NBA Champion (2012, 2013, 2016, 2020), 4x NBA Finals MVP (2012, 2013, 2016, 2020), 4x NBA MVP (2009, 2010, 2012, 2013), 16x All-Star, 3x All-Star Game MVP (2006, 2008, 2018), 13x All-NBA First Team, 2x All-NBA Second Team, 5x All-Defensive First Team, Rookie of the Year (2004), NBA Scoring Champion (2008), NBA Assist Leader (2020)
Put the pitchforks down and let me explain myself. The long-debated subject of who is the G.O.A.T of the NBA often boils down to two candidates: LeBron James and Michael Jordan. However, with LeBron coming in at number three, that leaves a third-party candidate to be named later. Nonetheless, LeBron's era of basketball differed greatly from Jordan's era. The talent around the league, the style of play, the relationships with players on and off the court, and the overall culture turned a complete 180 degrees since the 80s and 90s.
While LeBron has been able to reach the NBA Finals a remarkable number of times, he does not exactly have the most formidable record on the big stage. With just four wins along with six losses, Bron's experience in the Finals has been very rocky. LeBron was the man for his first tenure in Cleveland, and somehow took his G-League caliber roster to the NBA Finals, but was never able to win at the next level. It was not until he formed "The Big Three" in Miami when LeBron was able to win. He secured two championships in South Beach, then returned home to Cleveland to finish what he started. Once again, he did not have a shortage of help behind him. With Kyrie Irving and Kevin Love, among others, in tow, he had a championship-caliber roster around him once more.
This is not entirely LeBron's fault. The NBA is just a different landscape today. "Super teams" exist around the league, only a team should be deemed as such if they can actually win, and LeBron's teams won. This past year, in a season unlike any other, LeBron won his fourth NBA title in an environment unlike any other. Was this memorable feat enough to cement him as the G.O.A.T of the NBA? I would not put it that far, as the level of competition in the playoffs on paper could not match the Lakers' star power.
There is no denying that LeBron James is the best player in this generation of the NBA and one of the best NBA players of all time. He has carried the NBA on his back through the entire 21st century to this point. That being said, what could LeBron be missing on his resume that would put him over Jordan? In 2016-17, James squared off against the superteam of super teams, the Golden State Warriors, led by Kevin Durant, Stephen Curry, Klay Thompson, Draymond Green, Andre Iguodala, and the rest of that dynasty. A year after his miraculous 3-1 comeback in the Finals, if James were able to repeat against a squad designed to beat him in his prime, then there is no argument left to refute his case. But it was not to be. Golden State just had too much firepower. Also, Jordan was really good. So there is that.
2. Kareem Abdul-Jabbar
Career Accomplishments: 6x NBA Champion (1971, 1980, 1982, 1985, 1987, 1988), 2x Finals MVP (1971, 1985), 6x NBA MVP (1971, 1972, 1974, 1976, 1977, 1980), 19x All-Star, 10x All-NBA First Team, 5x All-NBA Second Team, 5x All-Defensive First Team, 6x All-Defensive Second Team, Rookie of the Year (1970), 2x NBA Scoring Champion (1971, 1972), NBA Rebounding Champion (1976), 4x NBA Block Champion (1975, 1976, 1979, 1980), 3x NCAA Champion (1967-1969), 3x NCAA Final Four Most Outstanding Player (1967-1969), 3x NCAA National Player of the Year (1967-1969), 1st All-Time in Career Points (38,387), 3rd All-Time in Career Rebounds (17,440), 3rd All-Time in Career Blocks (3,189)
The word "greatness" has varied definitions for NBA fans. But if one should look to an individual who truly embodies greatness at the highest level, both as an NBA player and as a human being on this planet, it is Kareem Abdul-Jabbar. Both in college and the NBA, Abdul-Jabbar won at every level of basketball and excelled at his craft. He not only helped bring the spotlight to the NBA prior to the Showtime Lakers, but he has also only played a major role in social activism as one of the cause's most influential figures. His intelligence on the floor and on the scene makes him one of the most special individuals to come and go in the NBA, additionally making him one of the best NBA players of all time.
Like I said before, these rankings are based on the foundation of what these players have done for the game, on and off the floor, and their contributions to the game as a whole. How influential were they? Did they leave a lasting impact on the game? Simply, can one tell the story of professional and collegiate basketball while mentioning this person's name? Kareem fit all that criteria and more. His status amongst the greats in the NBA will never be touched or surpassed by another player. Abdul-Jabbar was truly a great player and has probably impacted the game of basketball more than any other player to step on a court.
1. Michael Jordan
Career Accomplishments: 6x NBA Champion (1991-1993, 1996-1998), 6x NBA Finals MVP (1991-1993, 1996-1998), 5x NBA MVP (1988, 1991, 1992, 1996, 1998), 14x NBA All-Star, 3x All-Star Game MVP (1988, 1996, 1998), 10x All-NBA First Team, All-NBA Second Team, Defensive Player of the Year (1988), 9x All-Defensive First Team, Rookie of the Year (1985), 10x NBA Scoring Champion (1987-1993, 1996-1998), 3x NBA Steals Champion (1988, 1990, 1993), 5th All-Time in Career Points (32,292), 3rd All-Time in Career Steals (2,514)
Here we are. The G.O.A.T. The best NBA player of all time. Michael Jordan was dominant in every sense of the word. So great that teams had designed their attacks surrounding him, opposing franchises that he never played for retired his number, and he retired during his prime because he already accomplished everything he wished. If you want to read more into why he was so great, go watch the exceptional ESPN docu-series The Last Dance.
Jordan's career was held under the largest microscope in all of sports. Despite his status in society, it did not distract Jordan from his craft. He had a winner's mentality that does not exist in today's NBA. To be truly great, in any craft or profession, it takes a different level of mindset. One that wants to beat and destroy their opponent in every facet. Jordan was a mental psychopath (and pure genius) in that element of the game. He would go to lengths to find a reason to want to beat opponents, even if he had to make one up.
MJ's hunger to be great, not only for himself but for his teammates, was one in a million. No social media, no reality television, no distractions. Just a superstar with a will to outlast and outplay all coming opponents. Jordan personified greatness on the basketball court. He tops the list of best NBA players of all time.
…If only he could be as great a general manager as he were a player though.
Main Image: Embed from Getty Images