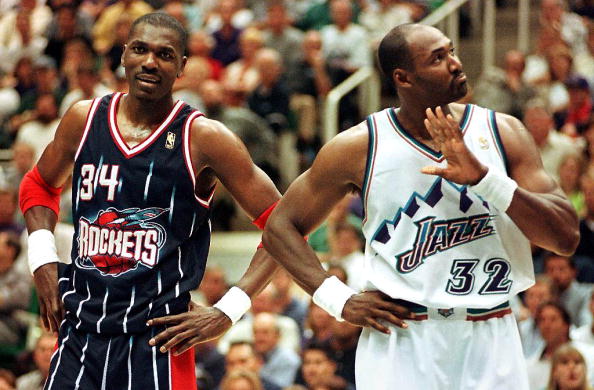 As we surpass the halfway point of this series and into the top 10 best NBA players of all time, we begin to enter the more sensitive area in the argument. This is where fans' opinions begin to shake, as I have stated before. While the top three to four players on the list are fairly agreed upon, the next stretch of names is often conflicted. With that being said, let's continue with the best NBA players of all time countdown.
The 20-16 best NBA players of all time
The 15-11 best NBA players of all time
20 Best NBA Players Of All Time – #10-6
10. Kevin Durant
Career Accomplishments: 2x NBA Champion (2017, 2018), NBA MVP (2014), 2x NBA Finals MVP (2017, 2018), 10x All-Star, 2x All-Star Game MVP (2012, 2019), 6x All-NBA First Team, 3x All-NBA Second Team, Rookie of the Year (2008), 4x NBA Scoring Champion (2010-2012, 2014), 50-40-90 club (2013)
The legacy of Kevin Durant is going to be met with many conflicting views and arguments from fans once his career is said and done. Specifically, not the fact that Durant was able to win a couple of NBA Championships, but how he did. In an era of basketball where ring chasing rules over loyalty, Durant made the seemingly uncharacteristic move to leave the Oklahoma City Thunder for the star-studded powerhouse Golden State Warriors in 2016, who just came off a record-breaking 73-9 regular season performance. In his brief yet illustrious tenure, Durant managed to walk away with two NBA championships.
Despite all receptions from fans at the time, eventually, Durant's presence in Golden State became a necessity rather than a luxury. While the Warriors were a force unlike any squad the NBA had ever seen before, teams around the league were getting stronger too, and the NBA was growing competitive. Having a player like Durant while also balancing the presences of Stephen Curry, Klay Thompson, and Draymond Green made for a reliable fall back when things got hectic, and boy did things get hectic. If you still don't believe me, watch the difference with Durant on the floor versus off the floor in the 2019 NBA Playoffs and Finals.
Nonetheless, Durant is a special, generational talent, unlike anything we have seen before. A player of his height and length should not be able to move as well as he does or score with the kind of efficiency and ease that he does. It has made him among the most unguardable players in NBA history. Measuring Durant's spot amongst the NBA greats relies on nothing more than to put him to the eye test. Anyone who has ever seen Durant play knows that his ability to score, defend, dribble, and perform all the necessary intangibles of the game make him one of the best NBA players of all time. With Durant being only 32 years of age and plenty of basketball left in his career, his status amongst the NBA greats can only climb from here.
9. Hakeem Olajuwon
Career Accomplishments: 2x NBA Champion (1994, 1995), 2x NBA Finals MVP (1994, 1995), NBA MVP (1994), 12x All-Star, 6x All-NBA First Team, 3x All-NBA Second Team, 3x All-NBA Third Team, 2x Defensive Player of the Year (1993, 1994), 5x All-Defensive First Team, 4x All-Defensive Second Team, 2x Rebounding Champion (1989, 1990), 3x Blocks Champion (1990, 1991, 1993), 11th All-Time in Career Points (26,946), 13th All-Time in Career Rebounds (13,748), 1st All-Time in Career Blocks (3,830)
Hakeem Olajuwon set the measuring stick for being a center in the NBA. He embodied the prototypical rebounding, rim-protecting, put-back big that any NBA team wishes to find in any of their young prospects. His resume provides all the evidence a critic needs. Nonetheless, one thing that may have benefited Olajuwon's legacy the most was the *first* retirement of Michael Jordan in the 1990s. In between the two historic Chicago Bulls three-peats, the NBA belonged Hakeem and the Houston Rockets. The Dream secured both his NBA Championships in an era where almost all were won exclusively by the best player of that generation. That alone is something to note.
Olajuwon enjoyed a successful career with plenty of individual success. His status as the NBA best shot-blocker in history will likely never be touched as the only active player close to him is Dwight Howard, and at age 35, it is doubtful that Superman collects another 1,700 blocks before he hangs them up.
Often unappreciated, Olajuwon belongs amongst this class of NBA royalty. His contributions to the NBA helped pave way for future transcendent centers, including number eight of this list.
8. Shaquille O'Neal
Career Accomplishments: 4x NBA Champion (2000-2002, 2006), 3x Finals MVP (2000-2002), NBA MVP (2000), 15x All-Star, 3x All-Star Game MVP (2000, 2004, 2009), 8x All-NBA First Team, 2x All-NBA Second Team, 4x All-NBA Third Team, Rookie of the Year (1993), 2x Scoring Champion (1995, 2000), 8th All-Time in Career Blocks (2,732), 8th All-Time in Career Points (28,596), 15th All-Time in Career Rebounds (13,099)
When he first arrived on the scene in 1992, the NBA, or professional sports for that matter, had never seen anything like Shaquille O'Neal before. Never before has such a specimen with a combination of both touch and physicality, of size and athleticism, of skill and prowess make its way to the NBA. Right away, fans knew that the product of the NBA had a future star. One that would carry them into the future. Little did we know, however, that one of the biggest, most monstrous players in NBA history, also turned out to become one of the biggest personalities of the business.
When I say that Shaq was the most dominant player in NBA history, I do not mean the most dominant as in the greatest to lace up a pair of sneakers (because he obviously wouldn't be eighth here), but dominant in the sense that no physical being could go toe-to-toe with Big Diesel and create a formidable matchup for him. Shaq was a man amongst boys, only those boys were fellow 7-footers with a honed-in skill set. Many of O'Neal's highlights are just moments of destruction in the NBA history books. Broken backboards, violent dunks, and flicks of his surprising vertical to send shots back 15 rows up to the popcorn vendor.
Little more needs to be said about The Diesel. The NBA had never and will never see anything like him again. The closest physical specimens that transcended the game like he did that come to mind are LeBron James and Zion Williamson. And even then, O'Neal has over a half of a foot and 80 pounds over those guys.
7. Larry Bird
Career Accomplishments: 3x NBA Champion (1981, 1984, 1986), 2x NBA Finals MVP (1984, 1986), 3x NBA MVP (1984-1986), 12x All-Star, All-Star Game MVP (1982), 9x All-NBA First Team, Rookie of the Year (1980), 2x 50-40-90 club (1987, 1988)
Larry Bird became a legend in the NBA through an alternative route. He was not a glamorous prospect with flash and highlights like today's young prospects. Scouts and coaches saw an efficient playmaking shooter with touch, finesse, and intelligence that surpassed any sort of physical ability that was sought after in the 1970s and 1980s. Little did he actually know, Bird's style of play would eventually introduce that sort of flash and pizzaz that did not exist prior to his arrival.
At 6'9, Bird handled the ball like a point guard and passed like one too. He also shot the ball with the best of them. For today's younger audience, think of a player like Luka Doncic. This isn't to say that Bird IS Doncic, or vice versa. Rather, Bird was a player who did not need speed and athleticism to become elite. He embodied the mental element of the game of basketball, and utilized it to expose some of the greatest players of his generation.
Something about Bird that was so fascinating is the stories of him on and off the court. The kind of swagger and confidence that he carried about himself, and his ability to back him up, make him one of the baddest players to ever step on the court. Whether it was showing up to the three-point contest, announcing his victory prior to the event, and winning without taking off his warm-up, or scoring a 47-point triple-double with his left hand, Bird's confidence was unmatched. He showed how a strong man's mentality can translate to results, and it is what made him one of the best NBA players of all time.
Bird carried the NBA in the 1980s. Bird, along with number six on this list.
6. Magic Johnson
Career Accomplishments: 5x NBA Champion (1980, 1982, 1985, 1987, 1988), 3x Finals MVP (1980, 1982, 1987), 3x NBA MVP (1987, 1989, 1990), 12x All-Star, 2x All-Star Game MVP (1990, 1992), 9x All-NBA First Team, 4x Assist Champion (1983, 1984, 1986, 1987), 2x Steals Leader (1981, 1982), 5th All-Time in Career Assists (10,141)
Whether you have Magic Johnson over Larry Bird, or vice versa, the two belong next to each other in these rankings. Both were such competitors in their era that they each made it a point to be greater than the other. Often to absurd extents. As a Boston Celtics fan, it pained me to do this, but I will give the nod here to Magic. Both Bird's Celtics and Magic's Lakers carried the NBA in the 80s. However, the longevity of Johnson's career over Bird's, despite the obvious reasons that Magic had to retire, was enough to give him the nod over one of my Celtics.
Johnson simply accomplished more than Bird did. With more rings and more MVPs than Larry Legend, his impact simply translated to more results as opposed to Bird. When the two went toe-to-toe in the 80s, it made for appointment television. The two molded the NBA into the product it became today. The Showtime Lakers was some of the most entertaining basketball we had ever seen, thanks in large part to Magic. Magic Johnson is the best point guard to ever play the game of basketball, simply put. His combination of size at 6'9 and ability to play the lead guard position was unheard of in his era, as Johnson was years ahead his generation in terms of physical presence and basketball intelligence.
With Johnson rounding out this class at number six, we now await for the five best NBA players of all-time, which is sure to draw some ire from some fans, regardless of who is considered to be the G.O.A.T of the NBA.
Main Image: Embed from Getty Images