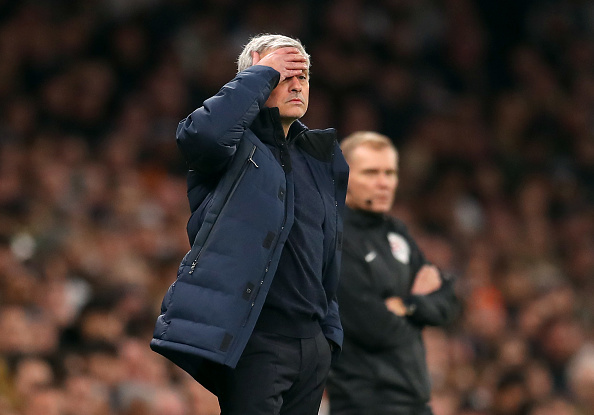 Tottenham Hotspur have gone from being top of the Premier League to fifth position in just seven days. If it has shown anything, it is that Jose Mourinho needs to give Tottenham tactics a "Plan B" when it comes to how he sets his team up to play.
Tottenham Tactics are Becoming Too Obvious
When Tottenham Hotspur beat North London rivals Arsenal 2-0 at the Tottenham Hotspur Stadium on 6th December they played a counter-attacking game. Content to allow Arsenal to have the football and hit them on the counter. It worked perfectly and was another victory that had people thinking that Spurs really were title contenders. That day, Arsenal had 69% of the possession but hardly troubled Hugo Lloris. It was noted as being a Jose Mourinho masterclass but three games later and it is starting to look like the only tactic Spurs have at their disposal.
Crystal Palace
When Spurs traveled to Crystal Palace on December 13th you could have been forgiven for thinking that they would go for the jugular but instead, they seemed to play within themselves. Whilst it is true that Palace keeper Vicente Guaita had one of his best games in a Palace shirt, Spurs played much of the game without the ball, and only once Palace had leveled the tie did the North Londoners come to life and start attacking with any purpose. Roy Hodgson's men never stopped attacking and in the end, took two vital points away from Jose Mourinho and Tottenham Hotspur.
Spurs Hand Liverpool the Advantage
At Anfield, Jose Mourinho was not wrong when he said that Tottenham could have won the game. Steven Bergwijn had two great chances with one going wide and the other striking the post. Harry Kane missed an absolute sitter of a header and Liverpool made them pay when they scored a late, late winner to take the advantage in the Premier League title race. Tottenham had just 24% of the possession in the 90 minutes and allowed Liverpool to attack at every opportunity which against a team as good as Jurgen Klopp's men are seemed naive to say the least. The win for Liverpool knocked Spurs off their perch and the home tie against Leicester City on December 20th took on even more significance.
Mourinho Lacks a Plan B
Brendan Rodgers, Jose Mourinho's one-time protege had done his homework ahead of Leicester City's visit to the Tottenham Hotspur Stadium. From the first whistle Spurs put eleven men behind the ball and played much of the game in their own half. Harry Kane and Son Heung-Min barely got a touch of the ball and you do not score goals when you have everyone in your own half. Had there been 60+ thousand in the stadium they would not have been happy with this performance and justifiably so.
Whilst the counter attack has worked for Spurs in a number of games this season they need to be wary that it doesn't become their downfall. When teams are happy to have the ball whilst Spurs sit back then there will be more games like the one against Leicester because they will wait for mistakes and pick Spurs off. Jose Mourinho is no fool but he would do well to drop his stubbornness and get a plan B in place.
Tottenham travel to Wolverhampton Wanderers next on Sunday 27th December looking to get their title tilt back on track.
Interestingly, the odds for the Wolves match is seeing some lack of confidence in Tottenham. Early lines around the world have seen action. Placing an early bet on football in Kenya, for instance is currently giving pretty good odds for Wolves fans.