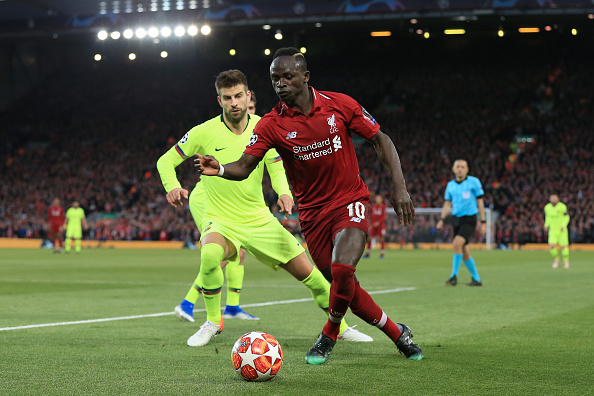 On Sunday, the Premier League will be coming to a close in a close race for the top spot in the league. Manchester City is currently sitting at the top of the table with 95 points. Liverpool FC is coming up close behind them with 94 points. This is a must-win game for Liverpool if they have any hopes of claiming the Premier League title. They also need a little hope that Brighton & Hove Albion FC can manage to put up enough of a fight against Manchester City to force them into a loss or a tie. All of the action will be going down live on Sunday.
Premier League Match Preview: Liverpool FC v. Wolverhampton Wanderers
Despite Injuries, Liverpool Shows Vote of Confidence Against Barcelona
Liverpool must be in top form in order for them to pull off the win against the Wolverhampton Wanderers on Sunday. Unfortunately, they are without their top scorer, Mohamed Salah. Roberto Firmino is also doubtful to play on Sunday. Firmino has also been a huge part of this team, putting together 12 goals and six assists in the Premier League this season.
However, despite two of their best players being injured, Liverpool was able to put it to Barcelona last week in the second leg of the Champions League semi-finals. After being down 3-0 on aggregate after the first leg, Liverpool came back in the second leg to stun Barcelona 4-0. With the aggregate score at 4-3 Liverpool, were able to defy odds to make it to their second consecutive Champions League Final. This was all done without Firmino and Salah.
Liverpool has shown that they are a squad with very deep talent on their roster, despite the injuries. Jurgen Klopp and his squad will be looking to recreate the same kind of success they saw against Barcelona. Also, they will be looking to get their revenge after falling to the Wolves in the FA Cup in January.
Keys to Winning for Liverpool
Wolverhampton, led by forward Raúl Jiménez, is showing a good amount of momentum,
coming off of three straight wins in the Premier League. However, Liverpool is coming off potentially one of the best comebacks in Champions League history. Also, unlike Wolverhampton, they have something to play for; the Premier League title.
Centre back Virgil van Dijk will have to be huge for Liverpool as he's done all season. Wolverhampton does exceptionally well at creating scoring chances and using counter attacks to their advantage on the pitch. Van Dijk has proven that he is one of the top defenders in the league. He has helped Liverpool tie for first in the league in terms of clean sheets with 20. Also, his passing has also been superb, ranking second in the Premier League in terms of passing.
One of Liverpool's strengths is being able to play in the opponent's half of the field. With this pressure and their possession style of play, Liverpool is ranked second in the league in terms of goals scored. Liverpool must be able to keep up the pressure on the Wolves this Sunday and continue to create scoring chances.
Last Word
In conclusion, Liverpool has proven they are one of the top teams in the league. With Liverpool's ability to create scoring chances, keep the pressure on opponents, and one of the best defenses in the league, they should be able to get the win over Wolverhampton. Even with the win, it may not be enough. Liverpool fans everywhere will be hoping that Brighton & Hove Albion can get something going against Manchester City, hoping in a loss or a tie for Manchester City. The race for the Premier League title will definitely go all the way until the 90th minute on Sunday.
Main Photo:
Embed from Getty Images