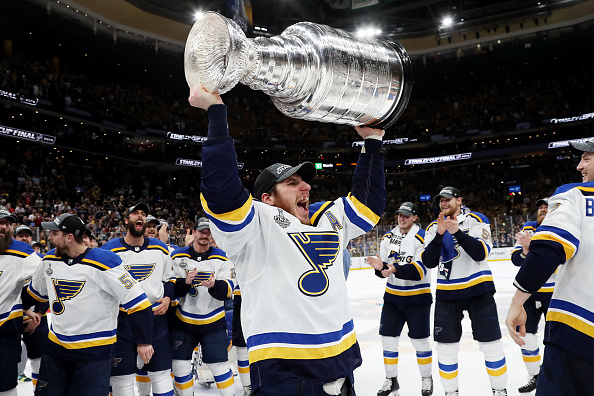 The career of Alexander Steen has come to an end as he has announced his retirement from the NHL on Thursday morning. The 36-year old played 15 seasons in the NHL with four of them being with the Toronto Maple Leafs and then spent the rest of his career with the St. Louis Blues. Steen was suffering from a back injury that kept him out in all but four playoff games (includes qualifying round) last season.
Coming into this season, the health of Steen was in question but we finally got an answer, one that we didn't expect at this point in time. His back injury involved multiple levels of degenerative herniated disks in his lumbar spine. The career of Alexander Steen has been a success and now, we are hoping his life after hockey is even more of a success.
The Career Of Alexander Steen In The NHL
Steen With The Leafs
With the 24th overall pick in the 2002 NHL Entry Draft, the Maple Leafs selected forward Alexander Steen. He played his first game with the Maple Leafs on October 5th of 2005. In the second game of his career, he scored his first NHL goal and that's when he just started to rise from there. Steen went on to have 45 points in his rookie season. In 253 games with Toronto, he tallied 50 goals and 76 assists for 126 points. In the 2008-09 season, the Maple Leafs thought they could get better and that was the end of Steen's career with Toronto as we knew it.
A Leader On The St. Louis Blues
On November 24 of 2008, the Blues saw a prime opportunity to pounce as they traded Lee Stempniak to the Maple Leafs for Steen and Carlo Colaiacovo. In that 2008-09 season, he played 61 games for St. Louis but only scored six goals with 18 assists. He got better in the 2009-10 season as he scored 24 goals with 23 assists. That earned him a four-year contract extension on July first of 2010. Steen continued his success as he became a 50-60 point player over the next few years when healthy. His decline started in the 2018-19 season when he only scored 10 goals with 17 assists. This past year, he only scored seven goals with ten assists but his position on this team wouldn't be more important than the past two years.
A Stanley Cup Champion
During the 2018-19 season, he along with the whole Blues team got off to a slow start. The Blues were dead last in the NHL after the new year. Steen wasn't producing like in years past. He took over a different role and let other guys play in front of him while he took over on a pivotal third-line position. The Blues started to turn it around and eventually made the playoffs. As mentioned, Steen finished with career lows at the time.
The team made a run and a great one at that as they beat the Boston Bruins in game seven to win their first Stanley Cup in franchise history. Even though Steen's numbers didn't pop out in the playoffs, he played a huge role on this team as he proved his leadership and toughness to be second to none. If you ask anybody, they would take a career-worst year in exchange for a Championship.
What a Career
Steen will forever be remembered with a blue note on his jersey. He finished his Blues career playing 765 with 195 goals and 301 assists. For his great career, he played 1018 games while scoring 245 goals with 377 assists for a total of 622 points. Steen's career has come to an unfortunate end but he comes out as a champion and a leader among his teammates throughout his career.
Main Photo: