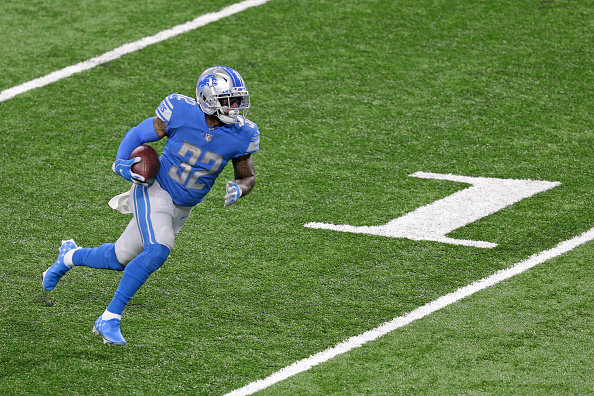 Week 10 featured only two fantasy players getting over 30 points. That was the living legend himself, Tom Brady, and the reliable Alvin Kamara. Besides those two, you also had three going for 29 fantasy points. All in all, there was a decent amount of fantasy explosiveness. But more importantly, the games were fantastic to watch. Anyways, Thursday marks the start of Week 11, and well what does that mean? It is starting to be that time, where games will go down to the wire. It's the push for the playoffs. With that in mind, some players in these crucial games will step up, and that means a huge number of points. Who are the potential explosive fantasy players in Week 11, well let's see. Here are the top Week 11 fantasy football matchups in points-per-reception leagues.
Best Week 11 Fantasy Football Matchups
Quarterback
I know, I know, this is a boring answer, but the matchup is absolutely phenomenal. Let's start with the elephant in the room, the Raiders beat the Chiefs in Week 5. After the game, the Raiders took a victory lap around the Chiefs stadium. Pile the loss up with this, Mahomes and the whole Chiefs team will not be happy. They will be looking for revenge, and they will probably do it in a merciless style. If this wasn't enough to prove that this matchup is phenomenal, there is one last thing. The Raiders give up the eighth-most passing yards per game and oh yeah, half their defense has gone on the COVID-19/Reserve List, so these players look doubtful for this game. Patrick Mahomes with revenge on his mind against a poor defense means he should light it up. I expect him to throw four touchdowns, over 325 passing yards, and look for him to get close to or over 30 fantasy points. He's one of the best Week 11 fantasy football matchups out there.
Running Back
Swift came into the league with lots of hype around him. He started the season quietly, but recently he has picked it up, due to being named the starting running back for the Lions. He is good on the ground, has great elusiveness, and can catch the football pretty well. His opponent is the Carolina Panthers, who give up 22.1 fantasy points per game to running backs which is fourth-worst in the league. Take, for example, last week when the Panthers gave up a 98-yard touchdown run to Ronald Jones. The formula to beat the Panthers is to run the football. Additionally, Matthew Stafford enters this game with a thumb injury. There is a chance he won't risk throwing it deep, meaning he could find Swift for some easy check-downs, which translates into fantasy points. I expect swift to end up with north of 100 scrimmage yards, and I have a gut feeling he scores two touchdowns.
Wide Receiver
This year, Keenan Allen has been a severely underrated wide receiver and fantasy player. He currently averages 18 fantasy points a game and averages 76.6 receiving yards a game. An important stat with Allen, that is crucial for fantasy is he averages 7.2 receptions a game, so in PPR leagues that is an easy seven fantasy points. He is going up against the horrendous Jets. They have an abysmal defense, specifically their secondary which is awful. A great receiver like Keenan Allen with a fantastic quarterback in Herbert who places the ball perfectly in his hands means he should feast against this poor secondary. I predict he gets eight receptions for over 90 yards and a touchdown.
Tight End
Hurst this year has been a very consistent fantasy producer, averaging 10.7 fantasy points a game. In his last four games, he has gotten over 10 fantasy points while getting a combined 22 receptions. Though the Saints' defense is solid, they have not particularly played well against tight ends, giving up the sixth-most fantasy points to them. The Saints' defense will be heavily focused on guarding Julio Jones and Calvin Ridley. This means Hurst will find himself in lots of space, and with him being a trustworthy pass catcher, he will get targets.
Defense/Special Teams
The Dolphins' defense and special teams have scored three touchdowns and forced six turnovers in the last three games. Talk about a defense that is carrying a team. Now on the other side of the field, you have the Broncos offense. They have been absolutely horrendous. They average the seventh least offensive yards per game, while their quarterback Drew Lock is a turnover machine, throwing four interceptions in the last game and 10 on the season. Drew Lock might not even play this game due to injury, which means Brett Rypien would slot in, and in his first career start, he threw three picks. A defense and special teams in the Dolphins that force turnovers will continue on their success against the Broncos. Expect the Dolphins' defense and special teams to force three turnovers, hold the Broncos to less than 13 points, along with possibly scoring a touchdown.
Kicker
Gonzalez has scored many fantasy points this season because he is apart of one of the most explosive offenses on the field. The Cardinals won't always score, but they move the ball allowing for Gonzalez to have field goal opportunities. Expect the matchup against the Seahawks to be a high-scoring affair with Gonzalez getting plenty of extra-point attempts to do the bad play of the Seahawks defense. The Seahawks defense will eventually realize they have to play better, so look for them to get some stops, allowing for field goal attempts for Zane Gonzalez. Expect him to get a minimum of 10 points.
Main Image: Embed from Getty Images