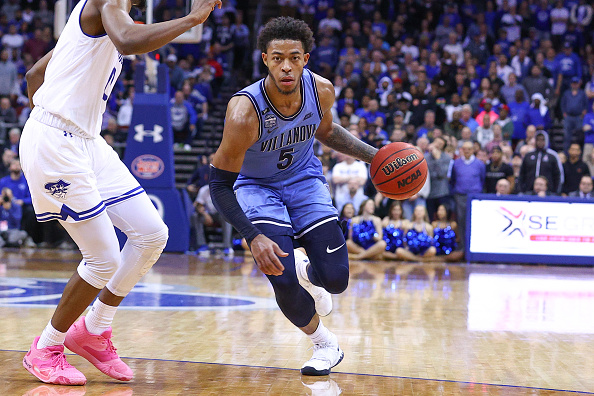 With just under two weeks until the college basketball season, the NCAA released the AP Top 25 poll for 2020-21. The rankings consist of eight different conferences with the Big East, West Coast, and American Athletic Conference's representing the non-power five. The Big Ten leads the way with seven teams in the AP top 25 followed by the Big 12 (5), ACC (4), Pac-12 (3), Big East (2), SEC (2), ACC (1), and the WCC (1). These rankings might not mean a lot right now but it sparks a great conversation heading into the season. Everyone seems to brag about the power five conference teams but there are four non-power five teams that should peak your interest.
AP Top 25: Non-Power Five Teams
Big East
Villanova (3)
The Big East Conference is represented twice in the AP Top 25 and the highest of the two is Villanova. The Wildcats have two National Championships over the past five seasons and they are one of the favorites to win again. They finished number 10 in the polls last season but COVID didn't get to let us see them make a run. The Wildcats are returning almost every player from last season. Even with their top scorer leaving, head coach Jay Wright feels that hole can be filled comfortably. Everyone is expecting big things from Collin Gillespie in that backcourt with Justin Moore. Villanova is looking for yet another Big East Championship on their way to a national title.
Creighton (11)
Last season, Creighton finished in a three-way tie for the Big East Conference. They were playing St. Johns in the conference tournament before the game got called at halftime because of COVID. This season, they are the 11th team in the nation and looking for a repeat conference performance. It's no secret that they have a couple of gaping holes with Jordan Scurry and Ty-Shon Alexander leaving, but coach Greg McDermott will have players step up big in the absence of missing players. Could this team take a step back? Absolutely, but this team will compete with the best of them and may have a repeat of last season.
AAC
Houston (17)
With the amount of talent at the guard position for Houston, I wouldn't be surprised if they win the AAC and made a run. The duo of Quentin Grimes and Caleb Mills is great and very crucial for this team's success. The Cougars had the best rebounding margin in that nation (+9.5) last season. The defense has also come a long way and can become a very important part of this team. Houston has a good team around them and if they can get continued growth and improve some parts of their game, this team will be a dark horse to make a deep run.
WCC
Gonzaga (1)
Not only is a non-power five team ranked number one in the nation, but it's a team from the West Coast Conference. Last season, Gonzaga looked like they very well could've gone to another National Championship Game until COVID hit. The roster this year might be even better than the last and that's a scary thought for any team. The Bulldogs lost two big men but have two emerging players that can replace them. The only weakness on this team come March is the lack of experience in the back and frontcourt but these kids have plenty of time to learn before March Madness. Gonzaga will stay at or near the top all season as they try to win a much needed National Championship.
AP Top 10 Teams
Gonzaga

Baylor

Villanova

Virginia

Iowa

Kansas

Wisconsin

Illinois

Duke

Kentucky
Main Image: Embed from Getty Images