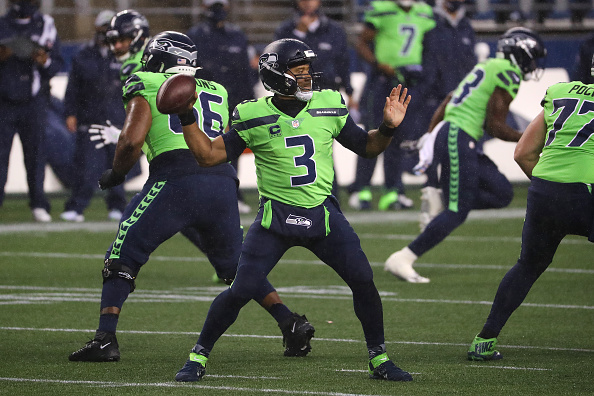 The NFL season has had plenty of twists and turns this season, whether it's the postponement of games, movement of bye weeks to fit those games in, or most recently Tuesday Night Football between the Buffalo Bills and Tennessee Titans. Some teams have yet to even play games with fans in front of them. With all these problems, there has still been some impressive play amongst the top players in the game and the season continues to roll on. Take a look here at the top contenders through the first five weeks of the season. 
The favorite, by far, in the MVP race has to be the Seattle Seahawks quarterback Russell Wilson. Wilson has led his team to an improbable 5-0 record considering their injuries on defense and the inability to stop the opposing team. Wilson leads the NFL in passing touchdowns with 19, while also being top three in passing yards as well. Right now, he is the man to beat and it'll be tough to do so. However, we said this last year about Wilson, and look what happened.
To the surprise of no one, Patrick Mahomes is in the MVP talks after a hot start to the season. With a touchdown to interception ratio of 13:1, he is well on his way to contending for his second MVP in three years. And despite a heartbreaking loss to the Las Vegas Raiders, the Kansas City Chiefs are still very much considered the favorite in the AFC and Mahomes should be seen as a favorite for the MVP until something crazy happens.
Josh Allen had an ugly game on Tuesday night but that doesn't necessarily hurt his claim to the MVP at this moment. A bounceback by Allen in one of the biggest games of his regular-season career will show that he is the real deal for the doubters who don't believe in him. Helps that he sits at No. 2 in passing yards and passing touchdowns and has the ability to run with the best of them. He is still in the conversation by far.
The Green Bay Packers have had their bye and it's now time for Aaron Rodgers to continue being a bad man. Believe it or not, even with a week off, he is still third in passing touchdowns. That's how good Rodgers has been this season. And don't expect him to take a dip anytime soon considering his incredible accuracy and oozing chemistry with the likes of Davante Adams and Aaron Jones. 
The Arizona Cardinals have had a weird season to this point, but one thing we know for sure is that Kyler Murray is the real deal. Despite his small stature, he has shown his talented arm and even more his nifty ability to run the football. He currently leads all quarterbacks in rushing yards with 296. He's second in the NFL in rushing touchdowns with 5. This man is on a mission and should be on all ballots by season's end.